MARKET is a film about the worlds oldest profession...prostitution! Films on this subject have been witnessed over time and classics in the genre include MAUSAM, BAZAAR or the latest being CHANDNI BAR. MARKET tries hard to leave its mark and despite some well canned, hard hitting sequences and fleshed out performances MARKET falls short due to a weak second half and an attempt to pass sleaze off as "reality"!
The story revolves around Muskaan (Manisha Koirala)- a prostitute in the famous Mehndi Bazaar of Hyderbadi. Via a flashback we find out about Muskaans background. Muskaan hailed from a small town in Andhra Pradesh and was born in a poor family. Her father (Vallash Vyas) always wanted the best for her and when an offer comes from a rich Arab to get her married her father accepts it thinking it will do the whole family good even though Muskaam was barely a child then.
The rich Arab repeatedly rapes her and then files a divorce against her a week later. Muskaans father commits suicide from the guilt. Muskaan family files a complaint of marital torture with the police, but the Arab gets away on bail by bribing the lawyers and judges and escapes to Dubai.
Even after 8 years when the Arab returns to India, Muskaan loses the battle against him....which leaves her shattered. After a police raid on Mehndi Bazaar Muskaan flees to Mumbai.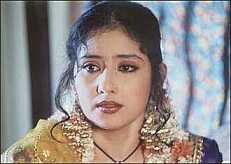 There she comes across a police officer named Sawant (Sayaji Shinde). Sawant introduces Muskaan to a pimp named Juicy who deals with high-class call girls. Juicy accepts Muskaan and hands the job of transforming Muskaan from a low-class Hyderbadi prostitute to a high class Mumbai call girl to Lisa (Suman Ranganathan) and Isha (Shweta Menon) both of who have been in the Mumbai industry for a while. With a new name Mallika she is re-christened as a call girl.

Muskaan meets Babloo Panday (Aryan Vaid)-a criminal from Kanpur with a lot of contacts in the underworld. Babloo falls in love with Muskaan and even offers to marry her, but Muskaan rejects his offer.

On the other hand a psychotic gangster Anthony Kaalia(Makrand Deshpande) kills Isha which brings into the picture Anna (Govind Namdeo)-a don who resides in Dubai but runs pretty much the whole Mumbai underworld. Anna invites Lisa and Muskaan for a show to Dubai and there things take a sharp turn as Muskaan..by chance..again runs into the Arab that ruined her life years ago...

Muskaans blood boils and she wants revenge...but before she can do anything, the Arab has already given "supari" to Anna to kill her off...what happens next? Does Muskaan Bano finally get her revenge...and her justice?

Right from the word go MARKET hits the viewer on the face like a sharp slap! The initial sequences in Mehndai Bazaar, the flashback which deals with issues such marrying a minor, child rape and selling a minor to a brothel are all realistically portrayed.

Right from the word go director Jai Prakash knows what he is doing. Be it the life of a regular prostitute in Hyderbad or the life of a high class call girl in Mumbai Prakash has does his homework and gives us a realistic depiction.

In the the first half Prakash is in full form and the entire flashback with Manisha leaves a lump in the viewers throat. The entire set-up of Mehndi Bazaar is spot on and one actually feels like they are in the red light district. The ambience and atmosphere created is in perfect sync with the movie.

Its in the second half that Prakash falters...and really badly. He has managed to depict the life of a call girl well, and even the intrroduction of characters such as Sawant, Anthony Kaalia and Anna is done well, but it is the half baked love story with Dabloo/Muskaan which lets the film down. Also the realistic tone set in the first half is replaced by the usual cliches which again disapoint the viewer, and lastly the climax of the movie comes across as rushed and its almost like the viewer didn't know how to end the movie. The scene where Manisha finally gets her revenge should have been a LOT more impactful. As a director Jai Prakash should be careful next time round that he has a much tighter screenplay, even though he starts out on a perfect tone, he falters in the second half badly.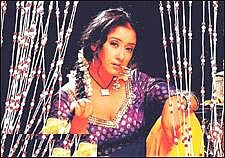 As expected a film of this nature would show a lot of sex, nudity and vulgarity but a film of this nature is also sensitive and a director should be able to depict all this without making it titilating or seem like a cheap attempt at showing sex. Although at first Prakash starts out with a realistic tone, in some moments it is obvious he is trying to excite and tittilate the audience, hence the scene lose impact. Sex scenes and sexual situation abound every 20 minutes or so and while some have been handled maturely, others have come across like a Z-Grade porno film which works against the films favour. Prakash should have well taken some lessons from director Madhur Bhandarkar, because in comparison to CHANDNI BAR, MARKET comes across as nothing more than a inferior rip-off!

Dialogues in the movie are simply outstanding!! They are hard hitting and swear words are uttered every second. Those uttered by the sex workers and the cops in the first half are authentic and brilliant, even the "bhhaiya" language in the second half is spot on!

In terms of acting the film belongs to Manisha Koirala. It is after a long time she has managed to get herself a meaty role. In saying so...it is a slight disappointment all the same since the performance is not award worthy by any means, but compared to her prevoious few efforts in ESCAPE FROM TALIBAN and EK CHHOTI SI LOVE STORY, MARKET is Excellent!! Her facial expressions, dialogue delivery and get-up is EXCELLENT in the first half and she gets right into the skin of her character Muskaan Bano. In the second, half she is weaker, and isnt able to pull of the role of a high class call girl with the same conviction. Also she seems tired and weary for most of the second half as the focus shifts onto Suman and Shweta. She is in top form in the climax, and deserves accolades for her performance. She truly does show the hardships that a prostitute has to face with realism. Just witness the scene where Sayaji Shinde questions her in the police station or the scene where she saves a girl at the start.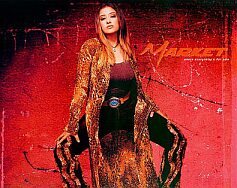 Suman Ranganathan also manages to give a great account of herself. Its been a while she we saw her, and she still looks as stunningly gorgeous as ever. She looks at ease in the part she plays, and flaunts her gorgeous body till no end. Her charatcerisation is a bit confusing at times, since she it seems like she is almost glorifying the life of a call-girl.
Shweta Menon is OK in her role. Bar her death sequence where she is excellent, she doesn't leave much of a mark, Like Suman, she looks absolutely droolworthy throughout the entire movie and flaunts her sexy body with confidence.
Aryan Vaid is below average for his debut film. He is hampered by a weak character who makes not much sense at all. He falls in love with Muskaan in one second without hardly knowing her and is even willing to die for her??!!?..Hard to believe...As a model turned actor he looks good on screen and mouths his lines well. He seems a bit wooden and stiff in terms of facial and needs to work on that.
The supporting cast in the movie are truly MINDLOWING and thats what holds this enterprise together for the most.
Sayaji Shinde has played a role like this plenty a times before, and as Sawant he is just brilliant. He plays a scummy Mumbai cop with perfection, and his character has been well etched out...He may not be entirely good..but he aint that bad either. The scene where he initially interrogates everyone in the cop station is fantastic. Govind Namdeo as Yashwant Anna is also great. He is a true veteran performer and gets right into the skin of his character. His dialogue delivery and get-up is spot on (although he is no Potya Sawant or Bhikhu Mhatre).
Makrand Deshpande as Anthony Kaalia is good too. He plays his role with the right amount of manical energy required, although he does go on the borderline of overacting sometimes. Rest of the cast do their jobs accordingly. The actor who plays Arab isnt as effective as he should have been.
Thomas Xaviers cinematography is good for the most and ditto for Sham Kaushals action. Altaf Rajas music is below the mark.
All up MARKET is not everyones cup of tea by all means, those not into hard hitting, violent and crude films will not enjoy MARKET at all....those who do enjoy such films will find entertainment value in MARKET although please do remember that MARKET is by NO MEANS anything near CHANDNI BAR!!
7 outta 10