ReViewed by Akshay Shah
J.P Dutta has always been a film maker who thinks BIG and achieves BIG....although he never got his full due at the boxoffice with films like YATEEM, HATHYAR, BATWARA and KSHATRIYA until BORDER happened which turned out to be a boxoffice spinner and revived the war genre. His last release didn't live upto expectations but Dutta is now back with a movie that is not only the biggest movie of his entire career....but one of the biggest movies that has ever been made...Does LINE OF CONTROL live upto expectations?For the most YES!
To those who aren't aware LINE OF CONTROL brings to the fore 1999's brutal and frightening war of Kargil. The film shows depicts the realities of war like no other as he soldiers fight in what was one of the most deadliest and victorius battle ever fought by India...Operation Vijay. The aim of the operation was to kick out the infiltrators by capturing the major posts in the border region where the Pakistani army had taken control.....the biggest post they had to capture was TIGER HILL. How the soldiers gained victory and the sacrifices they made forms the crux of the movie.
As a filmmaker LINE OF CONTROL is no doubt Duttas biggest film to date with one of the biggest casts in Bollywood history...it is no easy feat for a filmaker to make a film of this nature.....give each character the right amount of footage....show the realities of war....and keep true to the facts and for the most Mr.Dutta succeeds.
Right from the start of the movie the film moves full swing into the heart of the action and shows our jawans fighting the war. Dutta has gone into grave detail showing how each of the posts were won and the sacrifces made before Tiger Hill was finally won and the Indian flag was raised high on Tiger Hill.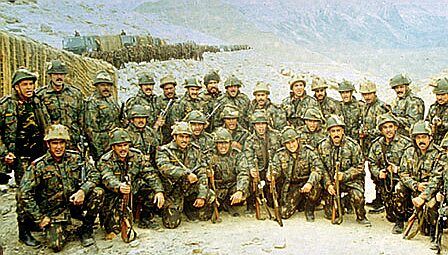 For all the soldiers fighting there is always a loved one thats left behind and Dutta shows us some insight into the lives of the soldiers as the film progresses. But inlike BORDER where the characters were all introduced at the start alongwith their love stories with the actual war taking control in the second half...Dutta here has started the movie with war, blood and gore throughout and throwing us flashes of the love stories of the soldiers in between.
This works well for the most in the first half, but in the second half this works as a pacebreaker as the pace slackens until it gets to the final hour. Also the running length of the film is 4 hours surplus and a tighter second half would've been much better for the film. On the other hand Dutta must be given credit as the film does manage to retain the viewers interest throughout and the emotional impact of the movie is hammerstrong. The film does feel like a documentary at times due to the fact that Dutta has gone into the minutest detail to show us each glorious battle and which regiment won it.
Authencity plays a major factor in the movie and that is remained throughout. From the costumes, to the locales to the artillery and gun power used to the language used by the soldiers.....Dutta makes sure he brings us war at its worst! Also the manner in which Dutta shows us how each battle was won makes the viewer feel at times they are watching a documentary. So accurate are the details of what occured when and where.
At times the viewer feels like they are actually IN the Kargil war following each and every soldiers actions....A point to note is that most of the soldiers shown in LINE OF CONTROL are based on real life soldiers some of who aren't with us today and Dutta makes sure he gives full justice to almost all of the cast which is not an easy feat and to add to that even the death of soldier is accurate and true to life! What you see onscreen is what really happened...talk about authencity!
As a filmaker Dutta has given his heart and soul into the movie and kudos to Mr. Dutta for making LOC-Kargil which by all means is a classic despite its shortcoming in the narrative department at times...
Now to the characters and performances....
Sanjay Dutt as Lt Yogesh Kumaar Joshi aka Y.K Joe plays his part with elan. As a hardcore Sanjay Dutt fan i must admit that i was disappointed with the footage that Dutt had onscreen keeping in mind that he had a leading role Dutt has only a few scenes where he gets scope. Although his presence is felt every time he is onscreen with his larger than life image, his character isn't given as much screentime as most of the other cast members. Dutt here is restrained for the most and lets his eyes do the speaking for him. Hard to believe this is the same actor who last week played Munnabhai with such ease and here as Y.K Joe Dutt portrays his character with just as much ease..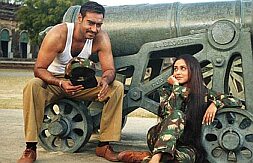 Ajay Devgan as Lt Manoj Kumaar Panday gives a excellent performance. He gets ample scope to perform his character and this is a performance that will be loved by the viewer. His dialogue delivery, facial expressions and screen presence are flawless and Devgan plays the role of Manoj Pandey with flourish. The dialogues uttered by Devgan are spectacular and will find major public support, ditto for the scene where him and his battalion win their first victory in Khalubar and also his death scene. The real Manoj Pandey was awarded a Param Vir Charka and Ajay Devgan makes Manoj Pandey proud by superbly bringing his larger than life character to life!
Saifali Khan as Captain Anuj Nayyar gives us yet another brilliant performance after KAL HO NA HO! By now there should be no doubt that Saifali Khan is a force to reckon with and he makes his presence thoroughly felt in LINE OF CONTROL. To his credit he is backed with a authorbacked role and plays his role to a hilt. He is an absolute natural and his dialogues, romance scenes and in the end his death scene will be remembered for sure. Anuj was presented with a Mahavir Chakra
Suniel Shetty plays rifleman Sanjay Kumaar and plays his part with ease. Suniel Shetty is at his best when he plays a soldier as witnessed in BORDER , REFUGEE and JUNLGE and with LINE OF CONTROL he further proves that fact. As Sanjay Kumaar he gives a near flawless account of himself and makes the most of the footage he is given which is not all that much. The scene where he interacts with Abhishek and asks him to take care of his family and also when he takes the 2 barrels of gun into his own hands and captures the bunker is spectacular(based on a true life event). Sanjay Kumar was latter presented with a Param Vir Chakra.
Abhishek Bachchan as Vikram Batra gives the best performance of his career. The usual stiffness that is usually there with Bachchan Jnr in most films is gone and as Vikram he gives a natural and effortless performance. He has one of the meatier roles in the movie and performs his absolute best. His playful nature and patriotic passion comes across extremely well onscreen and Abhishek is definetly suited to action films as he makes for a ace action hero. Abhisheks death scene is extremely heartfelt (literally) as Vikram Batra was shot through the heart in REEL and REAL life. The scene where there is dialogue interplay between Abhishek and the Pakistani soldiers and they ask for Madhuri is excellent and well recieved by the audience. Batra was presented with a Param Vir Chakra.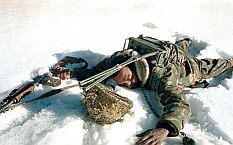 Akshaye Khanna plays Lt Balwaan Singh from Haryana. Right from his entrance Akshaye Khanna makes his presence felt in the movie with a performance that is natural to the core. Khanna keeps reminding the viewer that he is a natural born actor and he plays his character to a hilt. His dialogues are excellent and his flamboyant and patriotic character has been well captured by Khanna. The scene where he brings extra bullets instead of food captures the essence of his character and Khanna manages to add another feather in his cap with LOC. Balwaan Singh was presented with the Mahavir Chakra
Manoj Bajpai plays Grenadier Yogesh Singh Yadav. As a newly wedded soldier Bajpai perfectly captures the essence of his character flawlessley. Without a doubt one of the best performances in the entire enterprise Bajpai is just fantastic and makes his presence felt in the movie throughout. His chemistry with Ashutosh Rana is fantastic and their scenes in the movie are some of the best in the entire movie. The scene where Bajpai continues to fight despite being heavily injured will be well recieved and Bajpai in succeeds in extracting teams from the audience with a heartfelt performance. A definite shoe-in for Best Supporting Actor.
Yogender Singh Yadav was awarded a Param Vir Chakra
Sanjay Kapoor plays Major Deepak Rampal. With his entire get-up Kapoor looks a lot like his brother Anil which is not a bad thing at all. Kapoor is confident throughout and makes his presence felt in the movie. His head strong spirit is well captured and despite limited footage Kapoor does well. Deepak Rampal was awarded a Veer Chakra
Karan Nath as Major Rajesh Singh Adhikari gives a heartfelt performance. He is one of the first to get bumped off in the movie and his death scene will be remebered despite limited footage. Singh was awarded a Mahavir Chakra .
Ashutosh Rana as Rifleman Yogender Singh is fantastic! His loud and comic character comes off well onscreen and the chemistry he shares with Manoj Bajpai is smashing. His death scene is heartfelt.
Nagarjuna plays Major Padmapani Acharya and doesn't get much scope to perform. His scenes are limited in the movie and he doesn't manage to leave much of an impact. Acharya was awarded a Mahavir Chakra. Himanshu Malik plays Major Vivek Gupta. His scenes are also limited and he fails to leave much of a mark in a small role.Gupta was also awarded a Mahavir Chakra
Armaan Kohili plays Major Vikas Vohra. Kohili plays his part to a hilt and looks the part he plays. He delivers his lines well and is best suited to a war film. This isn't exactly the kind of role that is going to catapult him to stardom. Vohra was awarded the Vir Chakra. Bickram Saluja plays Major Sanjeev Jamwal with the right amount of conviction. He forms a good alliance with the rest of the cast and shares natural chemistry. Jamwal was also awarded a Vir Chakra.
Sudesh Berry plays Col Lalit Rai. Berry been a regular in Dutta films after his stint in BORDER and he leaves his mark here. His die hard attitude and patriotic character comes off extremely well onscreen and Berry mabages to hold his own in the multi-cast. The scenes he shares with Ajay Devgan are superb and his dialogue delivery is fantastic. Rai was awarded a Vir Chakra
Kiran Kumar plays Col Umesh Singh Bawa. He plays his part with ease and his get-up is fantastic. Bawa was awarded the Vir Chakra. Amar Upadhyay plays Lt Vijaynath Thapar. Like Nagarjun he gets limited scope and fails to leave much of a mark. Thapar was awarded a Vir Chakra. Millind Gunaji plays Cpt Rajesh Adhau and perform ably in a small role. Adhau was awarded the Sena Medal. Ayub Khan plays Major P.S Jhangu and leaves a mark. The chemistry he shares with his co-stars is brilliant and his death scene is well shot. Puru Raaj Kumaar is sincere in a his role and makes his mark felt.
Raj Babbar plays Col Kushal Thakur. As the leader of the 18 grenadiers Babbar gets a significant role and makes the most of it. Its been a while since Babbar was last seen on the bigscreen and he gives a good account of himself. Thakur was awarded the Yudh Seva Medal
Ashish Vidyarthi plays M.B Ravindranath. As the leader of the Rajputana Rifles Vidyarthi doesn't get much scope to perform in a otherwise heroic role. The scene he shares with Sanjay Dutt is good, but apart from that his scope it limited. Ravindranath was awarded the Vir Chakra
Sharad Kapoor gets NO scope at all to perform and i dont even think he got one line to utter. Mohinish Behl gives a mature performance and is heartfelt. Avtar Gill has no scope.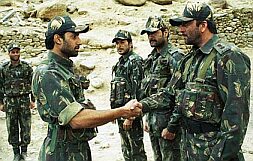 All the leading ladies in the movie have limited scope as the entire focus of the movie is on the soldiers and war! The ladies are there just to show the fact that LOVE IS BEAUTIFUL and WAR IS UGLY!
Kareena Kapoor performs ably in her role and looks gorgeous. Her scenes with Saif are well canned and she acts naturally without going overboard. Esha Deol also gets scope to perform. She performs ably and is looking extremely gorgeous! Her chemistry with Abhishek is crackling.
Mahima Chaudhury doesn't have much to do in a small role and same applies Raveena Tandon, Preeti Jhangiani, Priya Gill, Divya Dutta and Isha Kopikkar. These beautiful girls have to look sad and cry and they manage to do that perfectly.
Namrata Shriodkor is good in her role and manages to leave her mark.Rani Mukerjees performance is heartfelt and will get the most sympathy.
Technically the film is a milestone in Bollywood. Dutta has left no stones unturned in making this war film look like the real thing. To the bullets zipping into the soldiers eyes, to the blood spurting out the action is as real as it gets. The action scenes are all authentic and the minutest details have been gone into each of the battle scenes. From the use of the smallest gun, to the hand to hand combat scenes to the heavy artillery Bhikhu Verma has done a fantastic job with the action scenes. To direct the action scenes for a film of this nature requires a lot of patience and determination is needed just keeping in mind the sheer magnitude of the cast.Verma has gone into extra effort to make sure the death scenes of the soldiers are portrayed in such a way the audience remembers them. Personally i felt there was a scope for a bit more different action and Verma could have introduced the slo-mo action sequences too.
Cinematography by Karim Khatri is first rate! The film has the look of a sweeping epic made by the likes of Mehmoob Khan and David Lean.
O.P Duttas dialogues are the highlight of the movie. The patriotic dialogues delivered by the soldiers certainly stir thre patriotic passion in the viewer till no end. Dutta isn't afraid to point out that Pakistan is the enemy and constant names are referred to Pakistan as a nation and the people(e.g the rats, benchod, madarchod etc).
The authencity of the swear words are also brilliant and one wishes the censor had allowed toe swearing to be shown instead of the sound of bullets everytime a soldier swears.
One thing is for sure.....J.P Dutta definetly isn't out to make peace with this movie.
Musically this is arguably Anu Maliks richest album to date. He has rendered a classical album that is by all means a absolute classic. The picturisations of the songs will make the viewer tearyeyed as most of the songs are tragic.
SEEMAYAN BULAYEN TUJHE CHAL RAHE is brilliantly executed and well placed. MAIN KAHIN BHI RAHOON is another gem and leaves a hammerstrong impact. PYAAR BHARA GEET and KHUSH REHNA have both been combined into one song and the song has been well picturised. One wonders why PYAAR BHARA GEET was mainly shot on Saif, Ajay and Abhishek with the rest of the cast being sidelined? The best song comes at the end of the movie with EK SAATHI AUR BHI THA. The song will make the viewer cry and the visuals that follow the song are simply astounding. Jaaved Akhtars lyrics are worthy of a National Award and are the best i have heard in my entire lifetime!
Bindiya Goswamis costumes are well designed and very traditional.
So where does that leave LINE OF CONTROL? Although it may not be the classic that it was made out to be LINE OF CONTROL is without a doubt one helluva movie ride. It may not be everyones cup of tea and after watching the movie viewer feels drained mentally and emotionally. Mr Dutta throws us in dead in the middle of the Kargil war and tells us the bare facts how they are...WAR IS UGLY!
The film is definetly worth a watch just for the sheer magnitude of the cast.....the epic scale on which the story is told....the touching music...and above to all as a tribute to those soldiers who gave their lives for us.....
9 outta 10