reviewed by Jox
This chap we have over here is someone we can be really proud about. He came up with a bold coming of age flick like DIL CHAHTA HAI and he could have stayed easily as the one hit wonder, or he could have come back with a not-so-worthy followup...but instead he chose to stay low and eventually does come back for the second time around...he weaves in quite that same refreshing punch and that too at a very different theme and subject.
Hats off to Akhtar Junior for giving one of the best war flicks from Bollywood and is definitely going to be the benchmark for any such movies in the future.
For a minute I was having second thoughts on this film with its hardly enticing promo campaign. But the return of Javed Akhtar to the story, screenplay department, Farhan-Ritesh joining hands after DCH, and the musical trio of Shankar Ehsaan Loy back at what they do best...the merits eventually is drawing in the crowds. But are the crowd here to stay?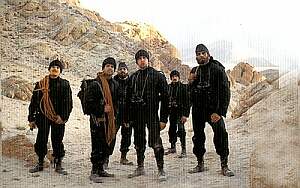 Karan Shergill (Hrithik Roshan) is having an easy life with no worries, but never thought the need to think or plan his future. And everytime the question pops up, he is left pondering. But he still seems happy, cause he knows that his lady love Romila Dutta (Preity Zinta) will always be there for him. For Romi believes that it is just the matter of Karan making a choice and once he sets about his goal, she is confident that he will emerge successful.
But it is also Romila who leaves him shattered and walks out on him, when Karan after making a decision to join the army, runs away from the academy after realising that he isn't exactly cut for such a life.
A shattered Karan discovers the fire in him, and returns to the academy only to prove that he can be a successful militiary personnel. So now years later, Karan is no longer the lost confused soul. Now he is Lt. Karan Shergill posted to the borderlines on duty.
However the next time he decides to pay Romila a visit, he learns that Romila is already engaged. Around the same time, news breaks out that Kargil borderlines is having militant intruders and Lt.Karan is asked to immediately return for duty.
From then on, it is on how he stays focussed, emerge a man of values and moral courage to help his team and regiment to go about the mission of recapturing 'Peak 5179'.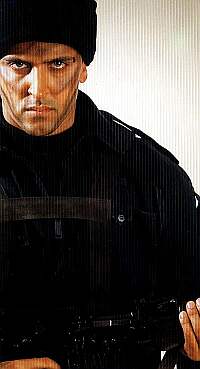 First things first...it is a war drama. A war flick with a warm heart beneath it all. So that is exactly what you get...and at times it does get dragging. The length of the movie at 3 hr 15 mins also does not help. Delete off a couple of songs, and you would never exactly miss the songs...and it would only help in giving the movie a smoother flow.
The first half stars off on a very dry note as Hrithik gets to meet his regiment collegues. and then as we have a flashback of Hrithik's college days, things seem breezy and enjoyable. When the jokes come, they get the whole audiences in splits. Akhtar's subtle approach to humour and emotions, is quite evident. But the scene where Preity walks out on Hrithik was found a lot wanting. Though that was a moment that changes the protagonists' life forever, the scene just did not have anything hardhitting about it.
Come second half, and Hrithiks' personal life takes a backseat and the focus is mostly on the warfare and the way the regiment goes about it. Lots of life is lost on the way, but the troop continues to stay focussed and achieve their mission. The cliff hanging sequence is a few minutes before the finale attack is a major highlight. Another memorable scene is when Hrithik calls up his father Boman, just before he sets out for this final mission.
So the film have a few problems and a few hickups here and there, but overall the merits still make it a superior product. And merits we have plenty...
First of all, the baap-beta duo of Javed Akhtar and Farhan Akhtar who does a pretty good job at the writing and directorial department of the movie without succumbing to cliches yet working very well within the Bollywood framework of functioning.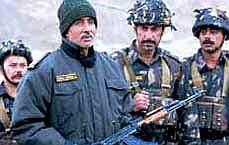 Second of all, Hrithik Roshan. He does whatever he is supposed to do like a dream, and I wonder who could really give that much conviction to the 'cliffhanging' sequence in Bollywood right now. Obviously the initial roles of his younger college days, he seemed to be doing yet another one of those 'Koi Mil Gaya' routines, but thankfully he takes control over the character pretty fast before we are subjected to another one of those 'Main Prem Ki..' acts. Thankfully at the end of it all, Hrithik has secured a nomination already at all major awards this year.
Next up...boy what a technical department. Afterall when you get an international talent behind the cameras, you expect something out-of-the norm. and that is exactly what you get with Christoper Poop's cinematography that makes an already gorgeous Ladakh look more heavenly. And Shankar-Ehsaan-Loy gives us some wonderful tracks which does not really gets highlighted in the movie since the songs seemed like a pace-breaker. But where the SEL combination really rocks is the background score department. Really pumps up the audiences and gets you hooked into the action sequences. And trust me, what is on offer are some of the best war action seen on Indian cinema...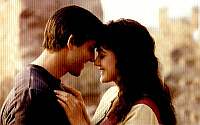 Then obviously the supporting cast. None of the characters have really anything prominent on the Hrithik scale. But Amitabh Bachan, Sushant Singh, Sharad, Nawab Shah, Boman Irani all excels in whatever little they had to chew on. Especially Sushant, who seems to be a show stealer everytime he bags one of those supporting roles. Om Puri is one talent I think was extremely wasted in this whole enterprise. Preity zinta does a pretty decent job in a role that really does not ask much from her. Amrish Puri puts in a special appearance.
What the movie clearly steers away from is anything anti-religious, anti-Paki sentiments and even from anything pro-hindutva or pro-Indian. We are not given the usual lines and lines of what 'patriotism' is and those kind of talk. Farhan keeps it simple and subtle and just lets us know that this is what happened, and Akhtar does not go about the job of forming our opinions for us.
So if war flicks arent your cup of tea...please do stay away. And all those girls who wanted to see Hrithik do a lot of candyfloss romancing, please dont come anywhere near. So if eventually the movie is going to drive away the crowds, so be it...but the writing is clear on the wall...sensible war flicks on realistic events can't get any more commercially engaging than this...and be whatever the box office results of this flick, Farhan Akhtar has earned yet another feather in his cap!