reviewed by Jox
Great visuals...mindblowing soundtrack...punching performances...fabulous action sequences...and so on. Atleast that is some of the terms I thought I would lbe using to review this action flick from choreographer turned director Ahmed Khan.
But forget it...nothing of that is happening here. Right from the word 'go' the camerawork is so 'in your face' with the wide span zooms and bad angle shots. IT was all wrong.
Wait let me start from the beginning...and the beginning is a dull title sequence where we are given a narration on the background of the character of Arjun Rana- the character from Sunny's earlier hit ARJUN. That was certainly not a positive sign and I knew that was signs of things to come. Add to that, I could here nowhere Rahman crooning 'Lakeeeer' (the one we get in the trailers) and the background score is credited to Aadesh Srivastav. More bad signs....oh save me.
The film kicks off to a real boring non-happening first hour of reel time. So the story so far...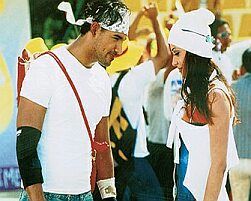 Arjun, is now more like a demi god with all the people looking up high at this personality Arjun Rana (Sunny Deol). Gone are the days of this orphan who grew up in Surajnagar under the guidance of his foster father, referred as 'Baba'. Now Arjun's love however remains reserved for his two gems - one his so-called brother Karan (Sohail Khan), the real son of his 'baba'.
The other for the daughter of his baba's right hand man who died in the line of duty, and who has been looked after by Arjun Rana for quite some time - a chirpy happy go lucky Bindiya (Nausheed).
Back at Surajnagar, we have a stud of a small time garage mechanic Sanju (Suniel Shetty) who dreams of reaching the heights that his idol Arjun Rana is, but at the same time is ready to lay down his life for the sake of his brother Saahil (John Abraham).
Now Saahil studies in the same college as Bindiya and Karan. And Bindiya is the love in the life of both Saahil and Karan. So when Karan knows that Saahil is getting a bit too close to Bindiya, he warns him off. A furious angry Saahil is left with self-inflicted wounds which brother Sanju mistakes for the doings of Karan's bunch of buddies headed by Rony (apoorva Agnihotri). However Sanju ends up banging the daylights out of Karan mistaking him for Rony.
A battered up Karan sends our Arjun Rana furious and thirsty for revenge.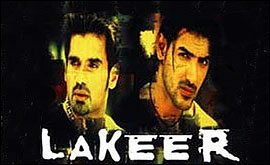 First of all the relationship between Karan and Bindiya- that is a big time problem. For we are shown them to be such a close well-knit family with both referring to Arjun as 'bhaiya'. But then when you see Karan falling for Bindiya, it looks more like an incestious relationship and no one would really bother to know as to who is adopted and who is not.
Then for an action film, this turned out to be more of a love triangle with a lot of brotherly love thrown in. But the lack of romantic moments and the total lack of humour is one thing that sticks out quite evidently inspite of all the jazzy colours and glossy look.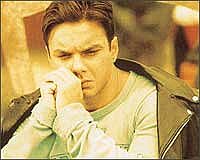 Talking about its look, Ahmed Khan's pro-western setup of clothing, culture and hang out gave it all a unrealistic setup which eventually took away a lot from the gritty feel that the movie could have benefitted from.
So like I said, as Ahmed Khan introduces us to the various characters and throws in a song too many, we have one boring first hour. But from the scene where Karan confronts Saahil at the college campus right till the interval, you can feel the heat generated. Suniel Shetty makes quite an impact by then, and the audience expects Sunny to finally erupt.
Post interval, that eruption never happens. And so sinks the film. Instead of a battle de royale between the angry action kings -Sunny and Suniel, what we get is more romance and brotherly morals and values. Forget it, and punch them out, guys!!!
No, Suniel and Sunny compromises and takes a step back and let Sohail Khan and John Abraham take on things from thereon and the film never emerges from its ashes.
The fancy camera was a bit too tiring and the music from Rahman lacked the punch since most of the songs were packed back to back in the first half. However 'Nachle Nachle' gets a great response from the crowd when it comes on later.
Suniel Shetty steals the shows hands down. He looked class, acted class, and was oozing with style like no other, right from the first frame where he makes his appearance. He was in complete control over the proceedings.
Sunny Deol was pretty ok. Every other time he looks like he might just erupt and give us a Sunny that we are looking out for, but instead we get a good 'big brother' act like in Dillagi. He was too closed up in his demi god role that it never gave him an oppurtunity to get on with things.
Sohail Khan gets a lot of the screen time in my opinion and here, he is in no way giving us anything even remotely close to his performance in the recent 'I-Proud to be an Indian'. But both he and John Abraham puts in decent performances with lots of ketchup but nothing outstanding or worth praising sky-high.
Nausheed was chirpy and good overall and looked an improving performer. Apurva Agnihotri was quite decent enough.
It is surprising how for an Ahmed Khan movie, the choreography duties are handed down to various others. Again, thanks to the lead actors all being big time no-dancers none of that had any effect either.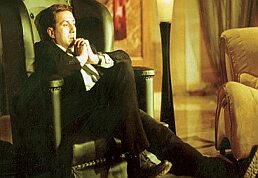 The screenplay failed at all major hurdles to keep the tensions alive. Like I said, the humour wasn't there, hardly any action for a so-called action flick, and the restrained Sunny isn't going to help Ahmed Khan score anything with this debut venture. The only good thing it will do for the action genre is that it leaves an action flick like RUN a good chance to show its stuff at the box office. LAKEER is a disappointing action flick from the word 'go.'
After what Farah Khan gave us a couple of weeks earlier, I thought this would be a worthwhile entertainer too...but oh brother, why bother?