Kalpana Lajmi...a well respected director whose films always have a hard hitting message to convey topped with some award winning performances! Be it her earlier film the Dimple Kapidia starrer RUDAALI or her last release which got Raveena Tandon her first National Award DAMAN. This time round she is back again with another hard hitting film which conveys a social message of sorts.
Kyon probes the dark side of rich urban society where children from well-off and affluent families are pushed towards the life of drugs and crime. Its the kind of movie which makes one sit up and take notice right from the first frame. It raises a hundred and one questions about why youths in our society choose to lead the reckless life of drug, alcohol abuse, crime and murder? It shows us the erosion of values between teenagers today and how it is happening...but in the end..it leaves us with one big question mark..KYON? And as the tagline rightly suggests..SOMEWHERE SOMETHING WENT WRONG!
The film revolves around Vikram (Chaitainya), Tony(Amit Jain), Amar(Sachir Patel), Neha(Sanober Kabir) and Shilpa(Prateeksha). While four of them are from the upperclass families Amar is from a middleclass family who dreams of making it big by hanging out with his rich friends.
Shilpa has her heart set on a car for her birthday but her father(Benjamin Gilani) refuses to get her one as he feels Shilpa is being spoilt by her mother. The four friends decide to plan a fake kidnap on Shilpa by which they demand 20 lakhs from Shilpa parents so they can buy her the car she wants on her birthday. Their plan easily succeeds and the five decide to hit a rave where they indulge in a wild night of cocaine, extacy, marijuana and alcohol. Very soon a argument sparks up between Vikram, Tony, Neha and Shilpa. The argument soon turns deadly and before they realise both Shilpa and Neha get murdered brutally and ruthlesslely by the teen boys who are drug induced and have no idea what is going on.
Enters Inspector Aditya Solanki (Raahul Dev) who is handed the case to solve. Solanki feels that Amar is innocent and is being pushed into accepting the crime as his since he is from a middle class family unlike Vikram whose dad is a home minister and Tony whose dad is a millionaire business. How Solanki solves the case and comes to learn of the shocking truth forms the crux of the movie.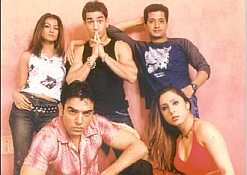 As a director Lajmi must be given full credit for tackling a issue which if socially relevant in todays day and age and is happening out there everyday. The manner in which she has portrayed the upper class youths of today is extremely realistic and one feels like they are watching a documentary. Witness the scene where the boys pick up girls at a disco only to get into a fight with them or the scene where the boys have a argument in the car right after they leave the rave and the scuffle that follows when the boys brutally beat the girls up. These scenes and more are directed in such a hard hitting and realistic manner that one is shocked and sits up and notices. Although hard to digest for some viewers the film makes for compulsive vieweing. One only wishes that Lajmi had managed to keep her direction consistent throughout. Although her ploy to add no unwanted comic and romance tracks works in the movies favour, the films screenplay loses its impact in the second half. The film tries to tackle too many issues at once and dwelves into too many corrupts. The middle class/upper class fight seems underbaked and leaves no impact on the viewer, ditto for the corrupt minister track which comes across as a cliche. Lajmis characterisation of the teens parents also come across as a flaw...on one hand the parents comment a lot about the degenrate lifestyles of their kids and on the other hands the parents are no better off themselves.

The songs in the movie also come across as a hindrance bar the BADALON MEIN CHAAND CHUPA which leaves a lasting impact on the viewer.

These flaws ruin a film that could've potentially been a classic of sorts but nevertheless is worth a watch for sure.

In terms of performances Raahul Dev is fantastic as the straight edged, hot tempered cop. He has played a similar role in 88 ANTOP HILL but here he gives life to his character and his dialogue delivery and facial expressions are spot on!

Chaitanya Chaudhury is impressive in his role and enacts his part well. Amit Jain comes across as a mixed bag. His portrayal of a drug f*ucked teenager is utterly brilliant and 100% convincing at times where one feels completely in awe of his performance, while in some instances he tends to go overboard and tends to ham a little even. Sachit Patel as the middleclass Amar springs a surprise with a confident performance. His scene with his mother in the concluding reels of the movie are amazing.

From the female leads the two girls don't leave much of an impact at all. All they are required to do is shout and scream.
The supporting cast on the other hand is in top form. Smita Jaykar gives a award worthy performance as Amars mum. She is completely in sync with her character and evokes sympathy in right doses. Anita Kanwal and Naresh Suri who play Tonys parents play their part with conviction while Soni Razdan is a scene stealer in her role as Nehas mother. Benjamin Gilani as Shilpas father and Ravi Jhankal as Vikrams father are also just as convincing. Kunika in a restrained role is effective.

Bhupem Hanzrikas musical efforts here have gone to waste. A film of this nature required no songs at all and they just interefere with the films pacing. Although the songs are soulful, they lack entertainment value. BADALON MEIN on the other hand is a song that comes towards the end is UTTERLY BRILLIANT and has a mesmerising effect on the viewer as it plays each time in the movie.

The background score is apt.

Technically the film is ok. Cinematography by Mahesh Aney and Arvind Kannabiran ranges from great to average. The scene with the teenagers partying in clubs or raves come across as shoddy and blurry and are hard to decipher. On the other hand the scenes where the youths have a scuffle with the girls and the flashbacks they have at latter dates have been canned with flair and style. The use of blurred, steadicam camera angles are used to its full effects and enhance the reality of the scenario. Also the scene where Rahul is interrogating the 2 youths in prison and the camera switches from one to the other has lighting used to great affect.

Despite these flaws KYON is worth a watch for sure simply because of the messages and questions it raises to the viewer. One hopes Kalpapa Lajmi gets all departments spot on next time and gives us a classic like RUDAALI.

All up KYON had the potential to be a outright classic movie which could've become a CHANDNI BAR of sorts for this year, unfortunately the film is bogged down by a slip-shod screenplay and too many subplots which test the viewers patience at times.

P.S-The film does have extensive use of drugs throughout the entire film

7.5 outta 10