After churning out successful family TV serials one after the other, Ekta Kapoor (Jeetendra's daughter) is trying her lucky hands on the big game - movies. Starting of with the hit comedy HUM PAANCH, now her serials all over the channels right from KKUSUM to KYUNKI SAAS BHI KABHI BAHU THI and what not!
So now Ekta Kapoor and Shobha Kapoor along with Jeetendra bring to you a typical Bollywood entertainer directed by none other than masala director No.1 David Dhawan. And with the family having the fixation with the letter 'K' and really believes in numerology, they come up with the weirdest spellings for their title, KYO KII...MAIN JHUTH NAHIN BOLTA.
And then if its a David Dhawan movie, then Govinda is something that we must never ignore.
So the team of Govinda-Dhawan, who already gave the first hit of this year - JODI NO.1 is ready to strike once again at the box office with a loose version of Jim Carrey's super hit comedy LIAR LIAR.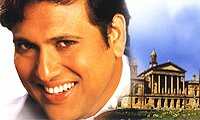 Govinda is a small time lawyer Raj Malhotra who lands up in the big city of Mumbai to make it big and successful. But soon he finds that here your talents are of no use, unless you have that kind of money and status.
So he tries to take a shortcut by wooing Sonal (Sushmita), the daughter of a wealthy and noted lawyer Tejpal (anupam Kher). Things however does not go Raj's way when Sonal is ready to leave her father and the wealth and move in with Raj.
This leaves Raj with no option but to slog it out really hard and forget about his principles and all inorder to earn those bucks. So years later, Raj is a family man happily married to Sonal and both blessed with a child. However by this time Raj has become shrewd, cunning, manipulating liar, I mean Lawyer.
Anyhow their relationship begins to sour and Sonal is now thinking about a divorce. At such a point, their kid wishes that his father could stop lying.
And the wish does come true and Raj suddenly finds himself unable to lie, neither in his personal life nor in his professional life. And the hillarious situations that arise from this trouble is what the rest of the story is all about.
Well, the movie does have the recipe for being a decent entertainer. And with someone like Ekta Kapoor producing it, I think the movie would not be as senseless and loud like the usual Dhawan comedies. This one will be a more calmer sort of entertainer.
Govinda is a one-man show and there is no reason why he should disappoint when he is getting such a strong character to portray. Sushmita who have so far impressed in just support roles and item numbers must prove here that she can carry a movie on her own.
Then we have a good support cast in Anupam Kher, Satish Kaushik and then an unusual Dhawan casting - Sharad Kapoor as Tejpal's other son-in-law.
Then there is also another role which is now played by Rambha, but initially it was to be played by Tara Deshpande.
The music of Anand Raaj Anand is just as average with just the title song being the right one for a Govinda- flick.
The movie is expected to hit the theatres on September 21. But there are other big movies also scheduled to release around this time period. So the going aren't going to be any easy.
Kyo kii...Main Jhuth Nahin Bolta
right click the song and save target/link as...