Khushi was a big success in its original Tamil version and like all hit tamil flicks, it managed to become a hit in its Telegu remake version too. So if a Telegu flick also hits the target, then it is the norm of Bollywood to remake it into Hindi. And that is exactly what has been done when Boney Kapoor throws in the money for yet another southie remake.
Ok, let me begin with Khushi -the tamil one. The original definitely did not boast of much of a storyline, but what really worked for it was the superstar image of Vijay, a great commercial soundtrack all of which ensured a decent watch at the movies. It was thoroughly enjoyable for a view though the fact that it had a lame plot was so obvious.
So when someone attempts a remake, it is expected to improve on the shortcomings and take the film a step further. But in Bollywood, that is hardly the way its done and even worse, when the director is the same guy behind the original - then what we get is a frame-to-frame copy.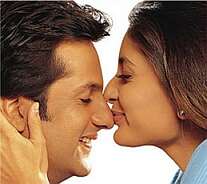 Karan (Fardeen) is ready to pack his bag and leave abroad for his further education. But a rather unfortunate accident forces him to enrol into a Mumbai University instead.
On the other hand, we have Kushi (Kareena Kapoor) born in a UP village. Her conservative father (Amrish Puri) believes that she has studies enough and now it is time for her to settle down in life. But Kushi still insists on pursuing her education, and finally her father relents to his daughter's wishes and Kushi finds herself in the same university in Mumbai.
Karan and Kushi though get to meet each other through some common friends. And these common friends are in love and want to end up with each other, but their parents do come in the way. And Karan and Kushi takes over the task of helping them out. And while they do so, they find themselves getting closer that you would expect. But both have some great egos to nurse, and are hardly able to express their true feelings.
So what we have is three hours of two sure-to-be-lovers fight it out between them before they decide to call it truce.
So then how does the movie look in a new tongue- hmm...better colors and glamour shows its stuff but in return takes away a lot from its simplicity.
Obviously there is no denying the Suryah is a talented director. His work speaks for itself, but it is just unfortunate that he had to make his mark into Bollywood with this weak script.
Fardeen Khan did get a great role to tamper with and he does utilize it quite well. Remember, it was a role written for Vijay, a big star in tamil. So it was obvious that the role could not go wrong and it fitted Fardeen to the bill.
Kareena too gets a lively and bubbly role played by Jyothika in the original. Obviously most of the times there was a lot of over-acting attached to it, and in the original those unintentional gestures contributed to the fun. When Kareena does it though this time around, it is simply over-acting and nothing more.
Anu Malik has come up with a rather decent soundtrack after quite some time. And equally making it all the more worthwile are the picturisations of these songs by names that include Prabhu Deva, Ganesh Hegde and Longines Fernandes. Obviously the fact that the producers had the dough to throw in only helps the cause to make the songs look as grand as possible.
Obviously, Kushi was never a love story to begin with. Somewhere down the line if it was promoted as a big love story, then only the makers are to be blamed. Kushi is a rather entertaining piece of cinema though and thats all there is to it. But sadly, Boney Kapoor has made a mistake by releasing it at a time so close to the World Cup.
At the end of it all, the movie is a decent entertainer. It keeps you smiling and on a rather happy note as you watch how silly the lovebirds can get at times.