Ramesh Sippy and Amitabh Bachchan were once a great team. Together they have come up with some great flicks which includes the best of bollywood - SHOLAY. Now years later, Rohan Sippy and Abhishek Bachchan, their star sons have now joined hands to give us a romantic flick KUCH NAA KAHA.
Raj has been sent packing to India by his loving mother (Suhasini Mulay) to attend his cousin's wedding. But his mother and his uncle (Satish Shah) also has something else on their agenda- to find the right girl for Raj.
And to get this girl, he throws the task onto his employee Namrata (Aishwarya Rai), who by the way has crossed swords with Raj already. Now Namrata has to take Raj around for his so-called dates and ensure that Raj does not sent they girls flying away.
However amidst all this, Raj just realises that he might be only happy with a girl like Namrata. Hey what the heck, why not just marry Namrata, he decides. But he gets the shock of his life when he realises the fact that Namrata is a single mom with a young kid (Master Parth Dave).
Great! Now what?
Just watch the opening credits and you know that Rohan Sippy knows his job, and knows it well. But by the time the credits roll at the end of it all, we know that Rohan just like any of the big names out there, can also make a mess of things.
Finally Abishek Bachchan delivers! Initially AB Jr's comic sequences looks a little too forced, but maybe that is because he has never played such a free-wire character like this before. Eventually this time he does, and he comes out with one of his most engaging performances to date.
However I just could not buy Aishwarya Rai as the single mom. Though Ash has done a pretty decent job when it comes to looking good and mouthing those dialouges, you could feel that she was hardly convincing in those single mom avataar.
Arbaaz Khan however is a big disappointment and hardly registers an impact. But someone who does is the kid Parth Dave and strikes a wonderful chemistry with Abhishek.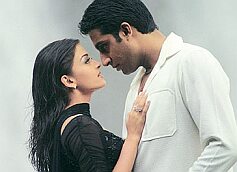 Shankar Ehsaan Loy trio comes up with yet another wonderful soundtrack. After giving us a pleasant ARMAAN earlier they have come back with this one, but they still haven't met their own standards that they set for themselves with Dil Chahta Hai. Their appealing melodies also comes pretty much alive onscreen thanks to Manikandan's awe-inspiring cinematography, as well as the sets and costumes.
However it is not the technical department that fumbles, but it is the writing team.
If they had just focused on getting a lively entertaining romantic tale of a man falling for a single mother, something on the lines of Jerry Maguire, I guess things would have been pretty fine and more imaginative. Atleast it would have been a lot more fresher.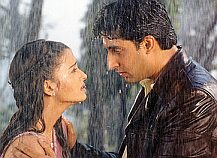 However by bringing in a husband back just to complicate things, Rohan Sippy took the movie completely downhill. From there on the movie is filled with illogical reasoning and just drags onto the inevitable. Don't ask me why Ash's character behaves that way once her husband walks back into her life.....a question that still leaves me mind boggling?
The movie for most of its reel time played out like the best romantic flick of this year...however its begins to taste sour in the last 30-40 minutes and throw it back into the lanes of mediocrity by the time it all got over.
Despite all its flaws, it still remains a decent family viewer and will reassure your faith in Abhishek and it is not long before he give us that blockbuster. However KUCH NAA KAHO just isn't AB Jrs ticket to fame. Nope, not this one...but trust me he is getting there!