The story is a about a father and son who both are dominant figures in the police force. But it is their ideologies that do not go hand in hand.
While father Awadesh Pratap Singh (Vinod Khanna) Commisioner of Police firmly believes in the old principles and the law, the son Abhay, (Bobby Deol), ACP has different beliefs in life and has his own set of laws which he thinks is necessary to teach the law breakers a lesson.
The one thread that strings together these completely two opposite personas is the mother, played by Rati Agnihotri.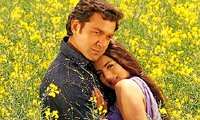 Things take the turn when ACP Abhay comes in the path of a wealthy businessman Rana (Kabir Bedi) who will do anything to reach his evil goals. So Rana decides to get Abhay out of the picture by putting him behind bars on fabricated cases. And when Abhay is jaikled, even his father thinks that he is guilty. But his mother stands by the son.
Finally Abhay gets out on bail, but once out of jail, he is on a mission to prove that he is innocent. And obviously, we have both the father and the son uniting in the end to beat the evil forces that threaten to destabilize law in the country.
Also a love track between Abhay and Sanjana (Amisha Patel), a girl out to do some kind of thesis on cops.
Vinod Khanna, after his average performance in Deewanapan returns once again in this film. But what a waste of effort, I should say!
With a movie so silly and boring, nothing much can be even said about the performances. They are terribly bad. Be it Bobby Deol or Amisha Patel, both of them are simply disastrous.
Worst is the fact that veterans like Kabir Bedi, Vinod Khanna and Rati Agnihotri have to go through this crap to be in Bollywood. It just highlights the misery of the industry, nothing more.
Usually I am never hard on movies, and even in some of the most disappointing of movies, I end up finding something commendable here or there. But Kranti is one such film that has nothing in it. It is as empty as my wallet.
A very mundane storyline, with ridiculous screenplay and childish dialogues, topped by badly written characters makes the perfect recipe for disaster. Jatin-Lalit's music is also nothing to write home about.
In short, an absolute waste of time!