Movies are generally of two types. One that sets a trend, and another that simply follows one.

When Sooraj Barjatya came up with HAHK and when Aditya Chopra came up with DDLJ, these two were setting trends. Trends that even today other directors are just trying to follow.
Then we have a director like Karan Johar who takes up stale subjects...subjects and themes were there is absolutely nothing new or original about it, but this man puts in all his efforts and money and gives it a glossy rich look and feel. In other words, old wine in a brand new bottle!!!

So here is a simple family tale where all the happiness of the family flies away when the son marries a girl of a poor social status. And then like you expect, the family gets back together to old happy ways by the time the film is over.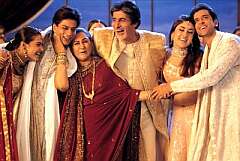 The Raichand household is mega-rich...and Yash (Amitabh) and Nandini (Jaya) are parents to two sons Rohan (Hrithik) and Rahul (Shahrukh). Rahul however is adopted and though Rahul knows about it, he is still like a family member in the whole thing.
But father Yash (Amitabh) is an adamant and dominating figure and wants everything to go according to the way he plans. So when he fixes Rahul's marriage with the daughter of the family friend Nainaa (Rani Mukherjee) Yash does not expect Rahul to disapprove.
But things go wrong only when Rahul falls for a local gal from Chandni Chowk, the lively and spunky Anjali (Kajol). And soon Rahul is kicked off from the Raichand household for marrying Anjali and so Rahul moves with Anjali and her younger sister Pooja to London.
10 years later, a grown up Rohan (Hrithik) comes to know of all this and sets off to London to get back his brother and family. And here he joins a college, where he bumps into an attitude filled Pooja (kareena Kapoor). Together they plan to get Rahul to change his mind about going back to the Raichand household.

So Karan Johar has a winner here. A winner if one is looking for a movie that can open well and continue to get good business from all over the country and from abroad. This movie does not take any risks, gives all the fans what it wants and one wonders why a viewer would not be happy with it.

But is it really a movie worth all the trouble? Well, answers are mixed.

The acting definitely is worth the price of the ticket, even if everything fails to impress!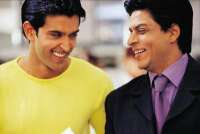 Definitely the movie has three mega superstars all rolled into this one flick. And then another load of female stars to go with. So definitely the movie has a starcast to die for.

Leading the way is definitely the best onscreen pair ever of Shahrukh and Kajol who is certain to continue their 100% superhit record with this movie too. Afterall, here is a pair I will never get tired of.

It is quite sad that Kajol is gonna give up acting. For here she shows what a talented actress she is. Single handedly she stands tall as the "kushie" of the film in front of a Raichand household that has only time to breakdown and cry. She is a treat to watch in every single frame that she is in.

And then the movie is definitely a Shahrukh Khan movie, and the man walks away scratchless with an honest performance straight from the heart. Though not as great as the one he gave a month back in ASOKA.

Next in line comes Hrithik Roshan. Hrithik fans have to wait till the second half but trust me...the wait is worth it. The man has great looks, and also a great dancer but this movie puts the seal on the fact that this young man can act and emote, without a doubt.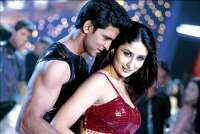 Kareena too comes in the second half in a rather loud characterization of a spoilt Brit brat, with as minimum clothes as possible. Karan really went overboard with this Kareena character and took away everything family about this "family entertainer".

Then the first couple of Amitabh and Jaya. Well, nice to see them together on screen and we are sure to see them a lot more in the coming years. However, here they just walk through the film with such ease without putting their acting skills to test. One of the finest moments of the film was the one where Jaya does Amitabh's tie!

But Amitabh is unfortunately repeating himself here. We have seen him in a similar role in both MOHABBATEIN and the recent EK RISHTAA. So watching Amitabh is really no fun!

But special mention has to be given to the special performance put in by the lovely Rani Mukherjee...and Farida Jalal. Also a noteworthy show from as the young Hrithik.


And then this "great" movie is filled with laughter, tears ... and major faults!

To begin with, we are taken into flashback 10 years back...but there is nothing flashback about it. Everything is modern even back then...the vehicles, the wardrobes, cokes, pepsis, the indian cricket team of Sachin & Ganguly, mobiles and even Amitabh croons "aati Kya Khandala", But all this can be overlooked if that is what Karan wants us to do...ignore the timefactor.
But then why should the Raichand household be portrayed so super rich. and I though all those David Dhawan farm houses were bad! Here Raichand goes in helicopters, and the rooms are so big that you need a taxi to get from one side to another.

But post interval...Hrithik lands in London and puts up in Shahrukh's home which is a luxurious place in itself. So what did Shahrukh do in the last 10 years to earn such bucks after he got kicked out of his house...an answer tat no one knows, not even director Karan.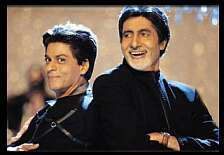 One of the real problems I find is that the movie is so filled with heavy emotional scenes that after some time, it fails to evoke anything at all. The actors are trying too hard to break the viewers to tears. But the success of a good emotional scene is that it should come naturally. But here the makers are doing a deliberate attempt to make you cry...and for me it was all nothing more than a YAWN!

But i really wonder why should Karan put in a lot of references to KUCH KUCH HOTA HAI. If the man wants to grow he must not fall back on his old hits. It is as if the director wants to remind his viewers - "Look, I am the same genius behind KKHH."

Then trying to please the NRI crowd back at UK, Karan Johar tries to put in a lot of patriotism crap which is nothing but forced in. The national anthem was absolutely not needed in any way. And if Karan expects the audience to stand up for that, then he is terribly wrong!

The music is so stale. I can't believe that Karan Johar was happy with this score. The song has neither the soul of DDLJ, the melody of KKHH...and it sounds as lame as the score we got in MOHABBATEIN. Fortunately the picturisations are great and saves these mediocre songs. Jatin Lalit should try to bring in some variations in their score for they are ending up as the most repetitive bunch we know in Bollywood industry. Except for "You Are My Soniya" and then an item number "Shava", none of the songs bring in any spark.
Karan Johar experimented with "Raghupati Raghava" in KKHH and he does a decent job here too with "vande Mataram". But Karan Johar should have avoided making Amitabh croon "Aati Kya" and also the national anthem part was not needed. What does Karan expect - the audience to get up and stand. Sorry, man!!!
Still the movie is a well made movie as it maintains the same pace and touch right from the first frame to the last. Unlike most of the movies we see these days, one half does not overshadow the other drastically.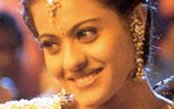 There are some great scenes too...that shows that Karan Johar is an able director and we can expect some good movies, but strictly within the commercial parameters of Bollywood cinema.
Shahrukh's entry with Jaya Bachan waiting, the rain shot where Shahrukh decides to marry Kajol and Shahrukh leaving the house after Amitabh reminds him that he is adopted.
THe second half there are more great fun sequences before we have emotional breakdowns every now and then. And Hrithik comes on tops here.
Great choreography from Farha Khan, sets from Sharmista Roy and costumes from Manish Malhotra & Co. But the real winner here is cinematography from Kiran Deohas. Mindblowing work indeed!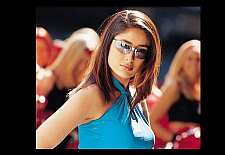 Well, the movie is similar to EK RISHTAA in many ways. But surprisingly, a predictable lifeless movie like that did quite well in the Northern belts. So there is no reason why this movie could not do better in these very parts. Afterall Karan and papa Yash have thrown in loads of cash in making the movie look grand as possible, in addition to the star fees.
Bottom line : K3G is definitely worth a watch. You are never gonna get such a load of talent in one bundle for a long time to come. The movie might be better than MOHABBATEIN but is nowhere close to KUCH KUCH HOTA HAI.
And if you want me to compare it with movies of this year...K3G comes only next to movies like LAGAAN, GADAR and DIL CHAHTA HAI. But the box office will have a different story to tell at the end of the year.
So if you like your meals the same way you have been having it for years, then KABHI KUSHI KABHIE GHUM is for you. But if you are the kind who would like to taste new dishes from time to time, K3G might be not that tasty for you.
ADDITONAL NOTES : Kuch Kuch Hota Hai was a good movie, but it was only that good because Karan could afford to make the movie on a scale that big. Give the same movie to Karan with a real low budget, and you will find Karan struggling.
Ditto for K3G. With a lower budget, I am sure that Karan will only be able to come up with something like EK RISHTAA.
Karan Johar is a good director, no doubt. But if he can prove that he can make a good movie solely on the strength of a script, story and characters...he will make a step towards becoming a "great" director. But if making bucks at the box office is all that matters...sure keep giving these kinda movies and slowly the audiences will deplete away.
WHAT THE CRITICS HAVE TO SAY
TOTAL REVIEWS :10
POSITIVE: 6 MIXED: 3 NEGATIVE: 1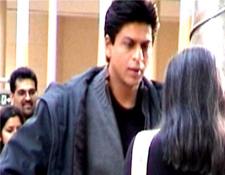 For the drought-stricken film industry, the film will prove to be khushi, more khushi and only khushi.
read the positive review at Indiafm

The star of the entire film is director Karan Johar who handles the scenes very well. From emotional tear jerking sequences to lighter comic scenes, he has handled the screenplay with great ease and panache read the positive review at Sify

Despite having an extraordinary starcast and more-than-enough funds to make his second film, Karan Johar disappoints. What he delivers is a bad remix of Mohabbatein and KKHH. Like Mohabbatien, K3G might make money, proving yet again that bad art need not necessarily mean bad business.
read the negative review at Rediff
Dharma Productions has kept its promise in giving us a lovable film for us to remember in coming times, and despite having to push and shove to get into a packed-like a can of sardines- theatre, K3G is one heck of an entertainer and was worth the wait. read the positive review at PlanetBollywood
All in all, a film that is excruciatingly long but has some wonderful moments. It also makes you laugh and it makes you cry. But Yash Johar had recently said in an interview that K3G is flawless. We beg to differ.
read the mixed review at NaradOnline

On the whole, K3G. is a hit, not because of the main story and screenplay but because of the other entertaining values and the huge star value. However due to the flaws in the script, however, a long run is ruled out read the mixed review at Radiosargam
Karan Johar keeps you enthralled with the drama, in your face Indian values, a mommy dearest, great production values, amazing styling, stable cinematography, very well shot songs, consistent character graphs and what have you that you forget that the film is a very small story that of one brother (Hrithik) who goes to London to ask his brother (Shah Rukh Khan) to return home. read the positive review at B4U
The eventual impression however, is that Karan Johar did play it safe after his huge blockbuster four years ago. He hasnít attempted to try anything even a little different, but what he has put his hand into, heís worked on with sincere dedication, pure hard work and is now exhibiting results that come only from sheer talent. read the mixed review at Cinetalkies

With so much going for it, K3G is the complete commercial banquet delivered with fabulous finesse by Karan Johar. So, go indulge yourself. Cry your heart out and surprisingly, you'll feel life's finally alive and kicking in Mumbai's dream world.
read the positive review at Filmfare
What should one make of a film like K3G? It is hard not to like it. For all the gloss and the glitter that stands out on the surface, it's a film that has a soul. It is a feel-good film that sends everyone home happy.
read the positive review at HT cinema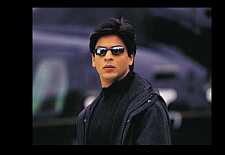 download the songs NOW!!!!
right click the song and save target/link as...