Director Guddu Dhanoa and TIME Magnetics both team up together after the disaster of their last 2 respective releases-JAAL-THE TRAP and THE HERO-Love Story Of A Spy to come together for an action movie of sorts.
Bobby Deol graces the bigscreen after a long time instead of Sunny Deol and the movie was promised to be a action bonanza of sorts like Bobbys GUPT, SOLDIER, BADAL and BICCHOO but sadly KISMAT falls flat on its face and is a extremely pathetic venture!
The film revolves around Tony (Bobby Deol)-a street thug who does everything for a price. He is the king of the streets and survives on his courage and wit..
Tony falls head over heels in love with a singer called Sapna (Priyanka Chopra) only to find out that she is about to get married to a rich boy from an affluent family. A heart broken Tony decides to become extremely rich so that he can ask for Sapnas hand in marriage.
Tony gets a mission from his underworld contact to coerce an government official to sign some documents. The task looks easy and the price is ENORMOUS! Tony goes right into Dr Gosains(Mohan Joshi) office and threatens to kill his family if he doesnt sign the papers.
What Tony doesnt know is that Dr Gosain is infact Sapnas father and the his signature would allow the corrupt and powerful businessman Raj Mallya(Kabir Bedi) to release his his out-of-date and lethal drugs on the market. These drugs eventually end up killing three kids and Dr Gosain is convicted for life.
In the meantime Sapnas mother(Smita Jaykar) also commits suicide unable to bear the pain and humiliation given from society.
Tony realises that he has caused a huge blunder and now he must do everything in his power to undo all wrongs and proves Dr Gosains innocence. He challenges Raj Mallya and his empire and how he wins in a battle of brain and brawn against him forms the crux of the story.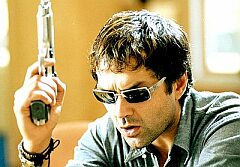 In terms of a story Sutanu Gupta and Robin Bhatt deserves a 1/10 for originality! The story is just soo damn cliched and feels like its straight from the 80's! There is not even one orignal scene in the movie and one can easilly predict whats going to unfold in front of them!
The screenplay by Gupta and Bhatt is equally bad. The film never manages to completely grip the viewer but it succeeds in boring them from start to finish. The HEAVY cliches bog the movie down and KISMAT is definetly one of the most UNORIGNAL pieces of cinema in a long time.
As a director Guddu Dhanoa hits an all time low! This has to be worst than his previous two movies JAAL-THE TRAP and HAWA. Here he seems completely bored and takes the most oft repeated and hackneyed path that has been witnessed time and time again. His ability to elevate ordinary scenes with crackling action and staunch performance that was witnessed in ZIDDI, SALAAKHEN and BICCHOO is lacking here. The powerful scenes are minimal and the action sequences are ordinary. The films has a huge bodycount and there is a dead body every 15 minutes. The level of violence isnt really necessary either nor is it justified! The film has no grip at all what so ever. Be it the initial sequences between Bobby and Priyanka, the scene Bobby blackmails Mohan Joshi, or the entire second half which just loses all steam. I REALLY hope that Guddu Dhanoa doesn't screw up the Deols home production DEODHAR GANDHI...because going by KISMAT iam not getting a good feeling!
In terms of performances the movie is ordinary!
Its been a while since one saw Bobby Deol on the bigscreen and he has a role here that he is completely at ease with. His performance here offers nothing new at all and one has witnessed him play characters with similar shades in BAADAL and BICHCHOO and Bobby is no different here. He seems bored for the most and sleepwalks through his role. I really hope Bobby gets some meaty roles in TANGO CHARLIE and BARDAASHT that bring out his "acting" side rather than relying on his action hero image and his ability to ape his brother.
Priyanka Chopra carries off her part with conviction. She seems confident in the dramatic and emotional scenes and is more than just a decorative piece in the movie. She looks stunningly gorgeous throughout the movie although the chemistry between Bobby and Priyanka is missing....she shared more chemistry with Sunny Deol in THE HERO
The supporting cast in the movie is juat OK. Mohan Joshi, Shahbaaz Khan, Smita Jaykar and Virendra Saxena do roles that don't offer them much scope. Ashish Vidyarthi is good in his roel though not as powerful as his performance in ZIDDI and BICHOO! Kabir Bedi plays his suave head honcho role with elan although i wish more justice was done to this mans talent rather than roles like RUDRAKSH and KISMAT
Sanjay Navrekar is a scene stealer in his role. He repeats his same act from VAASTAV and is a gem. His comic scenes are just brilliant!


Technically the film is good. Sripad Natus camerawork is as expected and the film is glossy for the most. Tinu Vermas action is the usual fare and doesn't offer anything that we havent seen before.
Anand Raaj Anands music is just average. All the songs have similar picturisations and i lost track of what song i was watching. MAAHI MAAHI has a good beat to it.
All up KISMAT is a HUGE DISAPOINTING fare and even the most ardent fans of Bobby Deol will be disapointed!
4 outta 10