After a memorable teamup in J.P Duttas war epic BORDER and a a disastrous effort in Harry Bawejas KHEL-Sunny Deol and Suniel Shetty re-team in debutant Yusuf Khans KHEL which promised to b e a twisty turny thriller full of twists and boasted of some of the best action sequences ever witnessed in Bollywood! Sadly it disapoints in both accounts and if it wasn't for some smashing performance by Sunny Deol and Suniel Shetty KHEL would have been a total DUD.
The film revolves around Rohan Poddar (Ajay Jadeja) a happy-go-lucky do-gooder who lives alone on his ancestral property living off the money he gets from his familys trust. He is a good citizen who believes in helping everyone sees the good in everyone.
Rohans best friend is Dev Mallaya (Suniel Shetty)-a super rich shrewd and crude businessman who is famous for his style of operating. He has never lost in any form in his life and doesn't plan to either! Dev lives with his grandmother (Suhashini Mulay) who he loves very much.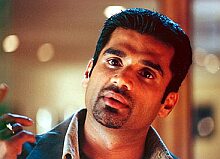 As fate would have it both Rohan and Dev fall in love with the same girl Saanjh(Celina Jaitley), a interior decorator. Dev gives Saanjh a huge contract of decorating his mansion in order to be closer to her and his love deepens...
Saanjh on the other hand unaware of Devs feelings, falls in love with Rohan and vice versa.
Through a twist of fate Rohan accidentially kills a girl that he was trying to save from some goons. In court Rohan is sentenced to life imprisonment which leaves Saanjh heartbroken. End of story? Nope..the real game begins now.....
Little to Rohans knowledge Dev had bought the police officer handling the case(Gulshan Grover) the defence(Akhilendra Misra) and prosection(Mohan Joshi). His aim was to get Rohan sentenced knowing that he was innocent so that Saanjh will come running back into his arms and that is exactly what happens...
Now enters Assistant Commisioner of Police Rajveer Scindia (Sunny Deol). Rajveer upon meeting Rohan is convinced that he is innocent and is part of a dangerous game in which he was framed. How he gets the case reopened and gets to the bottom of this "khel" forms the crux of the movie.
In terms of a story Yusuf Khans efforts come across as a mixed bag. The first half of the movie moves at a snails pace and are extrenely uninteresting and boring. The culmination of the love triangle and the establishing of the charatcres is dull. It is only in the second half that the film picks up momentum and gets interesting and as a writer Khan has incorporated the necessary twists and turns needed for the genre. But Khans script is let down by a absolutely contrived, cliched and bogwashed screenplay. Dillip Shuklas screenplays leaves a lot to be desired for and kills the movie. So many scenes are left unexplained and one finds it hard to find grip in the movie with so many inconsistencies. Take for example why Sunny Deol is so easily convinced that Ajay is innocent after meeting him once for a couple of minutes?
As a director-Yusuf Khan is OK. He relies heavily on cliches when it comes to the romantic sequences in the first half and the entire portion of light sequences and romance bores the viewer to no end. In the second half he shows sparks of brilliant when Sunny Deol enters the scene. The confrontation sequence between Sunny Deol and Suniel Shetty are simply brilliant and the dialogue baazi between them is a delight to watch. He directs the second half with maturity and shows he knows his mettle if aided by a decent screenplay. He is a extremely stylised director which works well in his favour. The entire movie is glossy and there is STYLE in each and every frame and he has directed the flick in a trendy manner.
Unfortunately for him, even the well directed second half falls apart when the climax comes as the climax is a absolute let down and feels like that the whole "khel" was childs play and all the hype was for nothing. One was expecting a few more twists and turns towards the end but the film just ends in a abrupt manner which again disapoints the viewer. Better luck to Yusuf Khan for next venture.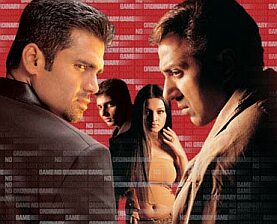 On the acting front the entire film belongs to 2 key players!
Suniel Shetty gives a excellent performance! Yet again a anti-hero after DHADKAN he plays his role with utmost conviction and keeps the viewer hooked with his performance. His screen presence is electric and his looks have improved on screen. He plays his role with a stylish flair which he pulls off with extreme confidence-the holding of a unlit cigarette and the style in which he lights and smokes it reminds one of Rajnikant. Also his wardrobe is fantastic. His dialogue delivery has also improved vastly and he doesn't go overboard at all. His expressions are spot on and his ability to express his emotions with his eyes are excellent. What really deserves a applaud is that he manages to hold his own against a giant like Sunny Deol in the confrontation scenes. Although Suniel Shetty may not be able to give a solo hit as a leading hero he certainly makes one helluva villan!
Sunny Deol breathes life into the movie. Right from his entry the entire graph of the movie elevates greatly. Its great to see Sunny Deol in a role of substance which offers him something different not mouthing his patriotic lines and bashing pakistan since thats all hes been doing of late. KHEL shows that Sunny can still offer a lot more than that. Like his much famous performance in DAMINI Sunnys character enters the movie interval point but boy does he deliver a power punched performance. Also Sunnys role here is performance oriented throughout as opposed to action oriented. He only has 2 action sequences in the movie and they have been shot extremely well. To his credit Deol gets to do what he is extremely good at...dialogue baazi. His scenes with Suniel Shetty as brilliant and his dialogue delivery is emmaculate. His scenes with Gulshan Grover are also well recieved. He definetly has a comic flair thats for sure. Lets hope that Sunny Deol gets more character based roles in films to come...
Ajay Jadeja is a absolute dead loss. This boy cannot act if his life depended on it and he looks like a absolute duffer on screen. His facial expressions are black throughout the movie and his dialogue delivery is simply AWFUL! He looks like a dork in the romantic scenes this has to be one of the WORST debut performance i have ever seen...Nuff said.
Celina Jaitley gives a OK performance. For her debut film she does what she is best at...looks SMASHING!! No doubt she is one of the best looking females in Bollywood at the moment and has a body that would have most males drooling. In terms of acting-she gives it her best shot with a role that doesn't offer that much scope. Although her facial expressions are good, she needs to work on her voice modulation and needs to go easy on the makeup in some scenes. Her inexperience shows in some scenes like when she is expected to cry.
From the supporting cast everyone fits the bills correctly. Suhashini Mulay is effective in her role. Gulshan Grover plays a role that he has played a dozen times before. Ditto for Mohan Joshi. Akhilendra Misra is getting type-cast a villan when he is capable of much more. Vjay Raaz is wasted in a role which gives him no room to perform. Supriya Karnik and Vivek Shauq are as expected
In terms of music the movie is also a disapointed. Daboo Maliks tunes don't catch the viewers fancy and even the picturisations are ordinary. CHAD GAYEE and CHORI CHORI are just average. Even the much hyped SHARRATE sounds better on the album.
On the other hand the background score is MINDBLOWING! The music gives the movie another dimension and one truly feels that a background score like this was wasted in this movie.
Technically the film is a polished product although Suniel Shettys statement that "KHEL WILL BE THE BEST ACTION FILM" is by far one of the stupidest statements i have heard. Abbas Ali Moghuls action is good-yet by no means GREAT even. One has witnessed better action in films like THE HERO, QAYAMAT and ZAMEEN this year and KHEL falls lame in comparison. All the action scenes have nothing new to offer except the X-Ray vision of bones crunching in the finale which is ripped off from ROMEO MUST DIE. Sunny Deols introductory action sequence and the finale must be given a special mention to since they are well canned.
Sooris camerawork is sharp, slick and snazzy. The manner in which the camera works everytime Suniel Shettys character is on screen is extremely effective.
As expected Yusuf Khans editing is superb since that is his orignal job. One wishes that he had snipped one of the songs in the first half to fasten the films pace.
All up KHEL is a huge disapointment and if not for the smashing performances of Sunny Deol and Suniel Shetty the film would be just another typical actioner. The line NO ORDINARY GAME can also be renamed to AN ORDINARY GAME!
5.5 outta 10
THE PANEL ROOM
| | |
| --- | --- |
| Indiafm 2/5 | Despite a routine script, the film does not turn into a mess for two reasons — debutante Yusuf Khan's stylish direction and the bravura performances by Sunny and Suniel. |
| | Despite the shortcomings, there's no denying that Khel lives up to its title. It has a powerful script and power-packed performances that keep you on tenterhooks most of the time. |
| 2/5 | This is your average-Joe slapdash, often-senseless action picture. The good point, it doesn't pretend to be anything else, so on those accounts, at least in nano seconds delivers. |
| | Khel, which has been promoted as 'the ultimate game,' goes on like a 50-over match played across five days |
PANELROOM SCORE: 2.5/5
X-tremely Good: 0 Positive: 0 Mixed : 4 Negative: 0