ReViewed by Akshay Shah
Raj Kumar Santoshi has always been a director who is regarded as one of Bollywoods best! His sense of a brilliant script....his taut and thoughtful direction...his ability to extract the BEST performances and above all to keep the viewer completely engaged for the duration of its entire length are some of the factors that lead to the judgement that he is one of Bollywoods best!
KHAKEE is a film that was huge on expectations.....a cast to die for....a story that sounded exciting and thrilling...and above all a budget of mammoth proportions....Does Raj Kumar Santoshi manage to live upto expectations? Putting it lightly-YES!
The film revolves around a team of cops who are assigned a mission to complete. What started out as a regular mission to transport ISI agent Iqbal Ansari(Atul Kulkarni) from Chandangadh to Mumbai ends up as a absolute disaster. The first team of offciers are ambushed midway and blown to smithereens. A brave officer made sure that Ansari did not escape..
After the nightmare of the first mission...another team is sent to do the job!
The assignment is handed to DCP Anant Srivastav(Amitabh Bachchan). Srivastav was a failure in the eyes of the police department. He had never taken any bribes from anyone hence he never got promoted and his career never went any further than a DCP. This was his only chance to prove himself.....
Senior Inspector Shekhar(Akshay Kumaar) is a street smart cop who acts more like a goon. He is brave, corrupt and rotten to the core. He takes every bribe he gets and has lost faith in the system. He takes everything lightheartedly and takes it as a joke....until now!
The third member was Sub Inspector Ashwin Gupte(Tusshar Kapoor)-a young officer fresh out of training school on his first "real" assignment. Gupte finds out the hard way that there is a huge difference between training school and the corrupt and violent real world.

The three officers alongwith two brave constables are given the assignment of escorting Ansari from Chandangadh to Mumbai and present Ansari in the Mumbai Court.

But someone out there doesn't want them to reach Mumbai...

Their enemy is faceless....nameless....yet is always one step ahead of them....who is the nameless enemy?

How Anant Srivastav and his team of brave officers unravel the conspiracy behind Iqbal Ansaris case.....discover the true hidden villans....and serve justice according to the text book is what forms the crux of KHAKEE!

Santoshi has alway shad a knack for writing making the most normal scripts into something astounding, engaging and a cut-above the rest! Be it a action film like GHAYAL, a social drama like LAJJA or a historical film like THE LEGEND OF BHAGAT SINGH. KHAKEE is no different as he tackles the theme of corruption, crooked cops and a dying system-a scenario that is presented in Hindi cinema time and time again..but its the manner in which he tells his tale that makes the story engaging.

Right from the first frame he manages to capture the audiences attention never letting up the pace. The characters are all multi dimensional and Santoshi adds depth to each character.

The main highlight of the story and screenplay would have to be the numerous twists and turns which happen throughout the movie. Santoshi takes the viewer on a wild ride and leaves them completely breathless, the film has a lot of twists and turns which prove to be tremendously exciting...but they never feel like are a gimmick or like they are going overboard!



As a director this has to rank as one of Raj Kumar Santoshis best films to date. With a solid script, a cast to die for and a flawless technical team Santoshi delivers the goods and exceeds the expectations that i had from the movie. No doubt this is Santoshis best piece of work since GHATAK and is better than PUKAAR, LAJJA and THE LEGEND OF BHAGAT SINGH imo-all of which were brilliant films in their own right.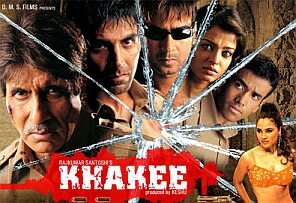 There are certain scenes that will be etched in the viewers mind after the movie is finished....these include
* The action sequence in the village fair with Amitabh chasing Ajay Devgan till hes out of breath
* The pre interval argument between Amitabh Bachchan and Akshay Kumaar which is just brilliant in all aspects of film making
* The scenes right after Interval Point with the confrontation between Amitabh Bachchan and Ajay Devgan
* Akshay Kumaars change of heart
* The scene between Tusshar and the constables wife..
* The pre climax when Ajay Devgans accomplice is revealed.
* The finale fight sequence between Amitabh Bachchan and Ajay Devgan which is SIMPLY STUNNING!!
Performances in the movie are of a extremely high order and as always Santoshi extracts some of the most EXTRAORDINARY performances from his cast. For those who aren't aware Santoshi has the ability to extract the best from his entire cast-right from GHAYAL(Sunny Deol bagged a National Award), DAMINI(Sunny Deol bagged another National Award), Ghatak(Sunny Deol and Amrish Puri were amazing), PUKAAR(Anil Kapoor bagged a National Award) THE LEGEND OF BHAGAT SINGH(Ajay Devgan bagged a National Award) and with KHAKEE hopefully Mr Amitabh Bachchan will bag a well deserved National Award!
As Anant Srivastav, Amitabh Bachchan delivers a performance that could rank as his BEST since his comeback. The angry young man of yesteryear is back and angrier than ever! Amitabh Bachchan still possess those fiery red eyes.....the deep bartitone voice full of anger and the right amount of energy that is needed to play the role of a daredevil cop. Bachchans expressions, his voice modulation, and body language bring the character of Anant Srivastav to life.Bachchan is there in nearly each and every frame and the movie CLEARLY belongs to Mr Bachchan and no one else. A performance that shoud play as a workshop to anyone taking up acting. Definetly ranks in Amitabh Bachchans TOP TEN PERFORMANCES to date!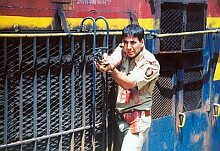 Akshay Kumaar is FANTASTIC and gives a astounding account of himself. As a corrupt and slimy cop Kumaar is at ease and delivers a performance that is natural to the core. His light scenes are just superb and even in the latter half when his character takes a turn for the serious Kumaar is brilliant. No doubt a performance that is one of his best(IF NOT BEST) to date...and also one that is bound to get him sympathy.
Ajay Devgan delivers yet another top notch performance. Only a master performer could have performed the part of Angre with the right amount of flair and style and Devgan does that just fine. Although he had played a villan in the past with DEEWANGEE-his performance here is of a higher league. The scenes where Devgan is on screen he demands screen presence and is miraculous how Devgan so easily slips between playing a hero and villan. The same actor portrayed a honest up right cop early last year in Prakash Jhas GANGAJAAL with utmost conviction-and here as a hardcore hardened criminal Devgan is yet again flawless! Versatile he is no doubt about that.
Tusshar Kapoor leaves a great account of himself in a small but significant role. As the young rookie cop Tusshar lets his eyes do the talking and despite such a huge cast Tusshar is never overshadowed and manages to leave a impression. Although the role was originally meant to be played by Akshaye Khanna...i feel Tusshar Kapoor has done complete justice to the role which is a HUGE compliment for the actor...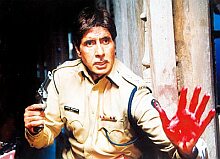 Ashwariya Rai springs a surprise with a wicked performance. She isn't there just to provide glamour and despite a male oriented flick-Rai gets her fair share in terms of scope to exude her talent and she makes the most of it.
Atul Kulkarni as Iqbal Ansari is a complete natural. He makes the most of his meaty role and doesn't leave any room for complaints.
From the supporting cast D.Santosh is great in a small role. Tanuja and Jaya Pradha both play their small parts well and Prakash Raj leaves a impression in his role.
Dialogues in Santoshi films always prove to be a HUGE plus factor and at times also being the mainstay of the movie....KHAKEE is no different. Raj Kumar Santoshis dialogues in KHAKEE are just brilliant and elevates the film a few notches higher. Those delivered by Amitabh Bachchan, Akshay Kumaar and Ajay Devgan meet with a thunderous applause and no doubt this BEST DIALOGUES is one trophy Santoshi may bag yet again after GHAYAL, GHATAK, DAMINI, CHINAGATE and PUKAAR!
Technically producer Keshu leaves no stone unturned and the lavish budget of the film translates well onscreen. The film has the feel of a epic adventure/action film and is shot in a slick and fast manner. K.V Anands camerawork is of International standards and the colouring of the movie works in the films favour. Tinu Vermas action is another aspect of the movie which is a standout. The film has numerous action sequences throughout and they enthrall the viewer to no end keeping them hooked onto their seats.
The only gripe i had with KHAKEE was that Ram Sampaths music was not needed at all. DIL DOOBA and VAADA RAHA hinder the films pace and don't gel at all with the film proceedings. He should have just left AISA JAADO and thats about it. The songs seem like mere gimmicks at times and KHAKEE is a film that didn't need a romantic track AT ALL!
The picturisations of all songs are great and Lara Dutta is STUNNINGLY HOT in AISA JAADO. MERE MAULA and OOPARWALE are good as the background & situational numbers.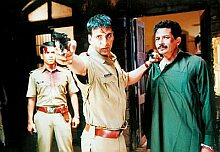 All up where does that leave KHAKEE? a BRILLIANT film that will be remembered years down the track as a exhilirating and heard pounding cop movie! The stage is (hopefully) set for the year 2004 and mark my words KHAKEE will feature in the years top 5 even at the end of 2004!
9 outta 10