ReViewed by Jox
Ok, it might not be cent per cent right....but finally Raj Kumar Santoshi set out to make a certain kind of movie, and for a change it has scored on most departments so right, that it is hard to ignore this movie...and that is for all those who outright stayed away from his other attempts at making quality flicks like PUKAR, LAJJA, CHINA GATE and LEGEND OF BHAGAT SINGH. To tell that those films are duds just based on the box office collections, is an absolute crime because all of them were atleast decent films which just failed to reach the mark due to some reason or the other.
However with KHAKEE, Raj Kumar Santoshi has certainly gone all the way by getting a script that treats the routine cop flick with a rather 'novel' approach and top it with a star cast that any film maker would die for. Obviously which also means sky-high expectations, but yes....RKS has delivered some solid stuff.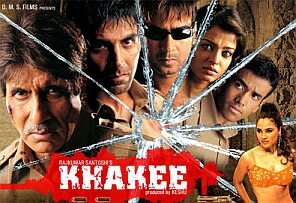 The film revolves around a team of cops who are assigned a mission to complete. What started out as a regular mission to transport ISI agent Iqbal Ansari(Atul Kulkarni) from Chandangadh to Mumbai ends up as a absolute disaster. The first team of offciers are ambushed midway and blown to smithereens. A brave officer made sure that Ansari did not escape..
The story is basically about having to get this ISI agent Dr. Iqbal Ansari (Atul Kulkarni) from this small town Chandrangadh to Mumbai for his court trials. However after meeting with failure in the first attempt, a new team of cops is handed over this risky duty.
The reason is that someone out there is all out to ensure that Iqbal does not reach the court.
The new team is headed by DCP Anant Srivastav (Amitabh Bachchan), an outright honest cop who hasn't made it to the high ranks of the force for the same reason. Anant sees this as the perfect chance to redeem himself and prove a point to the authorities.
Supporting him is Inspector Shekhar (Akshay Kumar) who is corrupt but street smart cop. Also onboard are two brave constables and a rookie inspector (Tushar Kapoor).
And so they set off to get this prisoner to Mumbai...but will they be able to reach there successfully??
To be honest, if you think about the proceedings, it is probably your usual cop flick tale, but first of all what keeps the movie above the rest are the characters, which have more depth. And then add to that a wicked screenplay, that keeps giving the occasional twists and turns keeping the viewer interested in the proceedings.
First of all kudos to Sridhar Raghavan who came up with script. Just a week after elder brother Sriram Raghavan proved what a great talent he is with EK HASINA THI, the younger brother Sridhar now shows what he can give to Bollywood. So the script reworked by Raj Kumar Santoshi has given us what can be easily described as one of the best action entertainer to have come out of Bollywood in a very long time.
Like earlier mentioned, Santoshi has got it all going right this time. Be it Tinu Verma's engaging action sequences, newcomer Ram Sampat's applaud worthy music score or the absorbing dialogues from - the film is certainly a three hour entertainer that showcases a fresh script,a whole array of interesting characters and powerhouse performances from the ensemble cast.
No, the film ain't perfect. There are certainly loopholes aplenty. There are several questions that one can raise - like why are the cops opting for a road mode of transporting the convict when there are better and safer methods? why can't they eliminate the target when the baddies can easily eliminate everyone else around? Why is a honest cop like Bachchan's character is chosen if they did not want the mission to be a success in the first place?
Also other negative factors come in the form of Devgan's and Aishwarya's characters. They were hardly developed like the other ones. Ajay Devgan as a baddie was just like your typical villain popping out of nowhere with his clan of 'samurai' like soldiers all masked up and all. It does get silly after a while. I mean why are the rest masked in the first place, when the leader himself has no problems in walking around in broad daylight.
Also the much hyped Lara Dutta number was a total disappointment as it only comes to hamper the flow of things. And moreover Dutta ain't a great dancer either.Also missing to a great deal was any chemistry. Akshay and Ash hardly had any chemistry worked up, and it looked all silly and too convenient when Akshay makes Ash part of his cop work.
But yes, they are loop holes. However Santoshi has managed to smartly hide them all with a lot more positives and a pace that hardly gives you time to ponder while your are watching the team go about their mission.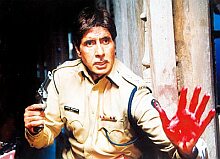 Performances is definitely one of the biggest assets that this movie boasts of.
Obviously the main pillar coming in the form of the angry man- Amitabh Bachchan. Such a powerhouse of acting even at this age. And it shows that he is still the best around, as long as he gets an author backed role like this. The best part of his performance is that along with his angry show, he throws in a lot of vulnerability to his characters, that makes him all the more humane in his approach. He provides the required mutli-dimensionality to the character. Two scenes when that was clearly in display was when Akshay accuses him of being a failure, and when Tanuja's character slaps him. It would be strange but the truth is Bachchan is giving better performances with each passing movie. And this is one of the best roles since his comeback without a doubt.
Akshay Kumar- boy, oh boy.... A performance I won't be forgetting for quite some time. With some of the best scenes, some of the best lines, and with great conviction...Akshay Kumar played the role of the 'loose cop' in style. He definitely was the 'surprise' package for me.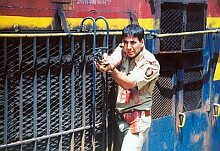 Atul Kulkarni was also ace as well. This man has a way of packing in the best efforts especially when he lands up with lesser screen time. The minute I saw him in HEY RAM, I was sure that this was an award winning display by this new comer. And here again, he holds his own amidst all the big 'stars' and it clearly shows when you have a engrossing flashback sequence that featured none of the big names but Kulkarni. And that was enough for Atul Kulkarni to give depth to his character which looked like going nowhere till the halfway mark.
Ajay Devgan, I am sorry to say, was definitely wasted. No doubt he gives an extra edge to a baddie character but his character was so ' cartoonish' for most of the screen time. Though there are sparks of intelligence every now and then, his character hardly gave the man enough scope to show off his skills rather than pop around in shades and puffing away cigarettes. A 'Company' like hangover. As a baddie, Saif Ali Khan did a better job in EK HASINA THI in comparison. And that speaks for itself, because we all know that Devgan is capable of being more than that.
Aishwarya Rai also was wasted. Though she has a small but important role, in the end she hardly put up anything out there worth raving about. Maybe a song or two, or a few sequences must have been left out on the editing table.
Tushar Kapoor also played his role quite well. And thankfully, from now on he will play better characters like this rather than take on solo lead roles that offer him much less than what he managed to achieve in this multi-starrer.
Prakash Raj was adequate in the first half. Tanuja was impressive in her few scenes, though Jaya Prada was hardly needed in the first place.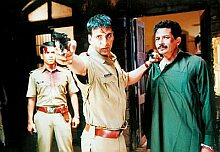 This flick is definitely another one of those KAANTE's...great in style and execution, wicked screenplay and dialogues, and great performances that make the whole deal such an entertainer that the loopholes hardly matter.
Ok in terms of a hard hitting cop drama, it might not be exactly 'LA CONFIDENTIAL' but yes, staying in the limits of a main stream bollywood entertainer, I think the makers of KHAKEE was given it the best shot and this is the bar that all further cop flicks will have to beat to be the best in the game. And atleast there is more originality to it that many of the action flicks out there (I am talking to you Vikram Bhatt).
A great entertainer with some great performances and some memorable action sequences. ...definitely kicks off 2004 with a bang.