Remember director Mehul Kumar? The man who made big hits like KRANTIVEER and TIRANGA and then followed it with bigger flops like KOHRAM and MRITYUDAATA. Bottomline, the man specialized in patriotic, action flicks. But this time he is ready with his new movie and strangely the movie is a romantic one!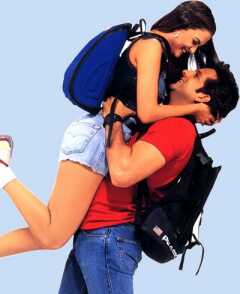 The story starts off from the USA where we have two gujurati youngsters, Fardeen and Amrita who are about to head back to India to marry the partner that their parents have chosen for them.
However fate has some other plans. Fardeen and Amrita first bump into each other at a shopping mall and results in an argument. Then they also find themseleves in the same flight to Delhi. And once they reach Delhi, they lose their money and are forced to take a bus together to Gujurat.
And by the time the bus journey ends, the couple realises that they are in love but they do not express their feelings to each other. And so the young ones go ahead with their marriage plans. Amrita is to tie he knot with Ayub Khan while Fardeen is to marry Sonali Kulkarni.
But when the marriage day finally arrives, coincidentally their marriage mandaps are erected next to each other.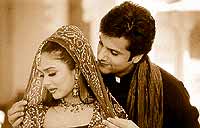 The movie is already being looked forward to because we shall see former MTV Vj Amrita Arora making her debut onscreen. While her elder sis Malaika Arora is happy doing item numbers in movies here and then, Amrita still would love to make it big as an actress.
The movie however is a absurd tale of coincidences but if director Mehul Kumar can pull it off, no one would be more happier than Fardeen Khan since the boy badly needs a hit.
Expected to hit your screens by January!!