Everyone knows how a movie gets when you have twin sisters trying to get a family back together. Already a Hollywood classic in the form of PARENT TRAP, the theme has been seen numerous times even in Bollywood, most notably DO KALIYAAN and then even some other twin sis flicks like CHAALBAAZ and SEETA AND GEETA.
And this desperate measure by Rahul Rawail to secure a hit comes in the form of KUCH KATTI KUCH MEETHI that boasts of the same old storyline but with the only major highlight being the firehouse talent of Kajol.
So Kajol in this double role, her second after DUSHMAN, is the most important element that really makes this new product worthwile.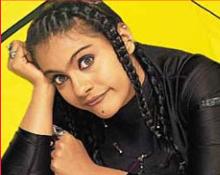 Sweety (Kajol) is certainly going through a bad family life as to speak. That is though rich and wealthy, her parents has been living separately and her father (Rishi Kapoor) is an alcoholic with no time for her. And to make things even worse, you have her scheming aunt (Mita Vaishist) trying to get her hands on the properties and wealth.
It all goes on till one fine day Tina jets off away from home and bumps into her mother (Rati Agnihotri) in London. And it is here where she also gets to meet her other half, her twin secret, Tina (Kajol again). A secret that neither were aware of till now. Yeah, sure!
And thus it is upto the two Kajols, I mean, Tina and Sweety to get their two parents together, which might even save the wealth besides their family at the end of it all. And we have Tina's lover (Sunil Shetty) also giving a helping hand in the sisters' mission.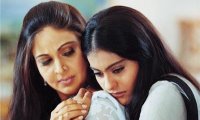 It definitely is Kajol all the way. And no one can stop her especially when we have not one but two of her. After getting a raw deal in RAJU CHACHA, here she really shows us what she's worth!
Rishi Kapoor and Rati Agnihotri (the EK DUJE KE LIYE girl who is making her comeback) also shines through. And obviously we have Sunil Shetty giving a surprising and noteworthy comic performance in a role that was supposedly turned down by many of the other 'professional' actors of today.
And another major delight of the movie is Mita Vashist who does a good job of a wicked aunt and she definitely proves her versatile talent here.
The second half sees more gags and funny moments which shall keep the audiences happy and in turn hopefully, the makers too.
The songs, except one or two, fails to impress and actually even if they do, they just slow down the pace of this bubbly fun film which also has its share of drama too!
A jolly good time pass even if it not going to be the talk of the town or anything. And also with this being a heroine-oriented theme, we might not see the box office sizzle exactly. But in the end, the good performances do make up for the lack of a new story and script.