Last year Kundan Shah did come up with a hit KYA KEHNA and a week later followed it with a miserable HUM TO MOHABBAT KAREGA. But bottomline, the man is still the genius behind the satire comedy JEENE BHI DO YAARON.
And so this forthcoming comedy, KASAM SE would also seems to be one fun movie that should be taken seriously!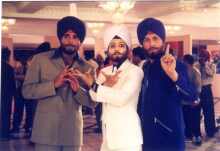 For not only Kundan Shah has signed on Sunil Shetty, but he also manages to bring back an old unsuccessful actor who by now is the hottest star on TV...that's right..the moving and shaking, Shekar Suman. Shekar shall make his big come back with this comedy, which according to Kundan Shah will be like the big Hollywood comeback made by John Trovolta.
The heroines shall be Raveena Tandon, and model Isha Kopikkar.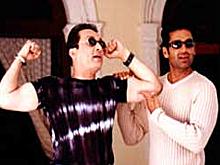 Shekar Suman plays a lawyer who brings the good news to Sunil Shetty, a common guy, that he stands to inherit a huge wealth of 300 crores. But before that, Sunil Shetty has to fulfil a itsy bitsy condition...that is, to be a underworld don!
And so this comedy riot is expected to keep the audiences happy and laughing, or so we hope with this talented cast that has been assembled!