The Johars are back! After the super success of KUCH KUCH HOTA HAI and KABHIE KHUSHI KABHI GHAM they return with yet another family entertainer which was touted to be a remake of Hrishikesh Mukerjees classic ANAND. Rest assured that KAL HO NA HO is entirely orignal and apart from the concept of a happy-go-lucky man whose slowly dying there are no similarities between the two films! So does KAL HO NA HO live upto expectations? YES...and the film exceeds the expectations that i had by miles!
The film revolves around Naina Catherine Kapur-a indian living in New York. Naina is boring, dull and rarely smiles. Naina lives with her mom Jennifer(Jaya Bachchan as gorgeous as ever), her grandmother(Sushma Seth), and little brother and sister. Her grandmother is a full blooded punjabi whose son married Jennifer-a catholic. After marriage Jennifers husband commits suicide for which the grandmother blames Jennifer and the two are at constant bickering which upsets Naina to no end.
The only thing that livens Naina up time to time is Rohit Patel(Saifali Khan). Rohit is a dashing and typical Gujrati who thinks he is hot with women when he is actually not! He is a womaniser...flirt and all the rest but him and Naina have a strong bond of friendship. His father(Satish Shah) owns a restaurant called Dial-A-Dhokla.
Into Nainas life enters Aman(Shahrukh Khan) and indirectly the Kapur family get the angel they always needed. Aman is full of life, always laughing and his job is to make everyone laugh. He gets along with everyone be it old or young and there is never a dull moment around with Aman. Naina despises Aman from the first moment they meet but can't help being overwhelmed by his charm.
Aman and Rohit also become close friends and Rohit starts getting tips from Aman on how to be "cool" and impress women.
As fate would have it.....Naina falls in love with Aman and Rohit falls in love with Naina...but if you think this is a typical love story...then think again!!!!
It turns out that Aman is not what he is made out to be....
As a writer Karan Johar deserves full marks! He has written a story that has universal appeal and will be loved by all. The film takes a dig at Punjabis, Gujratis, Sardars, Christans to the Mumbaiyas, fat people and homosexual community but all in good humour. All the subplots in the movie beautifully submerge into one and Johar shows that he is indeed a force to reckon with as a writer. The detail he has gone into the relationships and characterisation of the principal characters is simply mindblowing. Also the humour interlaced with drama has been done well.....Hats off to Mr.Johar

As a debutant director Nikhil Advani deserves a 10/10! Advanis direction comes across as a breath of fresh air and right from the first frame it is clear that this man knows his job. A film of this nature needed the right amount of sensitivity and care and the proceedings can tend to get a bit heavy and this is where Advani succeeds. The film is interlaced with humour throughout that is bound to have the viewer in splits every second. Each and every character is superbly etched out and the manner in which the proceeds will have the viewer hooked from start to end. Each and every joke in the movie hits the bullseye and is superbly canned. If the first half is abound in comic moments then the second half is high on the emotional quotient. Johar and Advani cleverly merge the dramatic moments with the comic ones and the results are sparkling.The complexities of the love triangle, the Sushma Seth-Jaya Bachchan track and the angle of a young man who has so much to live for slowly dying are all directed with utmost perfection. In a nutshell the film will make you cry as much as it will make you laugh....a very VERY hard feat to achieve. Those who are thinking the movie is some sort of tragedy like DEVDAS are also highly mistaken as it is one of the most "feel good" movies i have seen and the end is actually very pleasent.

Not since Farhan Akhtar have i seen a director with the ability to inject drama, comedy, story, style and substance to utmost perfection. HATS OFF TO MR ADVANI and WELCOME TO BOLLYWOOD!

On the acting front the film is also flawless. Despite having such a huge cast never does one person steal the show...it is infact the whole cast that steals the show and leaves the viewer completely satisfied.

But it is fair to say that one cannot imagine KAL HO NA HO without Shahrukh Khan! Those who though he delivered a typical performance with his last release CHALTE CHALTE will be completely blown away by his performance here and it is safe to say that this is one of Shahrukhs best performances in a LONG time and ranks alongside his very best. The film gives Shahrukh Khan the chance to exhibit a range of emotions in a complex character and Khan takes to it like a fish in a bowl. His comic ability and charm is as hammerstrong as ever but it is his vunerability and sensitivness in the emotional scenes which hit a high note with the viewer also. Its been a long time since i saw Shahrukh Khan literally bring his character to life(He came close with DEVDAS...but is more effective here) and is a definite contender for BEST ACTOR this year.

Preity Zinta as an actress have been evolving over time. With well structured roles like MISSION KASHMIR, KYA KEHNA, SANGHARSH, and DIL HAI TUMHARA she has proven herself to be an actress of substance who will stay around for a long time. Now with KAL HO NA HO she delivers her best performance to date! Her character is the backbone of the movie and Preity Zinta steps right into the shoes of her character and becomes Naina Catherine Kapur. Her looks are mesmirising and she looks absolutely gorgeous throughout the movie.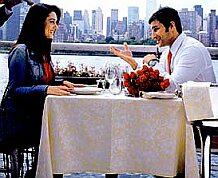 Saifali Khan is a definite revelation in the movie. Those who though that they'd seen his best in DIL CHAHTA HAI will have to think again. Once again Saifali Khan gives a winning performance and springs a complete surprise which will make the viewer realise how bloody talented this actor really is. Despite the presence of Shahrukh Khan and Preity Zinta, Saifali Khan manages to hold his own thoughout the entire movie. His comic timing is absolutely FLAWLESS and without a doubt he knows his job when it comes to comic scenes, but it is the emotional area where he springs a surprise. As a man willing to accept a girl who loves someone else Saifali Khan is SUPERB and Rohit Patel will be remembered just as much as Sameer from DIL CHAHTA HAI if not more.
What makes it even better is the mindblowing chemistry that these 3 actors share onscreen. They share a natural chemistry which completely involves and mesmerises the viewer completely.
From the supporting cast Jaya Bachchan yet again delivers a flawless performance which is one of the best female performances i have seen this year. She brings her character of Jennifer to life and adds her own magic touch. The one scene in the church where she is with Sushma Seth alone is worth a BEST SUPPORTING ACTRESS award! Kudos to Jaya Bachchan and i hope she keeps signing roles of substance.
Satish Shah and Ketaki Dave do their roles with elan and have impeccable comic timing.
Rajpal Yadav with his "bhai" stint is also ace and will raise a lot of laughs. Ditto for Sulbha Aryas Kantaben which will bring the house down with laughter!
Sushma Seth plays her role with conviction and the scenes where she is pitted against Jaya Bachchan she is superb.
Reema Lagoo doesn't get that much scope to perform but she acts gracefully and looks nice, iam still waiting to see Reema in a VAASTAV or HUM SAATH SAATH HAI role.
Lilette Dubey is excellent in her role. She plays the ageing femme fatale role to perfection and even the younger male generation will have to admit that this lady is SEXY! She plays her part well and after BAGHBAN here is yet another good role in her kitty. Delnaz Paul is OK in her role. Sonali Bendre and Sanjay Kapoor are graceful in their extended cameo appearences and play their parts well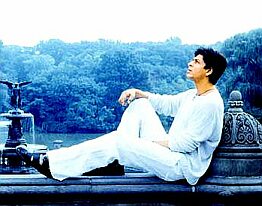 Kajol, Rani Mukerjee and Uday Chopra in their blink-and-you-will-miss roles look good on screen and add to the commercial value of the movie.
Another major plus point of the movie is Nirinjan Iyengars dialogues which come across as a breath of fresh air. The comical dialogues in the movie are 100% orignal and manage to tickle the funny bone everytime which is a huge compliment as it is very hard to do. Be it the Gujrati, Punjabi or Sardar jokes the dialogues in the movie enlighten and heighten the movie.
Technically the film is also perfect. The film has a fast, vibrant, colourful and lively look throughout. Nikhil Advani is technically a slick director and this shows very well onscreen. Anil Mehtas cinematography is upto International standard and is worthy of many awards. Sharmista Roy is ace as always and does her job very well with the sets and art direction.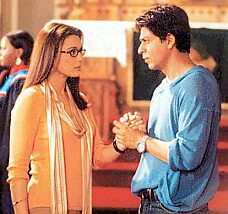 When i bought the CD the music of the film never appealed to me much, but after watching the movie the music is bought to life by the sheer impact of its picturisation. All the songs in the movie are orignal in their picturisation and are a visual treat. PRETTY WOMEN, ITS TIME TO DISCO and the title track are all great, but it is MAAHI VE which brings the house down with its bright sets, stunning camerawork and thumping dance steps. Special mention to Farah Khan here.

So is KAL HO NA HO the years best film? IMO YES!!! The film offers everything that a cinegoer would want and much more. The masses and the offbeat viewers both wont be disapointed with KAL HO NA HO and the film is indeed a step in the right direction in terms of movie making. If i had to chose between KHNH, KKKG and KKHH -KAL HO N HO would definetly get my vote hands down! So what are you still doing here reading this review?:P.....go BOOK YOUR TICKETS RIGHT AWAY!!!!!
9.4 outta 10