reviewed by Jox
So Karan Johar and his Dharma productions are back...and so is trump card Shahrukh. And is this team all set to get third time lucky, after setting records with Johar's first two- Kuch Kuch Hota Hai and the mega-starrer Kabhie Kushi Kabhie Gham.
But this time though Johar has penned the story and the screenplay for this flick, he has handed over the directorial duties to Nikhil Advani, who once used to assist him. And giving the responsibilities of carrying on the good work is a heavy task indeed but it seems that the team have all chipped in to give us wonderful results.
Usually when a movie begins to call itself this and that, it hardly ends up to be living to any of its claims. However, that is not the case with Kal Ho Naa Ho- for very clearly it is not a family flick, or a sob story or even a romantic triangle. It is in every sense a GenNow film about love, friendship and family and that is where the film scores.
Naina Catherine (Preity Zinta) might seem young at 23, but she leads a dull and mature life, taking on the responsibilities of her siblings and helping her mother Jennifer and dealing with her bickering granny. Life has been the same ever since she lost her father and the family was thrown into the financial woes. The only time she forgets all these worries is when she is with her good time buddy, Rohit (Saif Ali Khan) who by the way, is running around town with every other woman down the lane.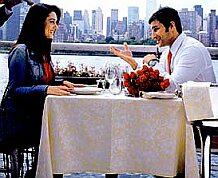 However things change only with the arrival of Aman Mathur (Shah Rukh Khan) who moves into the same neighbourhood and loves to bring a cheer to their face. And so, Aman found that Naina was a perfect choice for a person who needs some cheer in her life.
So thus you find Aman interfering in Naina's life, making her do new and fresh things, and eventually making her life a lot more fun and interesting. And to spice it up, he decides to get Naina hooked up with Rohit too.
But what happens when Naina falls with Aman instead?
In one word...this film was certainly worth the hype and watch because it delivered big time.
First of all, though the Johars have thrown in the dough as usual, Naina's character was so down-to-earth and simple that you are immediately connected to the character. And moreover, Karan Johar had a story to tell too, rather than play on star power like he did last time around with K3G.
Boy, the film is full of freshness. First of all reteaming Shahrukh with Preity once again after DIL SE, then the pairing up of SRK with Saif are all major fresh factors. Also add to it the Manhattan setting.Cinematography from Anil Mehta is commendable and he does manage to extract the best of NY during its course.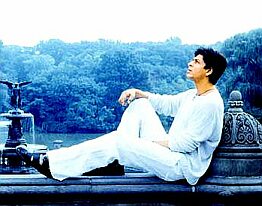 Kudos to Nikhil Advani for getting most of the things right and hardly gives us reasons for the regular complaints. Every department has been handled with the expertise of a veteran, right from the cinematography to the sets to the dialogues. Obviously Johar's watchful eyes cannot be ruled out, but also notable is a fresh narration style employed by Advani, which is hardly anything Johar that I know of. Even the jokes have got a little more naughtier for the Indian screen- read them as 'gay', 'holes' and 'cock'!
Shankar-Ehsaan-Loy's music is another 'new' asset to this Johar camp. AFterall, I was just getting tired of the same ol' dholaks courtesy Jatin-Lalits. But the score is definitely catchy and ear-pleasing and the songs are also paced pretty well. And with SEL, expect some groovy background score too.
Though the film is about a dying man, it hardly gets into the emotional tear jerker that many would have feared or hoped for (as the case may be). Instead it is a very light hearted family flick which is thoroughly an enjoyable fare. The first half is breezy and engaging, and things only take in a slow turn in the second half. Some more scenes are thrown in to give Saif some more screen time, lot more drama is thrown in to tie up loose ends and finally Advani takes a rather loooong time to wind up things.
So the last fifteen minutes or so is a tear jerking Shahrukh. And trust me, so awesome is the chemistry between SRK and Jaya Bachchan in these emotional roles that you can't help but fall for their cries of despair.
But the film had several of those wonderful moments, the kind of moments that make you really feel like nothing matches up to the pleasure that one can get by bringing a smile on someone else's face!
The real PLUS factor of this film is definitely the cast members who have all put in a tremendous work. For the film would have never been the same with any of the main cast missing...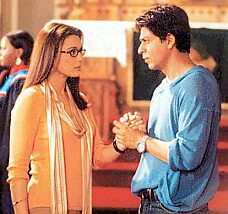 Preity Zinta is definitely the heart and soul of the film with an author-backed character of Naina Catherine, that will definitely go down as one of her carerr-highlights. She easily shifts her mode from serious to bubbly and back and really brings of bubbles of freshness into the proceedings.
Shahrukh and Saif Ali Khan are just donning the roles they usually end up doing all the time and excuse them for being repetitive, but Saif doesn't seem tired of playing the young flirt with a good heart roles...and Shahrukh isn't tired of those lovelorn romantic, this time though with a bad heart!
But Shahrukh knows how to grace the screen though he seems to look unhealthy most of the time, and have certainly lost a lot of his ol' charms. And did I say when he gets those eyebrows all corky, those lips all vibrating and his eyes all washed up- he just is going repetitive. But he still commands amazing screen presence no doubt.
But Saif Ali Khan have always been good at walking away with some show stealing performances in the recent past and this time too, he is no exception. He has yet another role that puts him at total ease and gives him ample scope to bring the house down with his comic antics. Once again the 'surprise package' for the Nth time!
Jaya Bachchan leads the rest of the cast and gives another stellar show and so does Sushma Sethm, Lillette Dubey. Though Reema Lagoo does not exactly make her presence felt, someone who does is Rajpal Yadav in a short but 'fabulous' role as a CD pirate. Sonali Bendre also hangs around for a special role.
Obviously KAran Johar has thrown in several big names like Kajol, Rani, Uday Mukherjee and Sanjay Kapur- but beware, they are all blink-and-miss ones. It got a lot distracting after a while. So be careful to keep your eyes open all the time!!
All in all, this might not be exactly in the league of a DDLJ, but definitely will find a place in my shelves right between the likes of a KUCH KUCH HOTA HAI and a DIL CHAHTA HAI.
Certainly one of the best family flicks I have seen in quite some time, and definitely one of this year's best - Friendly to my senses and oozing with a treatment so fresh, I see no reason why this film isn't worth a check out!!