Kagaar is a story about one night where a honest police officer Bhaskar Sarnaik (Amitabh Dayal) is now drawing up plans to finally get his hands on a big time criminal -Ali. A man that Bhaskar still has not been able to capture and a man because of whom, he got even suspended.
As Bhaskar chalks out a plan on New Years' eve, we get a ride through his mind where we get to learn a lot more about the soul inside the cop's uniform. We get to know that Ali is just not a criminal, but also a very old friend of Bhaskar who went separate ways. And we also get to know a lot more about Bhaskar's married life as he does not seem to have the love or the time to share with his wife (Nandita Das). And as we travel through time in the mind of Bhaskar, a deadly duel also awaits as Bhaskar gets ready to capture Ali.
And Bhaskar very well knows, that only one of them is going to see the New Year the very next day...
Boy, does movies like these get made in Bollywood???
N.Chandra directs yet another one of those 'modest' flicks that like every other one out there, does not boast of big names, traditional style of Bollywood film making but seems to be excitingly different content wise promising a lot more. And trust me, there is a lot more people checking out these kind of movies these days than ever before.
Obviously still not all of them strike it rich at the boxoffice, but that does not mean the movies aren't worth a lookout. And hope that such lame response from the BO does not deter daring film makers to come out with the goods.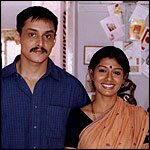 Enough about the scenario about Bollywood and off-beat cinema. Let's stick to this movie- KAGAAR which is touted as one of the most promising yet emotionally disturbing flicks of this year.
Hmm...so will this movie work?? A cast like Nandita Das, Om Puri and Vijay Raaz are all very positive signs indeed. And Amitabh Dayal makes his debut and it really depends a lot on how much of an actor he is.
But N.Chandra....agreed that he was the man behind movies like Ankush and Tezaab. Bot off late, what has he come up with - Shikar, Style, Wajood?? Well, hopefully, (and I really hope) that Kagaar is more of his serious style of film making and hope he can create a gripping thriller and does not disappoint the viewers. It is high time he gave us something better than his recent lot.
Hope this one night stand turns into one helluva movie...