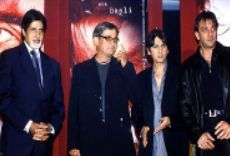 So director Sanjay Gupta believes that he can still make one of those designer action movies here in Bollywood and this time, he is bringing a big major star cast indeed. But he certainly needs some Hollywood inspirations for it. So this time he has decided to make his latest movie, KAANTE, a desi version of the Hollywood flick RESERVOIR DOGS!
So here is buddies Sanjay Dutt and Sanjay gupta joining hands with Pritish Nandy Communications to come up with this action thriller - one of the most awaited in recent times!
The story is set in New York, where six NRI Indians are planning to make the perfect bank robbery. All the six are total strangers to each other but each have their very own pasts and criminal experiences. But these six will have to work together, keep aside their egos and differences and pull off the robbery.
The six guys :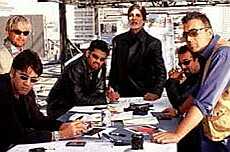 Amitabh Bhachan : Yashvardhan Rampal aka Major,
Sanjay Dutt : Jay Rahen aka Ajju,
Lucky Ali : Maqbool Haider aka Mac,
Sunil Shetty : Mark issac aka " The Bouncer",
Kumar Gaurav : Anand Mathur aka Andy
and Mahesh Manjrekar : Raj Yadav aka Baali.
So the six pack goes ahead with the robbery plans without realising that Andy is actually an undercover cop. Also we have a very sleazy Ajju who is planning to walk off with the entire loot by cheating the rest.
So the robbery does not go as planned with the cops showing up. However all the six do manage to escape with the loot and head back to their hideout.
But now they know that one of them is not to be trusted. And disputes and arguments break out between them all. Then it becomes a matter of "each man for himself" with all confused as to who to trust and who to not.
Bringing together the Big B, Sanjay Dutt, Kumar Gaurav, Sunil all are no easy task . But then the biggest casting surprises are the inclusion of singer Lucky Ali and director Mahesh Manjrekar. Certainly making it a movie worth looking out for.
It shall also be incidentally, Amitabh Bachchan's second bank robbery movie in the same year. We just saw him do a great performance in Aankhen.
Shilpa Shetty is one of the first heroines to have been decided for the movie. How many more is still uncertain. Lisa Ray and Raveena seemed to have walked out of the film.
The sneak previews of the movie is getting rave reviews and it looks like we have a slick action flick on our hands.
The script and screenplay is handled by director Sanjay Gupta, Sanjay Dutt and anurag Kashyap. Atleast finding Kashyap in there, I know I can expect something hard-hitting.
Another important thing is the music which will be released as a two pack. While one will be the songs, the other will be instrumental and dialogue bits. Music composers who have contributed to this flick include Anand Raaj Anand, the techno savvy viju Shah, pop icons Lucky Ali and Adnan Sami, Salim and Sulaiman Merchant and Shiamak Davar.
Hopefully finally this will be the daring star-studded action flick that will be the answer to candy emotional flicks like K3G!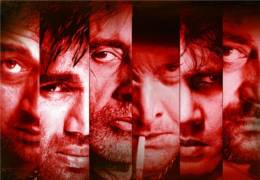 Now the makers are fast progressing with the post-production work. The music is expected to hit stores any time soon with the movie eyeing a May-June release date.