This, my friends, is a typical David Dhawan comedy and it rides on the shoulders of one brilliant man - ala Govinda! His comic timing, screen presence is after all the very life and soul of this movie. And yes, ably supported by Sanjay Dutt's dead yet sexy looks.
It is certainly nice to see the Govinda-Sanjay Dutt combo back on screen after their previous outing, HASEENA MAAN JAYEGI.
Chi Chi and Sanju baba are once again to playing pranks and tricksters, and this time they play big time conmen! Taking on the evergreen Sholay screennames of Jai (Sanjay Dutt) and Veeru (Govinda), this crooks spent their time duping innocent people one after another.
But their jolly good time comes to a halt when a club fight between Jai and a stranger Tiger (Rajat Bedi) ends with Tiger dead. It is only later that our heroes realise that Tiger is actually the younger bro of a big and powerful don Sir John (Ashish Vidhyarthi), and so both of them flee from Mumbai as far as they can.
But they go not far from Mumbai, as they both land up in Goa. And here they manage to get a NRI returnee Vikramjeet (Asif Sheikh) arrested, and Jai poses to be Vikramjeet while Veeru, his PA!
And so both of them land in the house of Vikramjeet's uncle Rai Sahab (Anupam Kher), a rich businessman. But soon Jai-Veeru realises that situations are not as good as they seem, for Rai's business is literally going down the drains, and Rai is having high hopes of our two men helping him to get his big industries back on track!
But at a point when they decide to run away with all the property that is left, Jai has a change of hearty and decides not to and instead opts to help Rai Sahab out. Veeru on the other hand thinks that he should stick to looting the wealth.
However the differences between the buddies get sorted out for the good and both stay on to help Rai's business, thanks to their street smartedness.
Meanwhile Sir John tracks Jai & Veeru down with the help of his mama (Sayaji Shinde) and this sets up the climax for this ride!
The movie's plot runs very much runs on the same lines as of many other David Dhawan comedy capers, notably AANKHEN and HASEENA MAAN JAAYENGI. But somehow, the audience shall at the end of it overlook this factor for the sake of entertainment. And again with David Dhawan movies the last thing you should expect is a smart story or logic.
But however the screenplay is lacking in the second half. When the first half was quite promising, it is the second half that really does not take off. It seems that the makers were running out of entertaining ideas. And so it is all rounded off with unnecessary songs and a really long climax sequence with a toilet bomb episode.
The ladies in the movie, Twinkle Khanna and Monica Bedi have absolutely nothing to do with the main storyline and their sole purpose is glamour and some songs. Otherwise, a sheer waste of time and effort.
Support is quite solid in the form of Anupam Kher, Ashish Vidhyarthi and Sayaji Shinde. But the problem is none of this characters are sketched well as it should have been.
Unfortunately, the songs aren't as catchy as one expect Govinda numbers to be. Music is by Anad Raaj Anand and Himesh Reshmaiyya. And if you expect numbers like "Ande Ka Funda" as great songs, gimme a break!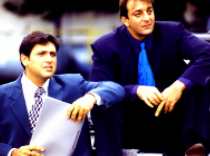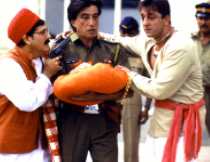 So bottom line, we have Govinda creating classy havoc and enjoying himself with Sanju baba, trying to redo the magic that was once created by Satish Kaushik-Pankaj Kapoor in the PHILIPS TOP TEN Sardarji caricatures. And taking on SHOLAY names, MOTHER INDIA spoofs, NAMAK HALAL songs, Dhawan-Govinda team certainly makes a comeback of sorts with this one!
And trust me, the movie is worth the watch just for this duo, which certainly makes a JODI that is entertaining, if not exactly No.1.
And so thanks to Govinda, once again, an otherwise poor movie ends up extremely watchable!