Jis Desh Mein Ganga Rehta Hai sees the coming together of the talented Govinda and the brilliant Mahesh Manjrekar. And with JAckie Shroff and his wife, Ayesha producing the movie, one seriously expects the movie to be something different and providing some magic.
Unfortunately, JDMGRH is a movie that is neither here nor there.
Govinda plays the role of a village simpleton Ganga. Well, he is very much clean, na´ve and down-to-earth, in short, everything one looks for in those sweet soul kind-of-man. And so his life is also as sweet as it gets in the village, with a happy family life with his parents and no to forget, his lady-love Saawari (Sonal Bendre).
But the mood isn't going to remain the same, especially not when he realises the truth behind his origin. He is faced with the shocking truth that the couple that he is living with are just his foster parents, while his true parents are actually rich industrialists out in the city.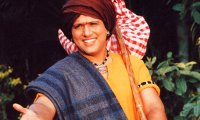 So he is sent packing from the pure village to the big bad city, to live with his real parents. However there he is faced with a completely different environment. As far as Ganga is concerned, he begins to live a new life in a rather strange new place with even stranger people.
As he makes gets a taste of the lifestyles of the rich and famous, he also meets his scheming brothers, and bhabi. Not the nicest of people to have in one's family, I should say. He also come across the city girl Tina (Rinkie Khanna), who simply falls head-over-heels to Ganga's charm.
So will Ganga be comfortable in the mayhem and muddle of what a city has to offer him or will be back where his heart and love is, back in the warmth of his home, back to his pleasant village.
Well, Govinda is the kind of actor who always end up with the wrong kind of scripts and movies. A talent like him is certainly being wasted on mediocre scripts. And with this movie one seriously thought that a talented director like MAhesh Manjrekar could give him something worthwile. But instead of our Chi Chi being inspired by Manjrekar, it looks like it was Manjrekar who is inspired by Govinda.
JDMGRH sees Manjrekar trying to make Govinda do his usual comedy in his usual style, and Manjrekar simply trying to do David Dhawan style comedy and miserably fails.
But even his movie might be trying to bring back the simpleton magic once well known to be the Raj Kapoor forte. Yet the magic of those fifties era cannot be recreated in these new times, atleast not in this movie. Certainly not the kind of movie one would associate from the director of movies like Astitva and Vaastav.
Sonali Bendre and Rinkie Khanna is just there looking pretty and those dances. For how often can a heroine steal the show when you have Govinda doing his stuff.
For once even the music was there to help the director out. Anand Raaj Anand has given a wonderful score that was reigning on most of the charts. Even the cinematography of the songs are commendable.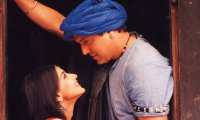 Also starring Milind Gunaji, Supriya Karnik, Ankush Choudhary, Sivaji Sattam, Reema Lagoo, Shakti Kapoor, Himani Shivpuri .