ReViewed by Akshay Shah
Feroz Khan has been a filmmaker who i've always admired! Most of his cult films i have enjoyed immensley and he has always been a filmmaker who manages to perfectly combine style, substance, sex appeal, star power, story and sizzling tunes all into one movie.......
Even though his career as a director took a turn for the worst when films like YALGAAR and DAYAVAN came out i still thought the films were extremely entertaining.
Its when Mr Khan decided to give his fullest into launching his son Fardeen Khan as a star that the director in Feroz took a nosedive. PREM AGGAN came as one of the bigggest insults to any filmgoer and more to any Feroz Khan fan.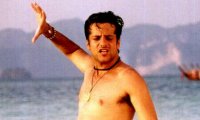 JANAASHEEN seemed like it had everything going for it with a stylish outlook, well canned action scenes and bike racing scenes and a story that seemed chocka-block full of action and suspense much like the old Feroz Khan films......sadly JANASHEEN is the worst film ever made by Feroz Khan by a MILE!
In terms of a story the film revolves around Lucky Kapoor (Fardeen Khan) who lives in Australia with the ambition of becoming a motorbike racing champion.
Luckys life takes a turn for the worst when his father (Harsh Chayya) dies and Lucky has to return to India. Lucky has always held a grudge against his father right from the time his mother died and was not on speaking terms with him.
Enters into Luckys life is Saba Karim Shah (Feroz Khan)-a fugitive from Afghanistan who now lives in Australia. Saba is a rich, deadly and ruthless businessman who wins at ANY cost.
Saba takes a strong liking for Lucky and becomes his godfather to an extent as Luckys face resembles that of his dead sons and very soon Saba becomes very protective and close to Lucky just like a real father....
There is also Jessica (Celina Jaitley)-a half blind violinist with a tragic past. Jessica has been in love with Lucky from childhood..
The twist comes into the picture when Saba kills Luckys father and Jessica witnesses the murder.....how Lucky finds out the truth from the lies forms the crux of the story.
As interesting as the story sounds on paper, the film is twice as dull. The film moves at a inconsistent pace and is scattered with way to many subplots which have no relevance to the actual story at all. All the scenes with Pinky Hirwani and Kashmira Shah could have been deleted as they are highly boring and ditto for Johnny Levers comedy.
As a director Feroz Khan seems like he is sleeping. He is totally not in sync with todays times as a director and this is a major blow to his fans who would've been expecting something good or atleast watchable.
Khan has always been a master storyteller who manages to keep the viewer hooked onto the tale unfolding onscreen right from frame one but sadly here he bores the viewer from the first frame. The manner in which he directs leaves a lot to be desired for and there are too many things left half baked and unexplained.
The angle with Fardeen Khan and Harsh Chayya and also the angle of Feroz Khan and his son who died in Afghanistan needed to have been told with depth. By the end of the movie the viewer feels cheated as they are left with expecting a LOT more. The only area in which Khan seems like he is giving his full GO is the acting department and he doesn't disapoint there
As a actor it is GREAT to see Feroz Khan back on the silver screen after such a big hiatus.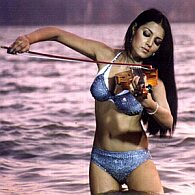 As Saba Karim Shah he gets right into the skin of his character and has a absolute blast playing his role. Its only when he enters the screen is the film worth slightly watching. His get-up, his flawless dialogue delivery and dialogues, his screen presence and the signaure tune that plays when he enters the screen proves that Feroz Khan still has a lot more to offer....even it isnt as a director. He plays his role with a almost tongue-in-cheek nostalgic angle and plays his role with elan overshadowing everyone else in the movie including his son who ends up looking like a mere shadow which iam sure wasn't his aim at all.
Fardeen Khan on the other hand delivers a below average performance which is surprising considering that the film is directed by his father. His performance isnt a patch on his work in JUNGLE, PYAAR TUNE KYA KIYA, KHUSHI or even his stint earlier this year in BHOOT. He goes through his part mechanically and shows little interest in the part he plays. The scenes he shares with his father don't do him much good in terms of scope since Feroz Khan completely dominates the picture.One hopes that Fardeen promptly gets himself some RGV films even if it is in small roles like the one in BHOOT since they're much more interesting than this.
Celina Jaitley is as wooden as ever! One would think she would improve after her dead performance in KHEL, but here she is even worst.She looks like a pale dead ghost and delivers her lines in a monotone. Her face is expressionless throughout and her emotional scenes are turgid. Miss Jaitley will need lot more than a sexy body to survive in Bollywood.
She has no qualms about flaunting her figure on screen and the male audience will be in for a delight as there is plenty of sex appeal as with all Feroz Khan films.
Rest of the cast are below the mark with their half baked roles. Newcomer Pinky Hirwani is below the mark. She looks OK and her acting doesn't leave much to be desired. Kashmira Shah is absolutely horrbile in her role too. Her get-up is stunningly horrible and she looks like an 80's extra.
Yash Tonk is good in what small role he has. Harsh Chayya doesn't have much to do except look concerned. Archana Puran Singh is natural in a half baked role.

Technically the film is below mark for a Feroz Khan film. Although some scenes have been show with technical flair, others appear jerky and stale. The motorbike race has been shot extremely well and is a treat to view even though it doesn't do much to move the films story forward or give Luckys character any depth.

Neelabh Kauls camerawork is a mixed range from good to below average and that can be blamed to the inconsistent screenplay.

The scenes shot in Afghanistan needed to have a lot more length and impact since they are such an integral part of the movie.

Musically Feroz Khan films are always embedded with a classic soundtrack consisting of sexy tunes but sadly Khan even lacks in that department. Apart from NASHE NASHE MEIN YAAR most of the other songs aren't upto the mark and definetly arent in sync with the films pacing at all.

So where does that leave JANASHEEN? Well...even the most ardent fans of Feroz Khan will be hugely disapointed with this film and if it wasn't for his polished performance as the eccentric Saba Karim Shah JANAASHEEN would have been a total TRASH FLICK.

3 outta 10

(just for Feroz Khan)