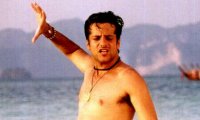 Lucky Kapoor (Faredeen Khan) is a guy with his dreams set on becoming a top class Mobike Racing Champion. And so naturally, when he finds the lack of support from his own father, he moves base to Australia to carry on with his dreams.
Then we also have the character of Jessica (Celina Jaitley) who has always been in love with Lucky, a love that seems to be going unnoticed.
And the third and crucial character is of an old Afghanistani Saba Karim (Feroz Khan) who enters Lucky's life as a "father" that Lucky never had. Though however selfish and deceiving his intentions are, Lucky tries to be the "son" that Saba never had.
But as these three characters collide, a lot of secrets come out in the open...and the past and the future comes together creates a world of deception.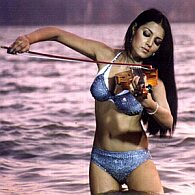 An action thriller from Feroz Khan, is expected to have some violence and lots of sexy bikini-clad women...and that is exactly what looks like we can expect from this Feroz Khan film too.
Fardeen....the last time the father and the son got together onscreen, that was for Fardeen's debut flick, PREM AGGAN it was nothing short of disaster. Though this time too the papa-son duo comes with a movie that they claim is a "must watch" thriller, the truth is unknown yet so out there. But boy, isn't it high time that Fardeen gets a big solo hit? I think it is!
To its credit one thing that is good so far about the movie seems to be the music. Yes, the music is certainly appealing and easy on its ears.
The movie also marks the debut of model Celina Jetley and here is a straightforward problem. I am of the opinion that the lady can't act...i mean, she couldn't even host a 15 minute programme properly. And my fears were justified when I witnessed her in KHEL. So I am not sure of her throwing up a surprise. And I am sure as long as she can perform in those bare minimums, Feroz Khan will not have any problems.
The bottomline is will papa Feroz be able to give his son the kind of superhit that papa Roshan managed to give Hrithik this year...or is Papa Feroz gonna just end up hogging all the limelight?!