reviewed by JOX
Sunny Deol returns in yet another patriotic action flick after MAA TUJHE SALAAM, GADAR, INDIAN and THE HERO. This time he reunites with his ZIDDI director Guddu Dhanoa hoping to recreate the same sort of magic at the boxoffice...sadly enough the movie is a failure! Bar some well canned action scenes and a twist that will leave the viewer gape-faced, JAAL-The Trap is BIG disappointment.
This is yet another one of the Sunny action films with an overdose of patriotism thrown in- just the kind of movies that give Sunny a bad name!
Without a doubt, Sunny was absolutley great in Gadar, and it seems that Anil Sharma did tap some of it even in their next team up THE HERO. But obviously living up to Gadar was never an easy task.
Similarly it was a great team-up when Guddu Dhano joined hands with Sunny Deol for the aciton packed ZIDDI. So when this team up came together for JAAL- The Trap, I had some ziddi hopes on this film doing the magic.
But not this time...not this time...
The film revolves around Ajay (Sunny Deol) who is fully trained army commando but aspires to be a singer. His father Major Amrish Kaul (Amrish Puri) is a Major in the indian army whose job is to protect the home ministers (Virendra Saxena) daughter Anita (Reema Sen).
She is kept under tight security in New Zealand so that terrorists cannot get hold of her.
Meanwhile in India Ajay falls in love with Neha (Tabu) who is a widow and lives with her father-in-law (Anupam Kher). One fine day Neha is kidnapped by terrorists led by Junaid Afghani (Mukesh Rishi) who tell Ajay to kidnap Anita from New Zealand and hand her over to them in return for Neha life.
Ajay succeeds in going over to New Zealand and kidnapping Anita...& in the process Anita falls madly in love with him.
Ajay returns to India and much to Anita's dismay he is all ready to hand her over to Junaid......untill he realises that he himself has fallen into a trap?....How Ajay manages to get himself out of the trap forms the crux of the story.
In terms of a story writers Rajeev Kaul Praful Parekh seem confused. They start the movie off as a family entertainer with many light scenes...and latter head the movie towards a hardcore patriotic action thriller with a breakneck pace. Sadly, the first half is so diluted and contrived that by the time the second half arrives one has lost all interest!! Despite a twist that one would NEVER expect, they still dont manage to completely grip the viewer. Also the screenplay of the movie is full of loopholes and the film keeps jumping from one place to another.
Sunny Deol playing mama's boy, drawing swords with papa and with a dream of becoming a pop star. Oh god....this role was certainly not meant for someone like Sunny Deol. The problem is that it becomes quite so obvious in the first few reels, and through the first half, as we watch a family flick...we wonder what Sunny fans are doing here.
The action gets out of the box only in the second half, and suddenly nothing makes an impact. A sudden twist is jammed down your throat and except two exceptionally well-drawn action sequences, one even involving the speed boat, the rest is nothing much to write home about. Because just when you think that Sunny is getting into his elements, the credits roll and you realise that the movie is all over.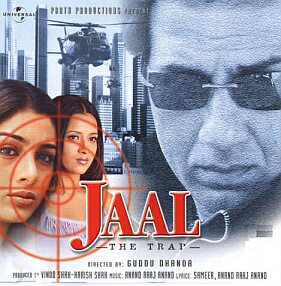 Acting wise everyone seems half as interested. Sunny Deol is certainly not in his usual self, though his role is written very much in the same lines as all his recent roles. Nothing new that the role offers him, and probably Sunny knew that from the word go. Because it does show.
Tabu and Reema Sen boasts of rather short roles...and that is expected for the females of a Sunny flick. They just have to satisfy themselves playing second fiddle...and poorly written characters. Even Anupam Kher returns after a long time in a negative character, but trust me, though initially it looks all promising it all ends without any fizz.
Only cast member who walks away with any kind of appreciation has to be Amrish Puri. The veteran does manage to induce some life into his character, especially in the first half when things were going very family-friendly. Otherwise there is nothing much on offer from the acting department.
Despite the delay in the film to hit the theatres, the problem with the film is certainly not due to its delay. Technically the film still looks slick. But there is hardly any substance and the script is so absurd to make any impact. The only problem that must have arose from the delay is that the Sunny film did lose out on a lot of that bumper opening it might have got earlier on.
In short, a Sunny film that Sunny could have done ten years back...but in 2003, Sunny needs to take on better roles, and directors like Guddu Dhanoa should work on better scripts. JAAL-The Trap is one heck of a trap, that you could stay away from for now.