Sunny Deol returns in yet another patriotic action flick after MAA TUJHE SALAAM, GADAR, INDIAN and THE HERO. This time he reunites with his ZIDDI director Guddu Dhanoa hoping to recreate the same sort of magic at the boxoffice...sadly enough the movie is a failure! Bar some well canned action scenes and a twist that will leave the viewer gape-faced, JAAL-The Trap is BIG disappointment.
The film revolves around Ajay (Sunny Deol) who is fully trained army commando but aspires to be a singer. His father Major Amrish Kaul (Amrish Puri) is a Major in the indian army whose job is to protect the home ministers (Virendra Saxena) daughter Anita (Reema Sen).
She is kept under tight security in New Zealand so that terrorists cannot get hold of her.
Meanwhile in India Ajay falls in love with Neha (Tabu) who is a widow and lives with her father-in-law (Anupam Kher). One fine day Neha is kidnapped by terrorists led by Junaid Afghani (Mukesh Rishi) who tell Ajay to kidnap Anita from New Zealand and hand her over to them in return for Neha life.
Ajay succeeds in going over to New Zealand and kidnapping Anita...& in the process Anita falls madly in love with him.
Ajay returns to India and much to Anitas dismay he is all ready to hand her over to Junaid......untill he realises that he himself has fallen into a trap?....How Ajay manages to get himself out of the trap forms the crux of the story.
In terms of a story writers Rajeev Kaul Praful Parekh seem confused. They start the movie off as a family entertainer with many light scenes...and latter head the movie towards a hardcore patriotic action thriller with a breakneck pace. Sadly, the first half is so diluted and contrived that by the time the second half arrives one has lost all interest!! Despite a twist that one would NEVER expect, they still dont manage to completely grip the viewer. Also the screenplay of the movie is full of loopholes and the film keeps jumping from one place to another.
As a director Guddu Dhanoa is back at what he does best......ACTION! And one cannot fault him there. The action scenes in this enterprise are some of the best witnessed one the bigscreen lately. They may not be as technically advanced as say QAYAMAT or THE HERO, but unlike the previous two there has been no CGI used here at all. Its all blood, gore, guts and dust!
But sadly, Dhanoa cannot keep the film together. The first half is absolutely stale and the scenes between Amrish and Sunny are disinteresting. The film moves at a extremely inconsistent pace and by the time the big TWIST arrives the viewer loses interest. Although the second half is better than the lethargic first half, it still isn't all that great!
In terms of acting the film is just OK.
Sunny Deol does a role that he has done a MILLION times before. As a Sunny fan iam actually highly disapointed here. He sleepwalks through the entire role and even seems bored in parts. His performance in THE HERO was of a much higher standard and so was the film for that matter. Yet he is in top form at what he does best..A C T I O N and the action scenes in the movie shoudl satisfy fans of the genre.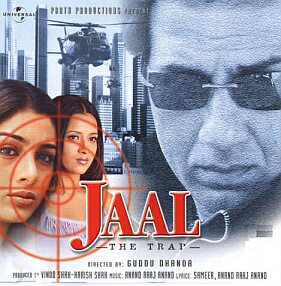 Tabu is superb in a underwritten and short role. One wonders why she has a soft spot for Dhanoa. He is yet again not able to do justice to her talent and despite a few scenes where she impresses, due to a half baked characterisation she fails to leave as much impact as she could've.

Reema Sen is fairly impressive in a second fiddle role. She looks absolutely attractive on-screen and performs her role ably. Although she does seem to go overboard and shouts too much in some scenes. Her pairing with Sunny Deol also looks OFF!

The supporting cast in the movie is top notch. Amrish Puri enacts his part with utmost conviction, he shares great chemistry with Sunny as proven in the past(GHAYAL, GHATAK, GADAR) and acts like a true veteran. Sadly, his role is hardly award worthy!

It is good to see ANupam Kher onscreen after such a long time. He is great in his role and his death sequences has been well canned, iam surprised to see Mr Kher take on a negative role after such a long time (Dr Dang anyone?)...he still has it in him!

Shahbaz Khan, Mukesh Rishi, Ashish Vidyarthi, Virendra Saxena, Farida Jalal and the rest of the cast all do their jobs accordingly.

Technically the film is ace! Sripad Natus cinematogtaphy is captivating and perfectlly captures the entire movie be it the snow capped mountains of New Zealand or the dusty terrains of Rajasthan. Good work!

Tinu Vermas action scenes are the mainstay of the movie!!!!!! Verma is one of the few action directors in Bollywood who doesn't rely heavily on SFX, CGI and gimmicks when it comes to action, he shoots his action on real life locations with as many explosions, fist fights, blood and fore as it takes without losing impact! He is superb at directing extravagant and overblown action scenes as the ones witnessed in GADAR, BICHCHOO, PUKAAR and CHINAGATE...and yet again here he is FANTASTIC! The boat scene or the train sequence at the end are just brilliant.

Music by Anand Raaj Anand is WEAK. Sher Dil Indian is the only song which manages to catch the listeners ear.

Aadesh Srivastavs background score is a mixed bag. It is good in parts keeping the excitement building, while in other parts it goes overboard with OM NAMAH SHIVAY and SHAKTI!

All up JAAL-THE TRAP is one of the weaker action films and Sunny Deol starrers to be release in recent times. The film does boast of a very tricky twist and some wicked action sequences....but FAILS in almost every other department!! Fans of the genre will be entertained while Sunny Deol fans will find the film watchable but will be disappointed. I personally found QAYAMAT and THE HERO to be better action films!

6 outta 10