reviewed by Jox
Guys, get ready. Time to to get down, Paresh Rawal comes to town!
That's right. For all those who fell in love with the Ramji Rao Speaking's hindi version Hera Pheri has an excuse to enjoy all that magic once again with yet another remake of a Malayalam original, this time in the form of Priyadarshan's Hungama.
It is nice to say that everything does fall into place. If Priyan's earlier venture Yeh Tera Ghar Yeh Mera Ghar failed to impress due to the limitations of the cast, here what is impressive is the comic range and timing of the cast members, especially the supporting members if not the main.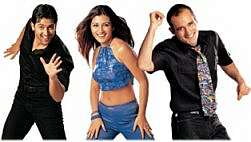 Anjali (RImi Sen) lands in Mumbai in the hope of getting a better job and a better life. But once she does land in the city, she realises that things are tough so much that even to find a house to live in is a big thing.
Similarly you have Nandu (Aftab) who has run away from home and reached Mumbai in the hope of making it big as a singer some day. And thanks to the milkman's friendly intervention, Nandu and Anjali both gets a house to live in, but the only catch is that these two should pretend to be married to each other. With not much of a choice, the two decides to go ahead with it.
Jeetu (Akshaye Khanna) wants to take his small business to the next level. And for this he has his eyes set on the riches. Jeetu makes this mistake of thinking that Anjali is the daughter of the Radheshyam Tiwari and so tries to win her heart and even offers her a job.
Radeshyam Tiwari (Paresh Rawal)...is a very rich man, with business all across the city, but still happy with his village life. But inorder to move with the times, he and his wife decides to shift to their city house, and that is when the fun begins. Though Radheshyam stays grounded, the same cannot be said of his wife who becomes ultra-modern all of a sudden. And when he finds how close his wife is to Jeetu, Radheshyam belives that his wife is cheating on him.
Mrs. Tiwari (Shoma Anand) however has her doubts on her man. With Anjali frequently visiting the house, she things that her husband is falling for this young pretty thing. and the fact that both the ladies go by the name of 'Anjali' does not help the cause.
Throw in to all this, a couple more characters and other misunderstandings and mix ups and you have one hell of a comic ride in the form of HUNGAMA.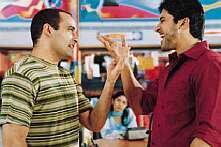 This was Priyadarshan's very first film. A Malayalam comedy 'Poocheke oru mookuthi' that starred Mohanlal and Shankar in the leading roles. IT was an instant recipe for comic fun- but that was way back in the eighties. Does the slapstick plot still hold its finesse even twenty years later??
Surprisingly it does. After all the viewers hope to get from the film is some big laughs and this is a laugh a minute roller coaster of a ride. Obviously having seen the original I knew exactly what to expect and when, and yet I ended up enjoying the film - all over again.
The movie starts off on a confusing note with two-three story tracks taking off simultaneously. And you get the feeling that Priyadarshan is impatiently rushing into things. The characters are introduced in a hurry before Paresh Rawal makes his timely entrance. And without a doubt, Paresh Rawal steals the show in every single frame that he appears from then on. The film wouldn't have been the same without him!
Akshaye Khanna proved that he can do action (Himalayaputra), loverboy roles (Taal) and even the odd villain (Humraaz). But now we get to see a different side of him- that is someone with a flair for comedy. However and thankfully, he does not have to go overboard or wacky with it and is kept within his limitations. Aftab Shivdasani on the other hand is someone who is a lot improved in the comedy department. However he is also given a subtle role, and looks like Priyan was not sure whether Aftab could pull it off convincingly.
So comedy is definitely a tough task - but here is one guy who suddenly discovered it, another who is improving in it by leaps and bounds, and finally, a man who proves that he is too good at this art. And Priyadarshan brings it all together under one roof!
Rimi Sen makes a very decent debut and does full justice to her meaty role. I stress on the meaty part because females are usually given the backseat when it comes to such Bollywood comic capers. However in spite of an equally challenging role as that of Paresh, Shoma Anand fails to match up to the comic standards of Paresh Rawal. Though she does it to the best of her abilities, I still would have loved to see someone like Reema Lagoo in that role.
Also kudos to the talented supporting cast that includes names like Shakti Kapoor, Rajpal Yadav and even Malayalam comedians Jagadeesh and Nandukumar.
Priyan, like Ram Gopal and Mani Ratnam, has a keen eye for the sets and technical aspects and here too Priyadarshan comes ace. Tirru's cinematography, Sabu Cyril's art direction and the dialogue department courtesy Neeraj Vohra are all commendable. The production values are extremely good for a comedy flick like this. Also the pace is good enough with just a few songs coming from time to time. The score from Nadeem Shravan is also melodious enough with two tracks 'Pari Pari' and 'Tera Dil' proving to be quality winners.
So the flipside?
Well, please excuse Priyadarshan for a kichdi of a story and screenplay for which Priyan takes the credit. Remember it was something he wrote twenty years back. It worked well at that time, and is the kind of mix ups and situational comedies , the kind of stuff from which all modern day sitcoms shape up. Lots of characters are thrown in from time to time, which may bring the laughs, but also makes things a lot more confusing. Obviously it is another matter that many of these characters end up as irrelevant by the time the credits roll.
This is no love story by any means. Though the romantic angle, or should I rephrase 'triangle' does exist, the screenplay hardly has the time to develop those aspects.
Also we have a silly cartoonish climax that brings in all the characters together for their Tom-N-Jerry routine. IT might not appeal to everyone, but surely the kids will find the ending a blast.
And once again I think it is high time that Priyadarshan's chucks off the S.P. Venketesh background score. It just sounds odd, too odd these days!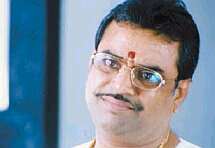 Whatever said and done, Hungama is an out and out Fun-gama....and is one of the best family entertainers that have come out of Bollywood in a long time. Obviously I don't expect Akshaye-Aftab to bring in the crowds and give this movie the 'bumper' opening. But hopefully word-of-mouth will see that the movie does not go unnoticed like in the case of Hera Pheri.
Forget the big starrers and the big banners that was misleading the average moviegoers. Forget all that silly David Dhawan attempts at comedy. Bollywood was due for a big comedy and this is the real deal. This film is worth the watch and is a good way to spend your three hours. The laughs do come in plenty and even if not for anything, please do watch it for Paresh Rawal. This would have been the usual time pass flick. But it is Paresh Rawal and his energy that lifts the movie to greater heights.