reviewed by Jox
So finally Saif manages to get a big time solo flick...and finally I have never seen such a 'welcome' response for a non-SRK flick in a long time. I mean, finally we have Saif Ali Khan managing to pull in the crowds. Ofcourse, the YASHRAJ FILMS tags help.
But just bringing in the crowd isn't good enough. He should also be able to keep them there, smiling and entertained. So does Saif Ali Khan manage to do that...
Saif does it quite remarkably.And looks like he is here to do just that.
If SRK can make a career out of similar romantic roles, why cant the chota Nawab do the same playing the same roles over and over again. So whatever character you remember him for in flicks like DCH and KHNH, here is another full length version for the same.
But also remember. It wouldn't have been possilbe for Saif to do that without the other half of Rani Mukherjee. Afterall, TUM ke bina, HUM adhura rehtha hai. Together they make HUM TUM one of the most refreshing entertainers of Bollywood in recent times.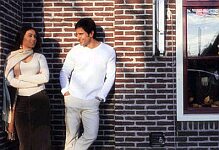 So let the battle of the sexes begin..in one corner we have cartoonist Karan who is a ordinary folk finding success with his cartoon strips about the gender war -simply called HUM TUM. However while he pokes fun at the same, he is no better. A complete flirt who easily gets in and out of bed, I mean relationships with his ladies.
On the other corner, we have Rhea a very down to earth female with high moral standards who can always look up to her mother (Kiron Kher) to give her the assurance.
Obviously there is nothing in common with these two...but they just end up meeting each other- in various countries, in various places, in various phases of their life. The feelings are also as varied..sometimes it is hate for each other, sometimes friendship, sometimes respect and eventually love...
The first meet in Amsterdam and like expected, there is that instant hatred between the two. They disagree on everything but still ends up having their conversations that fits the bill for a friendship. Our happy go lucky Karan takes the extra step and seals the friendship with a kiss that leaves Rhea shocked, furious and swearing that she will never meet this man.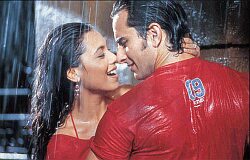 Six months later, we are in New York...and Karan and Rhea crosses paths. However this time it is Rhea's chance to have the last laugh, and she does it by breaking the relationship with Karan and his present steady girlfriend.
Years later they meet, and both have gone through their highs and lows that life had to offer. But the two set their differences aside and steps in to help each other. Karan also takes a step ahead and even decides to help Rhea by playing matchmaker too.
Misunderstandings ensue...and things only get more complicated. But will the inevitable happen...will Karan and Rhea finally find solace in each other.
So the man on the directors chair this time is Kunal Kohli. Yes the same critic-turned director who handed a dud out with Mujhse dosti Karoge. That was a disaster because he tried to make a 'formulaic' flick. This time however he claims that what he has delivered is an honest flick straight from the heart.
Finding its loose inspirations from films like When Harry Met Sally and several such foreign flicks of this genre, Kohli brings together a love tale spanning a decade to Indian screens. Once again Kohli toys with the thin line of friendship and love to give this a vibrant appeal yet a similar feel to another similar flick KAL HO NAA HO where Saif played a similar role.
peaking of gender it is always said that females mature faster. And I guess the same holds for the characters. Rani's character shows a tremendous pace of growth in personality and persona while it takes Saif Ali Khan's character nine years and 16 reels later for his character to take a step forward. Or did he not eventually?
whatever said, we get a series of their meetings with each other but we never get to know how they were or are when they are alone or away from the company of the other. Probably Kohli guessed that is the best approach to keep things entertained!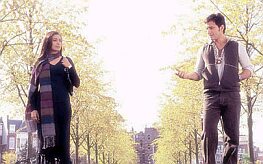 As for pacing, it was a lot of moments that spanned over the decade strung together...so an even better excuse to throw in more Saif gags. But was the story exactly heading anywhere? Well, yes the first half was pretty breezy and seemingly a lot did happen till the interval point. Post-interval the tempo and pace slackens by a great deal, and then the story does not really pick up the pace, and you get the feelin of heading nowhere...probably like the relationship between Karan and Rhea. The Shergill-Kopikar track does not help but just lengthens the movie unnecessarily.
The last few reels were of a little worry, since after everything going along pretty smooth and without any hiccups, the director try to throw in a course changing event..but instead of giving it a little more emphasis, treats it so casually ..as if it was yet another Saif one liner or so.
After there on, it looks like the director is trying too many things. Suddenly when you think the director is trying to bow down to conventional Bollywood-ism, he picks out another card giving us hints that he is might just give you something new. Then again you feel like he is going to mess it all up, only to stick back to basics and then again hint us that he is not the usual. And the last few scenes keep you guessing and the experiments go from good to bad to safe and what not. But I guess, at the end of it all ,the director manages to wrap it all up with a decent 'entertaining' package and leaves the viewer satisfied. Kohli can smile with glee!
Post Farhan Akhtar, Karan Johar and the other fresh tag directors that Bollywood witnessed last year, Kunal Kohli might not have managed to infuse the same 'freshness' as many of them brought in. But what he does over here is play his aces- Saif ali Khan and Rani Mukherjee so beautifully well, that he has used his screenplay beautifully to take advantage of that aspect.
The animated sequences of the HUM TUM characters weren't exactly helping things initially, and one wonders why they pop up. But the jokes were good enough for us to forgive them each and every time. Final thoughts- they were a cute bit of addition.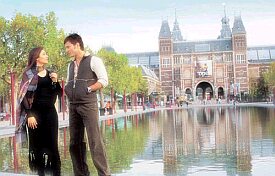 Saif Ali Khan was fabulous. Afterall not only he had to throw in the occasional one-liners (which he does so awesomely well with his near perfect comic timing), but for a change being the solo hero of this flick, he also have to take on the responsibilities of a little more mature performer. And it is that mature performance that we see from this man, who was growing inch by inch with every other performance post -Kachche Dhagge. He has handled well his dual duties quite remarkably well and he will manage to bag that big hit in his career. The one where he does not have to share the success with any of his co-male stars.
Rani Mukherjee. Well she gave her career best performance a week earlier with YUVA. So I would not go back on that but then again this is also one of those rock-steady performances that this lady has given in the last few years. And surely she hasn't looked as gorgeous as this ever.
Rishi Kapoor leaves a lasting mark. His 'bobby' referances and his entrances singing his all time hit number were all memorable and he gives a spirited show out there. Rati Agnihotri was also adequate. Jimmy Shergil once again has a role which offers him no much scope. Isha Koppikar comes in a two-bit role, and so does our Ishq Vishq walli- Shehnaz.
Kiron Kher however is a very big soul to the film and comes in the right time to bridge whatever gap that exists between the HUM and the TUM. She was lively and marvellous as always.
But the real surprise was AB Jr. Actually I wasn't as shocked with his entrance as much as I was with the amount of applause the man received when he makes his entry. Boy that was deafening. Surprising where all his fans where last week when he gave an award worthy performance. He also walks away with one of the best scenes of the movie when he gives a tip or two about women to mr.flirtatious Saif Nawab.
The camera and technical work were all pretty good with nothing exceptional to write home about. Jatin Lalit's music also wasn't exceptional but was breezy and went well with the screenplay. Rishi Rich seemed to be the soul of the HUM TUM music eventually.
Ultimately I guess there are no losers with this 'gender battle'. Kunal Kohli will be all smiles, Saif can smile about it all, and so can Rani. And bottom line, it leaves the audiences smiling for its running time and beyond. HUM TUM is certainly complete. There is no HUM TUM without the either...be it the makers or the audiences! -
A perfect date flick - (where the guys get to enjoy as much as the gals) - so what you waiting for?