Last time agreed Dharmesh Dharshan did come up with a decent love triangle with some great music- the 'Great Gatsby' inspired flick - Dhadkan.
This time too Dharshan tries his hand on a love triangle, produced by his brother Sunil, and music by their fave Nadeem Shravan duo. But sadly, their latest Haan...Maine Bhi Pyaar Kiya is nothing but stale stuff.
The biggest disappointment though is that it is nothing but yet another blot in Abhishek's sagging career.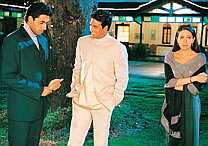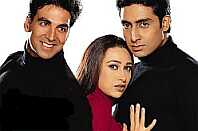 This is the story of Pooja Kashyap (Karisma Kapoor), Shiv Kapoor (Abhishek Bachchan) and Raj Malhotra (Akshay Kumar).
Pooja Kashyap and Shiv Kapoor both are hunting for a job and land up at the same interview. It is here that Pooja pulls a fast one by claiming to be the boss' daughter. So Shiv hands over the resume to Pooja and leaves the office, while Pooja manages to get the job.
Then we have Shiv Kumar reminding Pooja to get him the job by asking her 'father' every now and then. However later Shiv wins a position in the same firm and realises that Pooja was just lying all through out.
But by then Shiv Kumar is so much in love that he asks Pooja to marry him, which Pooja agrees and thus we have a happy married couple.
The twist comes when circumstances bring Shiv into a one-night stand with n old college mate (Simone Singh), with Pooja eventually furious and walking from the marriage.
Pooja then goes on to work with a successful movie star Raj Malhotra (Akshay Kumar) who too falls for her and proposes her. But just when Pooja looks set to start a new life, she meets her ex-hubby Shiv again.
Now Pooja is faced with the dilemma of choosing between the two men in her life?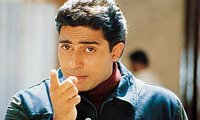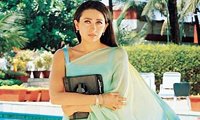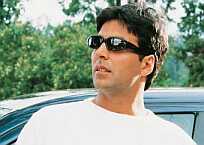 Karisma Kapoor comes after a year long hibernation taking the back seat while her younger sis Kareena was hogging the limelight. Now Karisma looks comfy enough to get back and stay in the race. But sadly, this performance leaves a lot to be desired.
One cannt help but feel sad for Abhishek Bachchan who does his best to put in a decent show, but the script and lack of originality by the filmmakers have resulted in yet another disaster to his credits. As a result, he will find no takers for his forthcoming movies. His Shararat has still not found enough buyers to date.
And Akshay is in a nice spot with ups and downs, and whatever is the fate of this flick, he still is going to be nicely seated though. So this is just another role for him.
Actually no one can blame any of the three leading artists. Even if any of them came up with an Oscar winning performance, it will not be enough to save this Dharmesh Dharshan- disaster.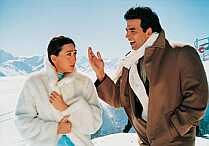 The supporting cast that has names like Mohnish Behl, Kader Khan, Shakti Kapoor and Himani Shivpuri all have nothing much to do. And their characters are all over-sketched.
The performances and the music did save him in his last Dhadkan, but this time...sorry! The movie is so boringly predictable, till the credits roll.
One of the biggest problems is that the director does not know how to deal with the subject. So the husband slept with another female...was it wrong or right? Director seems to put his protagonist in two minds about that.
Even Nadeem Shravan's music is disappointing. Strange to see that the same critics who went wah-wah over the music before release, now go on to say how disappointing.
And sorry to say that...but there is absolutely none of the so-called chemistry between Karisma and Abhishek.
Wonder why would any film makers go ahead with a script as rotten as this? Well, the Dharshan brothers did and they shall pay an hefty price indeed.