David Dhawan - the only man who seems to have got the art of comedy right in Bollywood is coming with his new film. And it brings together a host of big stars.
After a not-so-impressive comic performance in Bade Miyan Chote Miyan, Amitabh Bachchan reteams with Dhawan for this one. Dhawan also ropes in his fave- Sanju Baba. But the leading man he chose seems to be an unlikely choice for a Dhawan comedy hero - Ajay Devgan.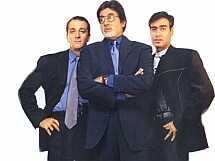 The story is about a Mumbaiya underworld figure Munnabhai (Sanjay Dutt) who seems to have gone soft all of a sudden. The reason for this sudden change of personality seems to be a beautiful woman - Komal (Aishwarya Rai).
So a confused Munnabhai decides to sort out his problems with a doctor, Dr. Rastogi (Amitabh Bachchan). The doctor immediately understands the don's love matters and suggests him to go all out and woo the girl. But little does Dr.Rastogi know that the girl in question is his very own sister.
But things are not that simple either. It seems that Komal is actually in love with a young man Raja (Ajay Devgan). But though Raja pretends to be a wealthy dude, he is actually scared to tell his true state of affairs to his future father-in-law.
Bottom line...Dr Rastogi is in for a shock from all ends. Things only get even worse with Munnabhai learning the fact that Raja is Komal's sweetheart. Munnabhai now is hell bent on getting rid of Raja.
The rest of the film deals with how Munnabhai tries to get his love, while Dr. Rastogi and Raja thinks of a way to get rid of Munnabhai.
Anu Malik scores the music for this film, which so far seems to be very disappointing. There is nothing strong or catchy about the numbers. Even Anu's attempt at imitating Bachchan in the song 'Yeh Kya Ho Raha Hai' is irritating.
It will be quite interesting to watch Amitabh and Sanjay going through the comic routines. Atleast it will set us to witness a better chemistry in the upcoming Kaante. Psst....also heard that this movie is an inspiration from the Robert De Niro- Billy Crystal comedy Analyze This.
Let us hope that David Dhawan can get this act together and come up with a comedy worth remembering. Afterall, with the stars come the expectations. Don't they??