Sunny Deol movies are like watching a Govinda movie. It is literally like sitting through the same ride all over again. You knows the twist and turns pre-hand, you know exactly what to expect...and all your hopes for anything new is never fulfilled. But the only difference is a Sunny Deol flick post-Gadar is hotter than before.
So eventually when Anil Sharma reteams up with Sunny paaji, things are expected to heat up. And when the movie is a 55 crore magnum opus, expectations are bound to be sky high.
Arjun Khanna (Sunny Deol) is India's leading intelligence officer who can take on any disguise without a problem. And one of such personalities he takes on is that of army chief Major Batra in Kashmir. The ISI terrorists, led by Ishaq Khan (Amrish Puri) meanwhile have plans to smuggle Pakistan's nuclear bomb out of the country and restructure it entirely on Canadian shores with the help of a business tycoon Zakaria (Kabir Bedi).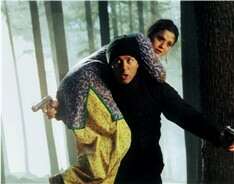 However back to our hero, who seems to be losing his heart for a pretty Kashmiri gal Reshma (Preity Zinta). Things though go wrong when he uses Reshma for an undercover operation. And even when the operation flops up and Reshma is busted, our hero comes in time to save the gal and the day.
This is later followed by the engagement of the two love birds, but as expected it gets gate-crashed by the baddies. In the aftermath that follows, Reshma is believed to be dead. But Reshma survives and is taken to Canada for treatment. It is in Canada though that she finds that Arjun (in the guise of Wahid Khan) is all set to get married to Shaheen (Priyanka Chopra), who also happens to be the doctor treating Preity.
Obviously getting close to Shaheen was part of Arjun's spy plan to get to the bottom of all the shady dealings since she happens to be the daughter of Zakaria. But with Reshma resurfacing, things do get a bit complex for our man. And then choosing between duty and love, he tries to emerge as a true hero!
Again note how conveniently a weird beard here or a dorky hairstlye there is enough to pass off as a top class disguise. Oh boy, this happens only in India!! The baddies simply cannot distinguish between all those disguises? Even better, they don't seem to remember Reshma anymore once they reach Canada? And when you have baddies like this, things are all the more simple for our hero to sort out things. Only problem is that it comes at the expense of our three hours.
The biggest problem with The Hero is that despite having all the gloss and the sheen look, we hardly have the emotional factor to support all the high-tech action. THe Hero lacks a soul and that is where The Hero fails in comparison to Gadar. Anil Sharma tries too hard to give The Hero a more class look, and goes about trying to show how well he has researched about ISI and RAW, and even takes the trouble of going through a detailed and elaborate explanation of the nuclear bomb. A lot of these hi-tech techno jumbo could have been avoided to make the screenplay tighter.
The camerawork is quite impressive. Equally well done is the action sequences and the dialogues. But neither of it is going to make up for the lack of sense and sensibility.
Sunny Deol tries to act here rather than just go around screaming and yelling. And that is exactly what is going to disappoint his loyal action fans. Sunny Deol is an action figure here, but is shown more of the silent brooding thinking guy instead of the boiling lava as we usually see him.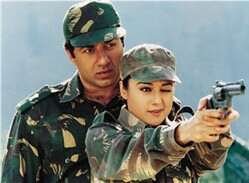 The villains once again fail to impress. Though they are played by talented actors like Amirsh Puri and Kabir Bedi, they are made to look tremendously silly and cartoonish. They lack to generate any kind of fear or hatred, only mild irritation (As far as viewers are concerned). Priyanka Chopra's big screen debut is hardly convincing or substantial to really take notice
Preity Zinta however walks off with a strong performance. Being a Sunny flick, I was under the impression that Preity would be hardly used in the film. But she gets a lot more of the slice that you expect. And Preity being the bubbly performer she is, does a fine job.
Another big time flaw with the movie was the music which was hardly anything to compliment a 55 crore budget. Uttam Singh's music wasn't really that impressive in Gadar itself. But the success of the film made even the songs chartbusters of sorts. However Anil Sharma sticks to uninspiring music from Uttam Singh and the results are there to see. They hardly rise to the occasion and instead only spoil the pace of the flick, especially in the second half.

Another average action flick with extra doses of patriotism stuffed in...but hardly justifies the kind of money that has been thrown into the project.