GHAATH is the story of man's mission to destroy the corrupt system and bring back some order and sanity into these structures.
Now certainly this is not the first time we come across a storyline like this, and certainly not the first time we see Manoj Bajpai doing a role like this. I mean, we just saw him battling it out with this very same system and corruptness a year back in a more powerful SHOOL and now too, he ends up doing the same thing.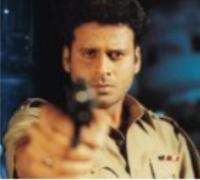 Manoj Bajpai plays a cop wannabe Krishna who is determined to be a faithful man of the law and refuses to budge in any way. But things never is easy for this man.
Being the son of a man with high principles in life (Anupam Kher), son Krishna too sets about in a path of righteousness and truth. But even before he becomes a cop, he already poses to be a big problem for goons, politicians, and other corrupt officials.
Soon he begins to face a lot of setbacks in his career and personal life, but he decides to fight against them all and goes about his task with the help of some close admirers, including a lawyer played by (Tabu).
Now acting is the sole grace of this one.
Bajapai, Tabu, Om puri, Anupam Kher and a host of others all have put in a great effort and comes out strong. And the villains here too are with great performances, notably Irfan Khan and Mukesh Tiwari.
However there is nothing at all new that the movie offers to an average viewer. It does not even come close to those standards put up by a recent release, KURUKSHETRA, which too had a similar plot.

Therefore watching Bajpai all over again trying to do the same thing again is not going to help anyone's cause here. And therefore, this too, despite brilliant acting from his part, is going to be yet another flop under the belt of Manoj Bajpai.
Manoj Bajpai undoubtedly is the new angry young man of Bollywood and is walking down the same lane that once saw greats like Amitabh Bachchan and Nana Patekar stroll by. But unless he tries to become daringly different and refreshing, he might be yet another stereotyped actor and we certainly don't want this man going that way.

As far as director Akaashdeep is concerned, he can be happy that his this attempt is much more commendable that his previous Baba Seghal crap MISS 420! But he still needs to come a long way before anyone can take him seriously.
The music of Anu Malik is also disappointing and actually even music does not have much scope here. But to an extent that is made up with some powerful dialogues, brought to life by the equally powerful cast.
But GHAATH as a movie does not bring anything new to Bollywood, and just for that you would see talents being wasted once again!
Write in and tell us what you think of this movie