Prakash Jha and Ajay Devgun reunite yet again after their last venture DIL KYA KAREN was a disaster at the boxoffice. But unlike DIL KYA KAREN which was a family drama, Jha this time comes up with a far more gripping and hardhitting flick getting back into his roots and showing us the brilliance we had witnessed in DAMUL, HIP HIP HURRAY and MRITYUDAND!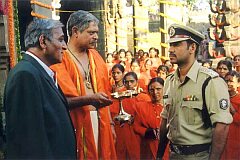 The flick revolves around Police Superintendent Amit Kumaar (Ajay Devgun) who along with his wife Anu (Gracy Singh) gets transferred to the small notorious and corrupt town of Tejpur. His aim is to impose law and order into this small town where goonda raj prevails around every corner. His job becomes harder when he comes to know that most of his juniors and his seniors also are corrupt to the core and the inhabitants of Tejpur are too scared to speak out against the local dons and accept what is going around them as everyday life. Amits main foes include Sadhu Yadav (Mohan Joshi) and his ruthless and maniacal son Sundar Yadav (Yashpal Sharma) who pretty much run the town with their drowning power and corrupt connections!
On one night Amits juniors driven by anger and frustration at the system burn some goons eyes with acid which is given the term "gangajal"-a religious term for purification.
Soon the lines are blurred between right and wrong......lawlessness previals on the town of Tejpur and the tyranny of Sadhu and Sundar Yadav starts to get out of hand...
How Amit manages to retain law and order into the town of Tejpur and awaken the people of Tejpur forms the crux of the story.
In terms of a story the film offers nothing new or novel at all. A story of this nature has been witnessed a hundred times before in Indian Cinema, more recently being the Sanjay Dutt starrer KURUKSHETRA or ecspecially the Manoj Bajpai starrer SHOOL which the film bears a striking resemblance to. But to GANGAJAALs credit it manages to throw some new light onto a old story and gives the film that extra bit of punch needed.
The screenplay of the movie for the most is novel although it is cliched. The film picks up momentum when the officers burn the goons eyes with acid. Jha has managed to merge fact with fiction by taking the Bhaglapur Blindings case of 1979-1980 without making the film look like a documentary.
As a director this is indeed the best flick Jha has made recently. Although the story is not entirely orignal, he seems inspired and his efforts show of on screen. His last few releases be it BANDHISH, DIL KYA KAREN or RAAHUL lacked that extra "punch" that is expected from Prakash Jha films.
Right from the first frame Jha treats the film with utmost realism and make the viewer feel they are right there in the crude, agressive and violent town of Tejpur. Each and every character created by Jha has a "real" feel to them and nothing is fake or madeup here. The dialpgues spoken deserve accolades too. Yes they are EXTREMELY crude at times and not for younger viewers at all, but Jha manages to make a statement and gives the characters an extra bit of life that is essential in a film of this nature.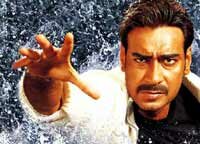 To Jhas Credit..most films of this nature has the protagonist take the law into his own hands at the end and beat the goons till they die only to make a big long speech in the conclusion. The character of Superintendent Amar Kumaar is a very real one. He tries not to take the law into his own hands, even though he does lose his cool on some occasions. He tries to to everything within the judistriction of the law and if a mistake is made..he takes responsibility of his actions. He is not likely to take hold of a gun, lose his cool and shoot every corrupt person in sight like say Samar Pratap of SHOOL.

Saying all this Jhas film does have a few flaws. Some of the scenes have a "seen that" feeling to it and the last half hour of the film tends to lose a bit of pace and punch.

Nevertheless Kudos to Mr Jha for shedding some new light onto an old subject with successful results for the most.

Also his ability to direct the movie on one sole track works wonders for the movie as it never loses pace or grip for the most. The introduction of a new character every now and then keeps the viewer watching and the absence of inane comic tracks and romantic songs is welcomed. Even the NAUTANKI number is keeping in sync with the mood of the story

Jhas strength lies in his ability to create realistic and hard hitting charcters and he manages to extract some mindblowing performances from his versatile cast.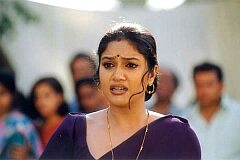 Ajay Devgun as Amit Kumaar fits into the role like a hand in a glove. Ajay Devgun is improving from strength to strength with film after film proving that he is indeed one of the BEST actors we have in the industry today regardless of genre or the character he is playing. After a worried husband in a horror film in BHOOT or a lovable rogue in the action film QAYAMAT, Devgun now gives a superlative and realistic portrayl of a honest police officer caught up in one corrupt situation.His dialpgue delivery is emmaculate, ditto for his expressions. Unlike other cop films where the officer is shown as a superhero of sorts, the cop here is very real and lifelike.

From Om Puri, Sanjay Dutt, Amitabh Bachchan, Nasseridian Shah to Manoj Bajpai have played the role of a cop caught in a corrupt system and Devgun in all probability is likely to be compared. And although his portrayl may not be the best ever....he certainly manages to add his own touch to his character and deservesa noble mention which is enough said! Yet another award in Devguns kitty.

Gracy Singh doesn't have much to do in the film at all. Her role is miniscule, yet she acts with conviction in the few scenes she has.

It is indeed the supporting cast that breathes life into GANGAJAAL.

Each and every character compliments Devguns performance all the way and act as the film pillar of strength. Dr Mohan Aghashe and Akhilendra Misra as outright corrupt members of the police enact their parts well. Misras charatcrer will be hated by the viewers. Mohan Joshi plays the role of Sadhu Yadav as expected, he has played a character of this nature before in Jhas MRITYUDAND and yet again comes up trumps. Yashpal Sharma is brilliant as the maniacal Sundar Yadav. He is best suited in villianous roles and yet again proves that!

Ayub Khan is good in a underwritten role, one felt that Jha would offer him a bit more keeping their past ties in consideration.Anoop Soni and Chetan Pandit both act ably. Dayashankar Panday who was last seen in LAGAAN is great in his role as a corrupt lower caste officer. His scene where he reforms to become a chai stall owner is one of the films best. Brij Gopal, Anita Kanwal and Master Yash Patthak all enact their parts with conviction.

The absolute scene stealer in the movie comes in the form of actor Mukesh Tiwari. Right from when i saw him debut as Jageera in Raj Kumaar Santoshis CHINAGATE i knew this actor was destined for MUCH more. But sadly after a great stint in REFUGEE he was succumbed to inspid negative roles in films like MITTI, AAGHAAZ and GHAAT and latter to more shameful supporting roles in films like HAWA. Finally Tiwari gets a chance to show us his talent and he doesn't let it go by. The actor has immense screen presence and his voice modulation is simply brilliant as his use of eye movements. As Bachcha Yadav a corrupt officer who reforms Tiwari gives one helluva performance that is bound to get him recognized. The scene where he loses his temper in the jail and throws acid into the goons eyes or his death sequence leave the viewer at the edge of their seat.

Technically the film cannot be faulted. Arvind K's cinematography perfectly captures the rugged look and atmosphere of the movie while Jai Singhs action is just like it should be-VIOLENT and GRUESOME. The action sequences here are very violent and Jha is not scared to show heads popping and blood squirting. The film is definetly much more violent than recent releases such as FOOTPATH, SUPARI and TERE NAAM and deserves guidance if younger children are to watch it.

Sandesh Shandliyas music is OK. The film has one Nautanki number which doesn't have the gloss needed for an item number. Wayne Sharpees background score on the other hand is excellent. The music further enhances the impact and ambience of the movie.

All in all GANGAJAAL is a MUST-SEE and makes for some intelligent viewing, although it is not entirely orignal and lacks in the climax. a MUST OWN on DVD for fans of the genre and fans of Devgun who will go for repeated viewings just for his histronics!!

8.2 outta 10