The Bhatts are back with yet another remake...the only thing different is that this time they take inspiration from their earlier film ANGAARAY which is surprising. Despite some credible performances FOOTPATH offers nothing new to a genre that has been done to death in the past.
Mahesh Bhatts story is a EXACT replica of his earlier product ANGAARAY(Akshay Kumaar-Nagarjun-Paresh Rawal-Pooja Bhatt-SOnali Bendre) which was itself a remake of the Hollywood classic ANGELS WITH DIRTY FACES. Right from the characters to the setting of the movie is identical. One wonders why the Bhatts decided to remake the movie again as ANGAARAY flopped at the boxoffice and is a better movie overall than FOOTPATH.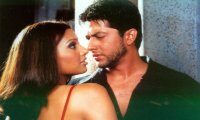 The films revolves around Arjun (Aftab), Raghu (Emraan) and Shekar (Rahul), all three have been bought up on the streets of fire..aka Mumbai City. Arjuns father is murdered, and alongwith Shekar and Raghu Arjun avenges the murder of his father and kills the man responsible. After the incident a young Arjun is forced to flee Mumbai and go to Delhi.
12 years pass and Arjun now leads a new life with a new name. Eventually the police succeed in tracking Arjun down but instead of arresting him, they give him an offer.
Raghu and Shekar have no become big underworld figures in Mumbai City. Shekar is the calm and collective sort who runs the operations, while Raghu is the hot tempered and short fused type who speaks his mind with the trigger of his gun. Shekars boss is Shehikh (Irfan Khan) who runs every criminal activity that operates in Mumbai...mainly the trafficking of drugs.
Arjuns mission is to go back to his childhood friends and changes their paths in life before they become the target of a bullet in a encounter infilitrated by the police. The mission will mean that Arjun will have to betray his childhood friends...the deeper he goes...the harder it is for Arjun to get out!
Films of this nature have been witnessed a witnessed endlessley in Bollywood. Be it PARINDA, VAASTAV, SATYA, COMPANY, GANG, AVGAT, SUPARI or GHULAM-FOOTPATH offers nothing new at all.
As a director Vikram Bhatt fails to deliver an entirely gripping movie experience as promised. His earlier works like FAREB, KASOOR and RAAZ proved to be well directed entertainers despite their lack of originality in terms of story...here Bhatt fails in the direction department apart from a few dramatic sequences that have been directed with flair. Bhatts biggest drawback is that he takes inspiration from too many previous films from that Bhatt camp. Be it the stereotypical Bhatt characters of gangster with hearts of gold, the love interests of the protagonists or the blood soaked climax which takes its inspiration from Vikram Bhatts GHULAM which proved to be a far far superior product compared to this. Also Vikram is confused about whether he wants to make a masala film or a more realistic and hard hitting film like CHHAL and COMPANY..in the end the film results as a half baked version of serious and masala.
Despite these drawbacks, Vikram manages to extract powerful and hard hitting performances from his entire cast.
Aftab Shivdasani is excellent in a role that is not everyones cup of tea. His dialogue delivery has improved immensely and he delivers a extremely convincing performance, specially in the latter half of the movie where he is in true form. No doubt Aftab is one of the most underrated actors we have, be it his whacky stint in DARNA MANAA HAI, his comic turn in Priyadarshans HUNGAMA or now in an action packed role in FOOTPATH, Aftab has come a long way and is here to stay despite the outcome of his films at the boxoffice.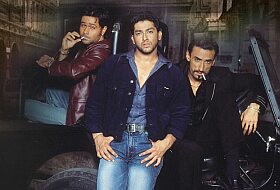 Rahul Dev is also in top form. After some half baked performances in 88 ANTOP HILL and SUPARI, Dev is great as the cold and calculating Shekar who will do anything to get to the top. His ability to express with his eyes and calm and collected dialogue delivery topped with his stylish dress sense adds to the credibility of his performance. He also deserves credit in the the scene where he has an outburst at his Imraan or the scene where he shoots Imraan.
Despite the presence of two solid performers, it is surprisingly newcomer Emraan Hasmi who steals the show with a raw, gripping and heartfelt performance. His character is a split between Manoj Bajpai in SATYA and Rajit Kapur in GHULAM and his performance can be ranked alongside Vivek Oberois in COMPANY as a confident and eye opening stint. Although his performance is not a touch on Oberois, Hasmi is a absolute natural to the core. His manic laughter, his emotional eyes, his voice modulation are all spot on and with the right projects this actor will go a LONG way.
Bipasha Basu is completely wasted in this film and gives a uninspired performance. She is clearly there to repay her favours to the Bhatts for hits like RAAZ and JISM and she has no role here at all to speak off. All she is required to do in the movie is cry, or strut around in skimpy clothes and show off her body which she does well. She looks GORGEOUS in the movie, but her performance is dreadful.
On the other hand newcomer Aparna Tilak gives a fresh and natural performance as Imraans love interest.
From the supporting cast it is Irfan Khan who steals the show in his short role as the dreaded underworld don Shehikh. Sadly, this is no Ranvijay Singh of HAASIL, but still Irfan is a actor who can transform the simplest roles onto another level. The actor commands screen presence everytime he is on screen and he is absolutely flawless. His dialogue delivery is emmaculate as is his get-up.
Anupama Verma, Anup Soni and Arif Zakaira all do their jobs accordingly.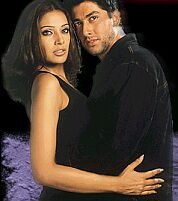 Nadeem Shravan and Himesh Reshamiyas music come across as a disapointment. Bhatt films are known for having a strong musical score, be it KASOOR, FAREB, GHULAM, or the recent RAAZ, JISM and SAAYA, but sadly here the goods are not delivered. Also a film of this nature doesn't require a musical score at all as it hinders with the progress of the movie. One wishes that Vikram Bhatt had taken the RGV path and left songs out.

On the other hand the background music of the film is fantastic and adds life to the movie.

Technically the movie is ace. Pravin Bhatts camerawork is excellent to say the least and he captures the streets of Mumbai extremely well. The dark, glum and moody atmosphere of the movie is extremely well capured as with all Bhatt films, and even the action scenes are canned snazzily and with technical flair.

Girish Dhamijas dialogues are powerpacked and deserve a mention as they salvage some scenes from being mediocre. A thing to note is that the language used in FOOTPATH will not be comprehended by all. Like in SATYA and other gangster films, the underworld Lingo used here is extrememy Mumbaic-centric as the ambience and setting of the movie.

All up FOOTPATH is definitely nothing new in terms of film making, the story has been witnessed countless times on the Silver Screen and this film doesn't add any new light at all what so ever. Also from the Bhatts the film comes across as a disapointment. Nevertheless fans of the genre will enjoy the movie to some extent and the movie is worth a hire on DVD for the smashing performance by Aftab, Rahul Dev, Irfan Khan and specially Imraan Hasmi.

6.5 outta 10