Khalid Mohammed's debut movie was always expected to get the bumper initial it got, thanks to Hrithik Roshan's stupendous overnight success and of course the well-executed publicity campaign which saw expectations sky-rocketing in the industry as the release date approached nearer.
But all the fine talents and oppurtunities still can never guarantee a good movie….maybe a successful one but never a good movie.

Khalid Mohammed, the editor of India's premier film magazine, Filmfare, is also the topmost film critic in the country. And in his long stint as one, he has managed to slaughter numerous movies, and also stopped by to praise a few. So far so good. But now, the man himself tries his hand at directing, and the fact that his movie was going to face a simillar storm from the critics was inevitable. Therefore if the movie was good, one could have always be assured that all the bad reviews are just bias. However, that is not the case here.


Fiza is a powerful story told by Khalid Mohammed on his directorial debut in a rather disappointing syle.
Not everyday do you get to watch the central character of the movie being played by a female. This is however, a cut above the rest.
It is essentially the story of this young girl, Fiza ( Karishma Kapoor) who goes out in the search for her lost brother. Fiza lives with her mother ( Jaya Bachan) who firmly believes in the return of her son Amaan, who they lost during the 92 mumbai-riots. However, Fiza cannot live with this hope. So she decides to take matters into her own hands, that is by starting a search for Amaan all by herself.
Thus you have Fiza out in the streets in search of her brother, who she doesn't even know whether is alive or not to begin with. However that is her mission and she shall strive towards finding him. Even the strange characters she come across can't put her off track.
Certainly, this is the projected storyline as far as the promos goes. But the story simply doesn't end there. This is because Fiza does find Amaan and manages to bring him back home. However, we are only midway.
The second half shows how Amaan finds it difficult to cope up with his old surroundings. For Amaan is no longer the sweet boy next door anymore. Actually he spent his exile years in a militant group, and suddenly finds himself missing the guns and bullets.
A person of Khalid's repute always have the potential to deliver the goods. He has also previously scripted for movies, including Shymam Benegal's Sardari Begum. Moreover being associated with the industry for so long, he does show his experience. However all those experience is simply limited to just that of a mere onlooker. Because with the pressures of making a mainstream flick, Khalid too seemed to have fallen into the temptation of making his project as commercially viable as possible. If this was Khalid's attempt to bridge the gap between commercial and the so-called 'arty' ones, he has certainly failed here.
The fabulous performance of Hrithik Roshan is going to make things moving.
He simply shows why he is the craze of the nation. Well, not because he has girls falling for him all around. But for the mere fact that he is able to handle such a complicated role with such honesty and dedication right in the very second movie of his career. His effort certainly shows on screen. He stands a strong chance of bagging the best actor award for his performance in this tale.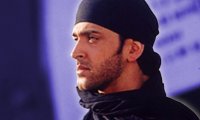 Karisma playing the lead role of Fiza too comes up with a commendable performance too.
Be it her aggressiveness or her helplessness, she doesn't disappoint you, atleast not in this one. Jaya Bachan is in her usual glory, but just watching her back on screen is magic enough.
Actors like Neha and Bikram Saluja have been wasted with roles with nothing substantial to offer. . Manoj Bajpai, however walks off in style in his role. Well, even if the movie fail to bag some of the major categories, it still is the forerunner for some awards when it comes to the acting department, especially Karisma.
This was a movie that could have ended up being the biggest blockbuster, but only if treated right. However that is not the case here. It seems that the attempt to make it a big hit has eventually misfired because these very commercial element have affected the narration and screenplay badly.
Initially, Khalid has planned on a special appearance by Amitabh Bhachan and a song featuring Shahrukh. Though eventually he chopped them off to make the movie shorter and crisper, it still hasn't helped him much. For the second half of the plot, that is after Amaan returns home, has nothing captivating or engrossing.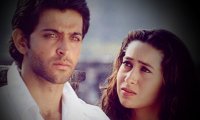 One of the biggest disappointment is the manner in which Fiza goes about her search. To begin with, she gets successful through the media in a rather unbelievable fashion, and to top it all Fiza stumbles upon clues so easily. There is no struggle in this search for her brother.

Certain scenes and scenarios have just been shoved into the script, and these cannot be easily justified in the context of the storyline.

How else do you explain unnecessary songs thrown in, especially the Karisma number in the discotheque…a sequence that completely goes against the character of Fiza which was being builded up with the preceding reels. Or for that matters, a ten minute thandav, a mere excuse to flash the physique of Hrithik masquerading as a training session for our man to kill some politicians. One also gets the feeling that the storyline originally revolving round the character of Fiza has been changed to accommodate more of Amaan in order to keep the Hrithik fans happy and cash in on the overnight success of the lad.

Santosh Sivan, has once again done a good job, but by his own standards, falls far behind to the great work shown in his movies like Kaalapaani, Dil Se, Terrorist etc. Anu Malik on the other hand is one who has done a surprisingly commendable job. Ranjit Barot's background score too delivers the goods. Even the script is propelled by good dialogues from Javed Siddique.

However, despite the flaws and disappointments, the movie still is worth a watch, because it is far superior to most of the other movies out this year.

Remember Dil Se, 1942 A Love Story? Well, Fiza too would end up heading the same road. Great bumper initials, great technicians, high-profile director, superhit music yet a potential script ruined with a weak narration, flavored with a mood that promises no hope, only gloom.