ReViewed by Akshay Shah
Ram Gopal Varma is back with yet another production! After entertaining us last year with MAIN MADHURI DIXIT BANNA CHAHTI HOON and DARNA MANAA HAI in terms of production ventures and BHOOT in terms of direction Varma is back with a flick that as always proves to be pathbreaking, new and highly orignal! The difference here is that EK HASINA THI is notches higher than any of Varmas other productions and is his BEST production to date!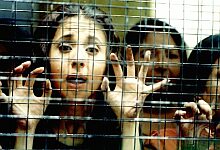 The film revolves around Sarika(Urmila)-a middle class girl working as a travel agent in Mumbai. Along comes Karan(Saifali Khan)-a good looking, charming and dashing globetrotter who sweeps Sarika off her feet and she falls madly in love with him...

Sarika doesn't know much about what Karan does except that he is a high class businessman....and frankly she doesn't care as she is love struck..

Her moments of happiness are shortlived when due to a series of incidents she is arrested and thrown into jail for a crime she didn't commit! In jail Sarika turns into a hardened woman and wants to erase the memories of her sweet former self and become a strong and tough woman...why? To seek revenge on the man who put her there in first place-Karan!

Vengeance runs through her blood and Sarika will do anything to get Karan back! She escapes from jail and what ensues next is a cat-n-mouse thriller which leaves the viewer breathless! Who is Karan? Whats his real occupation? Does Sarika get her revenge? EK HASINA THI provides the answers!

In terms of a story the film has similarities to many films such as Mahesh Bhatts GUMRAH(Sridevi/Sanjay Dutt), DOUBLE JEOPARDY(Ashley Judd/Tommy Lee Jones) and Raakesh Roshans KHOON BHARI MAANG(Rekha/Kabir Bedi) yet the film is definetly NOT a remake of any of these. The entire manner in which EK HASINA THI has been made is completely orignal and the film boasts of one of the best screenplays i have seen in a LONG time as it leaves the viewer completely gapefaced and doesn't even give them time to breath!

As a director Sriram Raghavan deserves a 10/10! I find it miraculous that this is his debut film and not since Farhan Akhtar in DIL CHAHTA HAI have i seen such a brilliant piece of work from a newcomer. No doubt Sriram Raghavan has been training under Varmas wing for a while and the effort clearly shows onscreen. Taking into account all the films from Varmas camp this has to be (arguably)the best product from there since SATYA! Only SHOOL comes close IMO!

From the first frame to the last Raghavan is completely in charge of whats happening never letting the pace drop. The tense filled moments, the characters, the dialogues, the action sequences all have been handled with utmost perfection. The first half of the movie is FLAWLESS. The second half does tend to slip in the middle as it starts losing a bit of tension but just as you sit back the tensions starts up again never letting up right to the end. The climax of the movie is FANTASTIC and completely in sync with the movie. KUDOS TO SRIRAM RAGHAVAN and WELCOME TO BOLLYWOOD!



EK HASINA THI wouldn't have worked if it wasn't for the performance-and thats an understatement!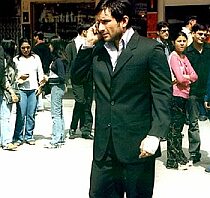 Saifali Khan delivers his best performance to date as Karan Rathod! Hes been improving with each film since DIL CHAHTA HAI with KAL HO NA HO and LINE OF CONTROL reaffirming the fact that he is the most underrated Khan and a volcano of talent waiting to be tapped. Khan in a negative role is spectacular! He gets into the skin of his character with ease and is extremely convincing in his role combining his boyish good looks with a cutting killer edge! Saif springs a huge surprise in the action sequences I was completely blown away in the scenes where he fights the gangsters in the second half. AN AWARD WINNING performance and the years best IMO with competition only from Big Bs performance in KHAKEE. Mark my words...when the year 2004 is over Saif Ali Khan will still be remembered for EK HASINA THI!
Urmila Mantondkar delivers yet another award winning stint and i wouldnt expect any less from her. Last year alone she delivered three BRILLIANT performances in BHOOT, PINJAR and TEHZEEB and this year the trend continues with EK HASINA THI. As Sarika Urmila delivers a complex and diffcult role with utmost ease. From the innocent, sweet girl to the hardened , scroned woman lusting for revenge Urmila goes through the motions in the most emmaculate manner. Is this her best performance to date? IMO a tossup between this and PINJAR!
The supporting cast don't have much scope to perform as the two principal leads take most of the screentime but are superb in their roles.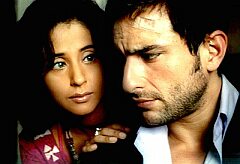 Seema Biswas as a police officer is great. She gives a sincere performance and although she doesn't have many lines to mouth she expresses a lot through her eyes. Pratima Kazmi delivers another convincing performance after YEH DIL and WAISA BHI HOTA HAI PART 2. She is best suited to these sorts of roles. Aditya Srivastav is apt in his role of a lawyer.
Technically the film is one that sets standards! Varmas films have a penchant for being technically brilliant a notch above most other Bollywood products and EK HASINA THI is no different. Camerawork by C.K Murlidharan is brilliant and he effectively captures the ambience of the film throughout. The snazzy action sequences, the jump and cut camera shots or the chase sequences-EK HASINA THI is a slick product no doubt!
Amar Mohiles background score elevates the film to a certain degree and is ace. Ditto for Dwarak Warriers sound engineering.
All up where does that leave EK HASINA THI? A modern day classic IMO and the best film of 2004(Followed very closely by KHAKEE)
9.3 outta 10