And there you go, yet another big disappointment from the Ram Gopal Verma 'Factory' which clearly shows that there are brilliant ideas coming up there, but hardly enough time is spent on the writing.
Ram Gopal Verma seems to be not pressing all the buttons when it comes to delivering his goods, and each time there is something that is badly missing or wanting. BHOOT and DARNA MANA HAI might not have been big duds, but they weren't great pieces of film making either. And it is obvious that Ram Gopal Verma and company can do a lot better.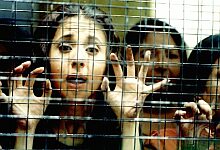 Sarika (Urmila Matondkar) is your everyday single working woman and things weren't all that bad for her. That is until she comes across businessman Karan Rathore (Saif Ali Khan).
Karan walks into Sarika's life and instantly manages to win her over with his charms. But little does she know that Karan also brings with him a whole lot of messy baggage. And soon thanks to the sudden turn of events, Sarika finds herself behind bars in the hope that her lover Karan will soon get her out of this mess.
But ultimately she learns that Karan is in no mood to save her in any way, and has just used her as a pawn in his dirty games. So thus Sarika promises to avenge all this misdeeds, and for this she is ready to start things anew.

The first half takes off in a breezy fashion like any typical love story. Its not candy floss stuff and we soon get the feeling that 'romance' isn't something that the RGV camp is exactly comfortable in. But thankfully things pick up pace once Urmila falls for Saif and from thereon we are given some great screenplay. Some of the jail sequences are certainly worth the applause. Things are really captivating right up to the interval point where we see the transformation of a simple woman into a revenge-seeking fatale.
The best part is inspite of the viewers being able to see through things and being one step ahead of the characters, the screenplay has effectively done the job of keeping the audiences glued. And by the time we reach the interval, things are all set for a very promising second half.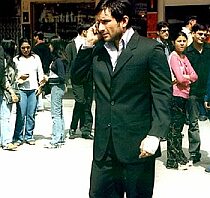 But when Urmila's character promises a slow and painful death for Saif, I had no clue that the audience are also going in for an experience that is slow and painful. The second half gives us a cat and mouse that is just as confusing, serving no purpose all the way right up to the climax.
Urmila is once again at her best, and definitely she is having a great run with Bhoot, Pinjar, Tehzeeb and now this. She has handled the complex character of Sarika with such elan and ease and definitely is a powerhouse performance.
And also not to be missed is the solid show from Saif Ali Khan. This man is a revelation and is just increasing his fan base with every passing film. AFter stealing the thunder in movies like Dil Chahta Hai, Kal Ho Naa Ho, and even in the recent LOC, he now is simply superb as the slimy smooth operating gangster figure.
Seema Biswas is another person who towers above the rest of the talented cast commanding a great screen presence.
Director Sriram Raghavan has a great eye for telling his story and definitely is a name that one should be on the watch out for. He definitely have that creative spark in him that could set him apart from the ordinary folk of the industry.
EK HASINA THI had brilliance written all over. IT has some lovely technical wizardly, great camerawork, and sufficiently strong background score to get things going. Boy, it even have some classy sequences that will stay as classics for some time to come, only if the whole film could live up to the same tempo. And it is one of the few times when despite some great performances from the cast, it still isnt' enough to save the film.
The second half is a big dud since all that sequences ultimately seem to serve no logical reasoning or purpose in the final count. And that is where the whole set up crashes down to such depths that all these positives find it hard to hold it up.
But thank god that there weren't any songs to spoil the proceedings either.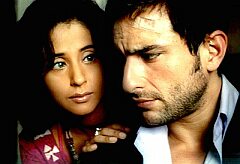 Despite promises of things heating up, the chills and surprises hardly shows up. And that is another major minus factor of the film. The climax or the finale was chilling though but by the time we reach there, the audiences are thrown into a wild goose chase with cops and underworld figures running all around the map.
Damn, you call this a tale about a woman out for revenge? IT just ends up so lame. For those who really want to see a female kicking ass big time, then I would suggest you to still check out KILL BILL. That is how a lame story needs to executed in style.
EK HASEENA THI is a perfect example of a film that settles quite well as the ordinary, when in fact it should have been changing the rules of Bollywood thrillers. It was all there, yet in the end, it achieves nothing substantial.