Mahesh Manjrekar is definitely a director with talent. However he seems to have a problem with taking too many projects at a time. Mahesh Bhatt was another director notorious for the same reasons, and eventually most of his films begin to flop.
Mahesh Manjrekar burst into scene with a powerful VAASTAV. Then he followed it up with another great movie - ASTITVA. But just a week later he came up with a disastrous JIS DESH MEIN GANGA REHTA HAI. But he silenced his critics with KURUKSHETRA.
Now his next movie, EHSAAS is getting ready for release. This however is not an action movie, nor is it like anything he has done before.
THE STORY
EHSAAS is a story of relationships - more precisely about the father-son bonding.
Sunil Shetty plays the dominating father to a 10 year old boy (Mayank Tandon). Losing his mother at a very young age, the boy seems to be pushed to the extreme by his father. And so the extra effort from a single parent comes out as pressure to the little boy, who seems to have no freedom to his life.
Neha plays the bubbly neighbour to this father & son. And as she walks into their life, she turns out to be a great friend to the kid, and eventually also manages to make a place for herself in the father's heart.
This is the first time Manjrekar is teaming up with Sunil Shetty. And as far as Sunil Shetty is concerned, it is just one more great role to add to his kitty after the ones in DHADKAN, HERA PHERI, YEH TERA GHAR YEH MERA GHAR and KASAM SE. Sunil Shetty has definitely come a long way from his BALWAAN days.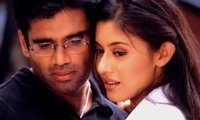 Neha is still yet to prove herself as an actress. Though she managed big banners with KAREEB, FIZA and even RAHUL, her big role still eludes her.
But bottomline, no matter who the stars are, this is a Mahesh Manjrekar movie. The expectations are high. For we do not want a director like him churning out big disappointments.
But given the plot, this could face a tough time at the box office. But if there is a strong message, and an equally engrossing narration - it shall withstand all the turmoil.
The music director is Anand Raaj Anand, who also will have a special appearance in the movie. Other names making guest appearances include singer Sunidhi Chauhan, Sivaji Sattam, Shakti Kapoor and Mahesh Manjrekar himself.
The movie is set in Goa, so expect some great visuals too from cinematographer Vijay of TUM BIN fame.
DOWNLOAD THE SONGS NOW
right click the song and save target/link as...