So was this supposed to be the big David Dhawan-Subash Ghai team up that created a lil bit of hype n stuff? Boy, if these are the results, then I think its better that these two work alone. Cause when both the flop makers teamup, they create nothing short of a disaster.
So Dhawan, what is wrong with you? You managed to do a decent entertainer with Haseena Maan Jayegi...and reworked the whole thing for yet another hit in Jodi No.1. But couldn't you have worked on a little time on a script at least for this flick?
Well, guys...its the same ol story once again. Govinda and Sanjay plays petty crooks who accidentally messes with big time terrorists and ends up on a comic caper that serves no purpose at all.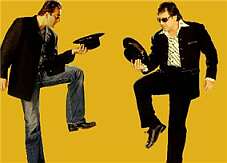 Tara (Govinda) and Sithara (Sanjay Dutt) are two petty crooks who are quite contend robbing the loot from ordinary people. Things go merry for them until they end up stuck with a big-time criminal Cobra (Ashish Vidhyarthi). And then when they end up shooting Cobra down leading to his arrest, the boys know that they have to go undercover.
So they head to the border only to land in the home of the army dude Ram singh( (Jackie Shroff). And here they take time to coochy coo with Ram's sister (Nandini Singh) and her buddy Preeti (Amrita Arora).
All goes well until Cobra is back hissing and rescues his brother Panther (Gulshan Grover) from the Army headquarters. But ultimately it is Tara and Sitara who does the needful and save the nation.
I mean, as a comedy the film ain't bad. Had the movie starred some new faces or lesser known actors, it might have been even named - comedy surprise of the year. But casting Sanjay Dutt and Govinda- we know what to expect and they only give us that much. Can't help feeling a been-there-seen-it-all about this flick. The duo just does the same thing that they did in their previous two successful tie-ups - Jodi No.1 and Haseena Maan Jaayegi.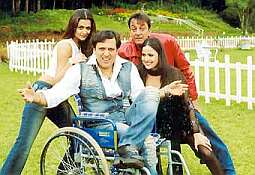 Now to begin, one of the obvious failure factors is the lack of good music. Except for one number, and a rather average title track (that is played throughout the movie) there is nothing musically noteworthy in spite of the composition being from the immensely talented Shankar-Ehsaan-Loy.
A flimsy storyline such as that is what holds the whole film up. But with nothing new on offer, David Dhawan is clearly playing his trump card, Govinda and expects him to save the day for him. And Govinda being that talent he is, is the saving grace of the movie...though at times he tends to go overboard. Sanjay Dutt also tries out his comic routine but is not as impressive as his previous attempts with Govinda. One of the reasons for both the actor's shortcomings is definitely the thick punjabi accent that they carry throughout the film.
The ladies are just there without a reason. And Jackie puts in a decent performance in a rather boring character. Ashish and Gulshan just play out their usual baddie routines.
Certainly the movie was supposed to bring back Govinda into the limelight. But unfortunately this movie only makes things even worse now for Govinda's position in the new-look Bollywood. I mean, if Govinda can't work out a hit with Dhawan, then with who else?
A movie that is funny, but unfortunately it is like watching the third installment of Austin Powers....you have seen this flick previously not once, but twice. Feel like watching the same movie for a third time???