Even if you spell D-U-M as 'dhum' or 'dhoom' it hardly matters, cause it still is the same thing. But yes...the flick is definitely not dumb.We have all the masala ingredients added in a film that boasts of a very thin storyline which serves up as a good excuse for all this to begin with.
Now don't go around claiming the story to be hard-hitting and original stuff simply because it was that same thing that we saw way back in the Manoj Bajpai starrer GHAATH. That flick inturn inspired a tamil flick DHILL and its runaway success now forces E. Niwas to come up with DUM.
Uday Shinde(Vivek Oberoi) has dreams of making it big as a police office. And he hopes he can clean out the corruption once he gets there. But all his future plans is thrown off track when he meets the local cop Encounter Shankar (Atul Kulkarni). Without knowing how terrorizing the cop can be, Uday beats him up in their first encounter itself.
A badly bruised Shankar, now desperately wants to get his hands on this lad Uday and teach him a lesson. Thus follows the cat and mouse game between Encounter Shankar and Uday.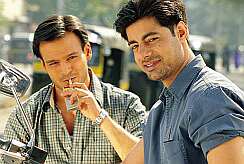 Obviously I was wishing E.Niwas of Shool fame to come up with something original and interesting, but it is unfortunate to see him trying out a remake of a typical masala action flick. Again it is one of those usual ones, where even if the first half casts any kind of magic on you....it all withers away in the latter half. E.Niwas hasn't definitely done a bad job here. But then I would not give him much of a credit either because it is just another remake with nothing really much contributed to make the final product any better.
Obviously Niwas did manage to paint a gritty picture out there, but its uninspiring storyline eventually takes its toll.
If this film serves any one a boost, it definitely is for Vivek Oberoi. The guy who tried his hand at serious acting so far with films like Company and Saathiya, finally gets to play a Bollywood action figure with DUM. And with his oozing confidence he does come out strong.
But the real show stealer is still Atul Kulkarni who plays the baddie cop with such conviction that it is hard to keep your eyes off him. Diya Mirza plays the usual candy role with nothing much to do in this action film. Even a talent like Sushant Singh goes wasted in this film. Mukesh Rishi is also so-so.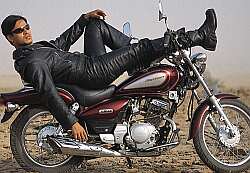 Sandeep Chowtha song's are just ordinary and definitely lacks the magic he comes up when he does a RamGopal flick. But then again, those few numbers are really given a boost thanks to Ganesh Hedge's groovy choreography. Hegde does comes up with the goods, man!
Did I mention how much fun Yana Gupta puts into the whole proceedings with that item number? I did not?? Well, then that is because it is just put in there to save the rather boring second half from total destruction.
Dum might have the rawness feel to it, an honest and sincere efforts behind it, but somewhere the magic of the original Dhil fails to come out in this remake.
Your typical masala action flick...but a welcome addition to Vivek Oberoi's list of movies. That lad has a point to prove, you see!