reviewed by Jox
Ram Gopal Verma gets his gang together and gives another bright talent like Prawal Raman a chance to break it into the industry. So this highly ambitious venture gets a load of stars for six different sub-plots that are supposed to bring a new meaning to the word - 'fear'. Or so the makers claimed.
But Darna Mana Hai in big bold words fails to live upto expectations. It is anything but spooky. These are certainly not 'Tales from the Crypt' but more on the veins of those popular 'Twilight Zone' or 'Amazing Stories' episodes. Weird tales with an equally interesting twist.
When seven of your average teenage bunchies return from a Goa trip, they end up in the middle of the woods with a flat tyre. So till they get things worked out, they decide to camp up at a nearby house they find. And to kill time, they decide to make things interesting by narrating some scary spooky weirdo tales. But as the stories are unleashed, little do they realize that the seven are in a big danger of their own.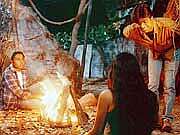 But the film hardly fails to take off. To begin with what we have are six completely different tales that have no connectivity whatsoever. So the flick is surely not going to get anyone engrossed in it for the entire 2 and a half hour length of things. While some of the stories might hit the bullseye, some fall flat. So ultimately it all boils down to which catches your fancy and which does not.
However before we go any deeper - two things that really messes up this film.
Firstly, the main plot is horribly weak. It is badly acted, with equally poor dialogues and it all falls flat. It seemed like the director and Ramu were not really concerned over how the main plot works out. And the failure of the main plot will overshadow everything good about the rest of the proceedings and eventually make things look worse than they actually are. The way the dish out the stories are hardly convincing, looks out of place and what happens to them eventually is also an anti-climax of sorts.
The second factor again is Salim-Sulaiman. These two makes a mess of the background score in a big way. The ruined Bhoot to a very big extent and here again they go about doing the same. They perform as if the only thing fear-inducing in the movie is their music.
The set up of many of the short stories however are interesting but looks heavily inspired. In fact I would not be any surprised if these stories were ripped off from some Twilight Zone episodes. These six short stories are definitely a much better work in every respect.
So for those who care, I will break up the six sub-plots one by one:
Story 1 is about this newly wed couple who find themselves stuck in the middle of nowhere when the car breaks down. But when Antara Mali finds that her hubby Sohail Khan is missing all of a sudden, she sense something is wrong. Or is just another prank being played by her husband?
This is your basic spook set up with the lady stuck amidst X-files style swamp fields with things lurking left and right. However the story on its own isn't that strong and is one of the weakest of the lot. But you can take it as a kind of starters. Sohail Khan hardly impresses in its short role, but Antara Mali looks composed (yet a lot disinterested?).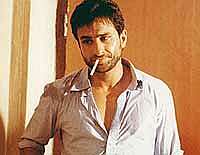 The next story told is an interesting piece that features Saif Ali Khan. Saif plays this fashion photographer who is forced to find a room for the night in this weird looking motel. He books himself in and finds that the only person in there is the owner - Boman Irani. However what really distrubs Saif is the fact that the hotel is filled with 'NO SMOKING' signboards while Saif is desperate for a fag. Soon he discovers that the owner is strictly against the habit of smoking. And he confirms that the owner is a psycho when he suggests Saif to stay in the hotel for six months and get rid of the smoking habit forever.
This storyline has 'B-grade Hollywood' written all over it. The highway, the motel, the psycho owner all are very familiar set-up props. Saif Ali Khan does come out strong in his role, but in this episode it is Boman Irani who really steals the show. A great act.
Episode 3: A primary school teacher begins to lose his sleep when one of the weakest students of his class begins to show drastic improvements. Something in the small girl begins to disturb him mentally and threatens to reveal the skeletons in the closet.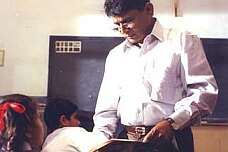 This I was expecting to be a powerfully acted piece of work, because of the fact that it features talents like Revathy and Raghuveer Yadav. However the story was ruined for the same factor- Raghuveer Yadav played his character a bit too eccentric and that worked against the story and the mood. Revathi on the other hand ended up with nothing much to do. This in the end came out as a weak link in the line up!
Story no.4 was a big disappointment. It had to do with your everyday housewife (Shilpa Shetty) who buys this set of apples from a weird vendor (Rajpal Yadav). The circumstance in which she gets it begins to create suspicion in her mind. Is these apples consumable? or is it dangerous?
This is a weird fantasy piece kinda tale and though there is nothing breathtaking in this, it is a a love-hate plot that could go either ways with the crowd. The acting in this piece was just average from everyone involved though Yadav did manage to infuse a bit of creepiness here.
The fifth floor has Vivek Oberoi giving this man (Nana Paterkar) a lift to the city on a long dreary night. As the conversation takes off, Nana's character lets Vivek know that he is actually a ghost, dead for the last ten days. But Vivek Oberoi refuses to believe the man's word and take it all so lightly. Until things get a little bloody (literally)...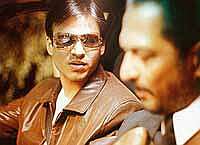 This story worked in every ways. It had the strength of a spooky short story, though it seemed a little too obvious at times. But it is only enhanced with some performances from Oberoi and Patekar which was right on target. Since the episode mainly deals with the conversation between the two, the two really manages to keep the viewers hooked.
Last but not the least, is a tale about this college going loser of a guy (Aftab) who is so hopelessly lonely in life that no one gives a damn about him. He realises that there is nothing different or special about him, nothing to even win the heart of his secret crush (ISha Kopikar). After several unsuccessful sucidal attempts, he finally makes a wish to be someone special. And soon he realises that he has this new found powers to freeze things around him. And then he decides to take his powers and have a ball with it.
Somehow there was nothing spooky or mystifying about this particular tale. And from the promos this is what looked like the story that would probably fall flat. But surprisingly, I found this the best story among the six pack. It was simple yet funny. Kept me amused and rounded it off with a clever twist to things. And Aftab puts in a wonderfully spirited performance. I think he is ready for some wacky fun (read it as 'Hungama').
As you can see all the big names and talents are rounded off in the six pack stories and most of them put in a good performance. Acting suffers only in the main plot with the six teenagers. And the over-emphasis on Sameera Reddy really did not help things. She obviously seemed like the odd one out from the very first shot. Some of the dialogues penned down also very outright silly.
Technically things are bound to be outstanding. Afterall its a Ramu flick. The title sequence was mindblowing with Sameera Reddy sizzling away. However the sizzles ends right then and there. Nothing that followed matched up to that standards.
All in all - DARNA MANA HAI was daringly different and certainly tells a couple of nice tales. But on the whole, the movie ends up on a flat disappointing note and wasn't certainly worth a trip to the big screen. It is better as it should be - a decent weekend video rental. But on the big screen, this one is Dekhna Mana Hai (atleast for the average Indian moviegoers)!
--------------
read Akshay Shah's review for DARNA MANA HAI
PANELROOM review
On the whole, DARNA MANA HAI caters to the intelligentsia more than the average cinegoer of today, who may find the concept of the film difficult to digest.- - A Negative/Mixed review from Taran Adarsh (IndiaFM)
These weird stories vary from good to average to bad ones. . If only all the stories would have been good, he would have had a winner in his hands. A Mixed review from Kunal Shah (Sify)
The film did not scare me at all. But it did thrill. By the end of the film, I was so absorbed, I did not feel time fly by. A Positive review from REDIFF
Unlike Varma's Bhoot, which lost steam after a superb first half, Darna Mana Hai keeps you riveted for most part.A Positive review from MIDDAY