reviewed by Jox
After making a series of candy floss romantic sagas, Yash Raj films decide to change tracks. This time by making a stylized action flick giving the usual cop robber theme a motor-of-a-twist with speed, pace, and a lot of skin to go with it.
That is DHOOM in a nutshell, an action flick for all those who haven't got the time to watch flicks like ITALIAN JOB, FAST AND THE FURIOUS, OCEANS' ELEVEN and MATRIX RELOADED.
Sanjay Gadhvi gives the desi viewers the best of the mix and in turn comes up with a rather decent action flick and what can be claimed to be India's first bike flick.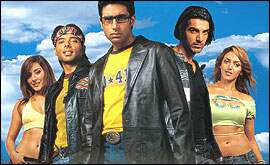 Its Mumbai and a gang of four bike-bandits are giving the Police force sleepless nights and the citizens a lot to complain about. The gang is sophisticated enough to come like the wind and disappear into thin air leaving behind very little for the cops to chew on.
Without much delay the new ACP in town, Jai Dixit (Abhishek Bachchan) is hot on the heels of these foursome, a gang led by Kabir (John Abraham), hiding in the broad daylight in the guise of normal pizza delivery boys.
Jai's hunt for this gang leads him to a happy go lucky mechanic Ali (Uday Chopra) who is an ace bike rider too. Though initially he mistakes Ali to be the culprit, he then decides to utilise Ali's services when he realises that this clumsy fool has nothing to do with the well-executed robberies that is happening around.
Finally the cop-robber game between the two heats up to such an extent that Kabir throws a challenge in front of Jai by informing everything about the crime in advance. If Jai can capture the gang, hats off to the cop. But if Jai still fails to stop the gang, Jai leaves this case forever.
Obviously the film's mainstay is action and though it still is far behind if you begin to compare it with its Hollywood counterparts, this one is rather slicky and stylishly mounted to step foot in the bollywood arena. To begin with the film's pace is good, as the length is kept short and trim, and the songs do not come in and make this ride bumpy.
Sanjay Gadhvi might have taken a free hand at being inspired from all the hollywood flicks I mentioned earlier, but in the end has come up with a rather decent script for the Indian viewers. His last attempt MERE YAAR KI SHAADI HAI was a pretty decent entertainer and this one is the same league. Again, take it as an escapist cinema and as long as you dont take the laws of physics and engineering with you, one is sure to be comfortable for this particular 'need for speed'.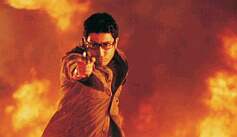 The first half sets in the characters and the atmosphere pretty well and by interval time we know that the cat and mouse game has gone to a higher and more challenging level. The second half has the gang going for one more big heist, things were pretty much in control.
The only thing when things got a bit too much was in the climax fight sequence when action director Ali Amin decides to recreate the MATRIX RELOADED highway truck battle with Abhishek and John Abraham battling it out on top of the trailer.
John Abraham steals the show without a doubt. Playing an out and out villain with no 'nice thing' about him, he plays the cool leader of his slick gang to perfection. Leaves an impression with every look he brows, and hits the mark with every dialogue he sparks...after doing a wonderful Kabir in JISM, John Abraham does yet another powerful KABIR portrayal here.
Abhishek Bachchan plays the role of a cop that seems to have taken a solemn oath of removing the unwanted from the society but not his goggles from the face. The role was definitely a badly written one, and when he starts off with a love-making song like that, one fails to take his character as seriously as you would really want to. But inspite of all that, Abhishek does a pretty good job of the cop and was winning a lot of the applause whenever he seemed like pulling one over John Abraham.
So while Abhi and John does the usual cat and mouse game, we have Uday Chopra giving us the comic aspects of the screenplay. Not that the character wasn't a helpful one, but certainly if there was some better talent like say Saif donning the role, one would have seen him stealing the show. But Uday just barely manages to do his stuff and does get a little irritating at times too. This rider just manages to finish through decently though.
The ladies...oh boy are the ones totally wasted. Eesha Deol barely have dialogues in this flick and Rimi Sen does have some dialouges atleast, but they aren't in Hindi but in Bengali. In short, except for showing a lot of their assets and skin in the skimpiest of clothing, the girls had absolutely nothing to do.
The music was pretty average with the title song being the highlight of the whole enterprise, but was let down by some bad choreography. Camerawork and editing were indeed slick and enhances the pace of the movie. Salim Sulaiman gives their usual touch to the background score.
YashRaj films can be happy about giving a slick action flick, and the fact that they brought home a cop and robber tale in this avataar without making a total mess, needs to be appreciated. Sanjay Ghadvi can be happy and just hope that the indian audiences feel that particular 'need for speed'!