Dhamaal, as the name suggests, is a fun filled caper about four friends - Deshbandhu Roy aka Roy (Riteish Deshmukh), who believes that he was born to be the best detective in the world; Manav Shrivastav (Javed Jafferey), who actually happens to be the biggest idiot in the world, but is blissfully unaware about it and his elder brother, Aditya Shrivastav aka adi (Arshad Warsi), whose encyclopedic half knowledge about everything only adds to the great expertise of this group; the final component of which is Mr. Scared of everything, Boman Contractor (Aashish Chowdhury), whose greatest fear is his father, Nari Contractor (Asrani).

These four lovable idiots live and work together. Their idea of work? Doing small time con jobs! The thought of earning an honest living has never even crossed their minds. So one day while trying to save a dying man, Bose (Prem Chopra), they get their big break. He tells them about hidden millions as he takes his last breath. They are ecstatic! Easy Money! Their life is MADE!

Here begins their misfortunes! Police Inspector, Kabir Nayak (Sanjay Dutt) has been chasing Bose for the last ten years. He finally finds him. Only dead! Desperate for his promotion, he questions the suspicious looking foursome he finds next to the body. When they manage to give him the slip, begins the Chase.....

One misadventure follows after another. All five are thrown into hilarious life threatening situations that has the audience in side splitting laughter and guessing - Is there really any hidden money? Who will get it first? Its sheer masti and DHAMAAL
source: official site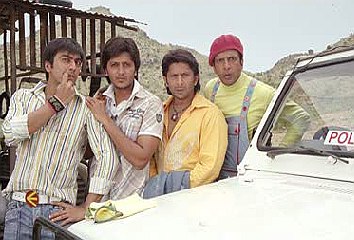 Fortunately or unfortunately, with the recent public sentiments favoring Sanjay Dutt amidst all the court sentencing, this movie is sure to gain from all of that.
This is a good cast I must admit. Sanjay Dutt has gained a lot in the comic genre thanks to his Munnabhai franchise. Then you have Arshad Warsi, who has always been at ease when it comes to comedy even since he made his debut in TERE MERE SAPNE. Javed Jafferey is another man who has immense talent which however has not been unfortunately extracted for maximum cinematic gain. Then you have the latest 'scene' stealer Ritesh Deshmukh who off late is well known for shining in such multi starrers. And rounding it up is Aashish Chowdhary who still is awaiting for that big movie that could really catapult him into the big league. Will this be it?
It does not end there. It also features an under used talent like Vijay Raaz and also special appearances from Aftab Shivdasani and Sohail Khan.
And a movie with no heroines? Hmm, Looks like they were hell bent on making an out and out comic caper.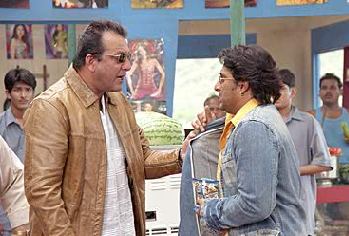 Given any other day and any other movie I would have been excited with this cast. And getting them all together in one movie, I am sure I would have enjoyed it too. However with DHAMAAL I am not exactly excited. Why so?
Well the reason completely lies in director Indra Kumar. This man had a midas touch back in the 90s when he gave us those hits like DIL and BETA. And then he began losing it from there on with duds like MANN , MASTI and PYAARE MOHAN.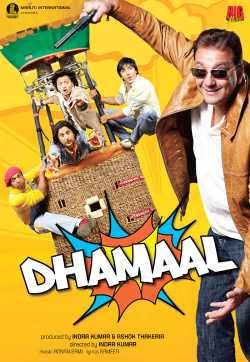 For it is simple...Indra Kumar was never comfortable with the comedy genre and everything that he believes is good humour, is actually crass loud humour. Surely people like Aamir Khan has managed to give some respectability inspite of that , but most of Kumar's comedies are too loud. Watch his ISHQ and you know what I am trying to say here....for if it werent for a rather engrossing drama in the second half, the film would have fallen flat on its face.
Was certainly hoping that Indra Kumar must have learnt a thing or two from other makers like Priyadarshan or Raj Kumar Hirani. Even David Dhawan has learnt to move on with times. But from what I see from the promos, it looks like nothing has really changed for Indra Kumar.
Then again the cast is one that has a wonderful comic timing and given that, probably they would make even Indra Kumar's loud comedies look good onscreen.
However the movie has so far failed in most of the vital departments. The promos does not exactly heighten ones excitement, and to top that, even the music has failed to take off. Despite having Adnan Sami credited as the music director, DHAMAAL boasts of pretty average soundtrack.
Not exacty sure what dhamaal is this movie hoping to make. However two elements are still going to work in its favor - Sanjay Dutt and the comedy genre. Hopefully these two will be enough to get this movie started off and then the result depends on the actual product itself.
Will this DHAMAAL create any KAMAAL of sorts at the Box office is yet to be seen!