Devdas was the son of the rich Zamindar Narayan Mukherjee. Right from childhood, it was his playmate Paro who was most special in his life. But Devdas had to part with her when he is forced to go to London for higher studies. Paro was helpless as she saw him leave, but hoping for his return, she lit a 'diya' to symbolize the wait.
Years later, Devdas returns as a young man who embraced modernity, but he was received by a beautiful Paro, who still remained as beautiful as ever. But when the idea of their marriage was suggested to the elders, Zamindar Mukherjee refused and there was a rift between the family. And though Paro earned for his love, Devdas decided not to go against his father, and instead wrote a letter to Paro asking her to forget him.
But Devdas later realised his mistake. He began to see how badly he was missing Paro in his life. But this time when Devdas tried reaching out for Paro, a humiliated Paro refused to stand by Devdas. This parting led Paro into a marriage with a older, wealthy Zamindar Bhuvan. Meanwhile Devdas took to a life of pain, alcohol and most important of all, the courtesan Chandramukhi.
A stunning and beautiful Chandramukhi immediately felt attracted to Devdas. Chandramukhi loved the man who had this undying love within him, and it did not matter that it was not her who Devdas loved.
Meanwhile though Paro was happily married, she could never forget her first love.
Strange was the fate of Devdas. Intensely loved by two women, who were never meant to be his. One whom he could never love and one whom he could never stop loving...Devdas stood alone, aimless, with the headiness of alcohol offering him not enough solace.
The best thing is not to talk about the making of this film and its cost. The movie was from the word 'go' one of the most expensive projects that Bollywood would ever witness. Obviously, Bhansali who has a keen eye for lavish and colourful costumes and sets, was not going to spare anything in his attempt to recreate this old Bollywood classic.
But things begin to go wrong with accidents on the set, and even some of the sets catching fire. In between all this, the key financer of the film Bharat Shah was also arrested for underworld links bringing to fate of this project into a big doubt.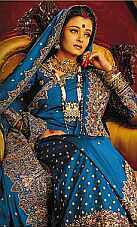 However Bhansali refused to let things slip away and he kept fighting the odds every minute. And finally, the man has successfully managed to live out his dreams with the help of Devdas.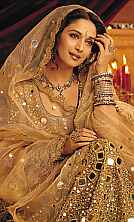 So you think Shahrukh is the sensitive loverboy with all those Yash Chopra/ Yash Johar candy romantic flicks. Then wait for Devdas....this is the ultimate of those lovelorn roles an actor can get.
Playing the role of the beautiful Paro will be Aishwarya Rai. After making an actress out of her in Hum Dil De Chuke Sanam, Ash was an obvious choice for director Sanjay Leela Bhansali. but Bhansali was also sure that his this dream project wouldn't be complete without Madhuri Dixit as Chandramukhi.
Bhansali also reteams with his HDDCS's music director Ismail Darbar. Ismail walked off with the National Award for that one. And this time too the music is the talk of the town. One of the reasons is that the music rights has been sold to Universal Music for an exhorbitant sum of 10 crores. So far the reviews seem to be very positve.
But more is riding on the film that just a mere music score. Will any producer trust Bhansali after this film? Will Shahrukh emerge to be the actor of 2002? Will Madhuri Dixit need to continue acting ? Most important of all, will Devdas turn out to be too heavy for the box office?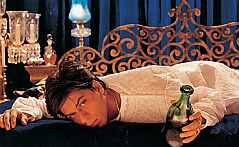 Lots of questions ...and the industry is keenly keeping their eyes on Devdas for the answers? Are you?