reviewed by Jox
Major Ranvir Kaul (Amitabh Bachchan) and 53 other men from the Indian army continue to live in Pakistan territories as prisoners of war since the 71 war. However with no proof of their existence the Indian goverment seems to have abandoned any search for them.
However when proof leaks out that these men are very much alive, Gaurav (Akshaye Khanna), the son of Major Ranvir decides to go and bring his father back home. And when he finds no support of the Indian army, he decides to take on the mission all by himself.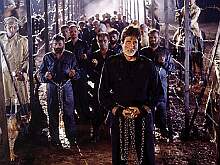 Meanwhile the prisoners are shifted to a new highly secured prison camp where Sohail (KK) is the ruthless jailor. And it is here we also meet a carefree Indian prisoner Khan (Sanjay Dutt) who will do anything for money.
The prisoners get together and form a major plan to save the prisoners but it backfires miserably resulting in many of the prisoners losing their lives. However in between all this Khan manages to escape and survives thanks to Gaurav.
Now Gaurav wants Khan's help in getting the men out of the prison and across the border.
First of all, whhen you have a young son going all out to save his long lost father from across the border, all on his own, you are bound to get some big time loopholes. Yeah, this story could not have been without them all...and that is exactly what this movie boasts of. For all those who thought KHAKEE had holes so big, think again...probably the writer Sridhar Raghavan is the common factor.
Milan Luthria could have certainly come up with something better. But somewhere he stops himself from taking control over things and is content just making the movie seem bigger and grandeur with the stars and the sets.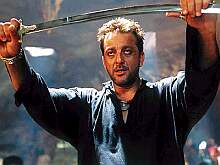 The first twenty thirty minutes is one bumpy ride with lots of slow motion cut scenes and over the top filmi dialogues about patriotism and what not, till we send Akshaye packing off to Pakistan in search of the papa he hardly got to know.
From then on the film begins to get into some rhythm when the prisoners are transferred to their new prison under the supervision of KK. From there on a lot more interesting characters join in, most notably that of Sanjay Dutt and the film seems to getting finally on track.
Second half we have the Sanjay Dutt getting in full swing, bringing the much needed humour into the whole narrative, and finally an the much-hyped escape plan being laid out and executed. However the thrills and excitement of a rather engrossing second half is offset by the inclusion of unnecessary songs.
What really holds this movie up is the cast. And when I say cast, I just don't mean the big names we have here. Besides Amitabh-Sanju-Akshaye, the rest of the cast members that includes names like KK, Raj Zutshi, Raghuvir Yadav, Sanjay Narvekar, Aditya Srivastav etc all have performed to the mark.
Amitabh does give us a glimpse of why he is an institute of acting in the first twenty minutes itself. However after that, the rest of the actors takes over and it isnt until the last hour or so, that Bachcan really gets back in the groove. Akshaye Khanna does another one of his 'natural' acting displays which does not exactly have him stealing the show.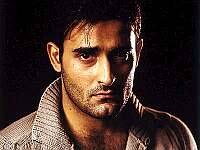 But the real trump cards comes in the form of Sanjay Dutt and KK. These two 'ultra cool' characterisations from these two men kept the movie going on a great deal. Sanjay Dutt seemed to be having a blast of a time playing the role of 'Khan' and probably brings a lot of enthusiasm into the screenplay. And KK puts in a fabulous display in the villainous role right from his first scene where he greets the prisoners without uttering a single word. He is way too under rated an actor, and the way he handlles himself opposite Big B and Sanju proves what a great actor he can be.
Again the supporting cast really chips in and leaves an impression.
The whole Amrita Rao episode was absolutely unnecessary and could have been easily done away without.
The music from Aadesh Srivastav from an absolute let down. First of all the film exactly did not have the scope for the songs and it is clear when you see how songs like 'Marhaba' and 'Piya Bawri' are crammed in. Where really Aadesh could have made an impact however was the background score, but that too failed miserably.
Cinematography, dialogues, and most of the technical department turns out to be a pretty so-so affair. One aspect however that deserves a little appreciation is the art direction department that manages to recreate a lot of the Pakistan setting.
But with Milan Luthria trying to do a movie on such a large scale, I guess things spiralled a bit outta control. Loopholes left right and center, things looked a little too silly at times. I mean, they have to escape from a highly secured military prison all the way across the border, and yet they have the same ol' tried and tested local jail plan to execute. There wasn't that exceptional escape that the makers promised. Probably next time they should just stick to drawing 'deewars' between brother and not between nations.
For now...this is a pretty lame, pretty exciting ..overall a pretty average flick. Might be an 'escapist' cinema, no doubt without the best logical reasoning, but then again not the 'greatest escape ever' that the promoters promised! Good performances saves the day!