LOVE TRIANGLE
Starring Milind Soman, Dipanitta Sharma, Danny Denzongpa, Gulshan Grover, Sushant Sharma
Directed by Mani Sharma Music by Karthik Raja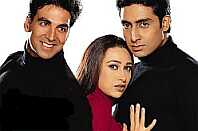 It's december 3rd, a normal day in Mumbai, except that - A dalal street broker is trying to spend a crore of Rupees a day on fancy cards and woman... A mysterious high tech killer is stalking the streets with cold fury... 5000 crores of rupees is morphing into a Swiss bank account code named White Lotus Fraud is quitely happening on a staggering scale, with, bank chairmen personally supervising operations... A shadowy Afghan terrorist organization is now offering a Soviet era nuclear bomb for sale... Someone has found a mysterious clue. It's a photograph of the famous surrender between Generals at Dhaka, and its dated 16 December 1971...

Welcome to the world of intrigue, deceit and sudden death. Welcome to an adrenalin charged adventure where a moment could turn into a nightmarish reality in tomorrow's news. 16 December, a title for a film. Also a date with destiny 30 years ago, when Pakistan surrendered to India after the Bangladesh war.

16 December. A date that haunts the unforgiving foe as he moves relentlessly on a tryst with revenge... 16 December. A dead line that sets off a mind boggling man hunt in search of a faceless target. Both sides are equipped with the latest technology. Both are determined to win, whatever the cost. As always the advantage lies with the enemy, because he is a mere shadow with no name. Only he knows the whole plot, and he is not going to tell you what it is. In fact, even as you read this line he is planning to take you with him as he prepares to die... On 16 December.
(synopsis courtesy official site)

Milind Soman stars in this rather different Bollywood product but will find some stable support from the more experienced campaigners like Danny Denzongpa, Gulshan Grover and Sushant Sharma ('Jungle' fame). Also we will see model Aditi Gowitrikar in a very special appearance. Model Dipanitta Sharma will be the lead female in this flick.
The film is produced by iDream Productions, with direction and script from Mani Shankar.