DIL CHAHTA HAI is a movie that raises high expectations from the word "GO" being Aamir's second release this year after the super hit LAGAAN. Moreover the trendy looks and promos of the movie did give it a special charm. But more important, it is the big debut of writer Javed Akhtar's son, Farhan Akhtar.
I don't know how much it lives to its expectations, but this I shall say. The movie does deliver what it promises - a feel good tale of male bonding.
THE STORY
The story finds its core in the bond that exists between the trio Akaash - Sameer - Sidhaarth. And we find most of the story told in series of flashbacks about this one big summer time just after their graduation, and how the cupid guy came into their lives with the thing called 'love'.
Sameer (Saif ali Khan) is the guy who simply loves to fall in love. No, he is no flirt and seems to fall deeply in love with every girl he meets. And then his heart gets broken and then the next, and so on. But though in and out of it, he still is a guy loyal in love. And when he begins to lose all hope in the concept of love, he meets Sonali Kulkarni.
Then we have the rich-spoilt-brat kinda dude in Aakash (Aamir Khan). Has the dough, does not believe in love and can't keep a girl for more than two-weeks kind. But what he loves to do is play pranks on everyone, especially the love lorn Sameer. But he too gets a feel of what love is when he finds himself falling for Shalini (Preity Zinta) who sadly, is already engaged to Rohit (Ayub Khan).
The third friend is the more silent, matured, sensitive guy Sidhaarth aka Sid (Akshaye Khanna) who has a flair for painting. And his summer takes a change with the arrival of a neighbor, a middle-aged divorcee Tara (Dimple Kapadia).
And how each of them find their true love is what the whole tale of DIL CHAHTA HAI has to offer.
WHERE THINGS WENT WRONG
Obviously, being a Bollywood flick, the wrongs are usually glaring at your face rather than the rights. So this movie is also no different.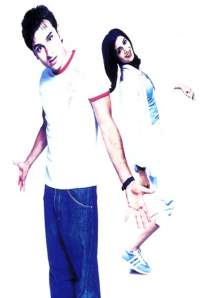 Well the biggest of the flaws is the very simple fact that director Farhan succumbed to the star factor and gave in to bestow more footage to the Aamir-Preity love tale in the second half. But what the movie really needed to deal with was the Akshaye Khanna saga. Somehow that never happens and so that part fails to touch a chord with the audiences. Because the character that most would relate to was that of Akshaye's and if the director just realised that the character is more important than the star, we could have had a winner.
The movie also begins to drag itself in the second half.
Then these guys are the urban rich brats, the ones who are already so rich that career is not a prob for them at all. So most of them would not be able to relate to them easily. I mean, at a age where career comes out to be the most important factor, all these characters are easy-go-lucky about it. Riding mercs, making outing trips at the drop of a hat, money talk is never bought into the picture.
In a movie that tried to be as realistic as possible to the joys and sorrows of life, went for the "filmi" way out when it comes to Aamir proposing to Preity. Though the scene was handled well by Farhan, it still is very Bollywood-ish.
And sticking to the same sequence, the way the humiliated bridegroom, Ayub Khan reacts is quite ridiculous. I mean it is one of those situations that can happen only in a movie.
The music is a plus factor indeed, but then again there is no tracks stays in your head that long to weave some magic, unless ofcourse you are inspired by the promos!
WHERE THINGS WENT RIGHT
To begin with, we have a script that is quite different, fresh and of the feel-good type sticking to realism and simplicity. Not the hardcore drama of reel life, but the simple emotions of real life is what we are treated to.
And director Farhan Akhtar have done such a good job of his task, and he has certainly handled most of the scenes really well. So well that it gives us a reason to watch out for this young man.
Then the cast - Be it Aamir, Akshaye or Saif, all equally compete to steal your attention. Aamir is relishing as the pranky, devilish Aakash while Akshaye is delightful as the down-to-earth Sidharth. But the one that really sails through the movie is Saif Ali Khan. This guy is certianly can take on any of those fun roles and come out unscratched. I mean, most of his hits could have never been so without him. He is certainly an asset in these multi-starrer movies.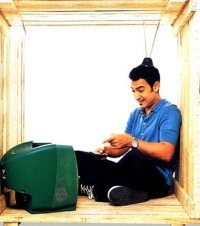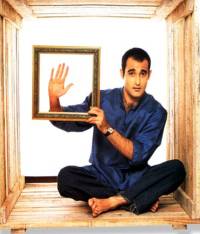 The female stars, Preity, Sonali and Dimple have done good work in their small but important roles in the movie.
The first half is fun filled and moves at the fast pace with the interval setting you up for some big twists ahead. But the second half fails to live up to the standards and excitement laid down in the previous half.
Music by Shankar-Ehasaan-Loy is above average though not out-of-this-world. The picturization of the songs however give the songs that extra boost, especially the song "Woh Ladki Hain Kahan".
Cinematography by Ravi K.Chandran is also a stand out feature indeed.
F I N A L V E R D I C T
DIL CHAHTA HAI might not be groundbreaking but still it is a movie that is clean, cute and fun filled. And most importantly, it tries to bring out a realistic feel in its tone.
There is a fresh, feel-good touch about the whole thing and in Bollywood, where every other movie is a remake or rehash of some South flicks or Hollywood movies, this is certainly a good news.
But the problem is the movie is one of those that would do great in metros but might not strike a chord elsewhere, as the ups and downs of the rich might invoke little interest in them.
Though the train loses its steam as it approaches the destination, it still ends up as a pleasing enjoyable ride!