Oh boy...another flick from Ram Gopal Varma. And no, not one of his Factory outlets. This one is indeed directed by Ramu himself. After the debacles called NISHABD and RGV KI AAG, here comes one more. This time simply titled DARLING. We saw what he did out of his darling project 'AAG' . Now wonder what he made out in this version of 'DARLING'!
When much married Aditya Soman embarks on a passionate affair with his colleague Gita Menon, itís just an interlude for him. But for her, itís much more than that. She truly believes that Aditya will divorce his wife Ashvini and marry her. Aditya too strings her around, as long as it suits him. But suddenly things take a deadly turn. Gita dies. And haunted by guilt and Gitaís ghost, Aditya turns into a nervous wreek. DARLING Ė The love story of a man, his wifeÖ and his dead lover.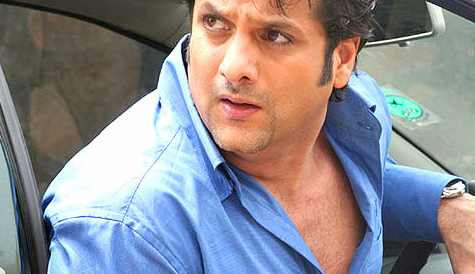 Fardeen Khan gets one more go at trying to establish himself as a bankable male lead. For the past few years, he has managed to shine and do pretty commendable works in multi starrers but when the focus is solely on him, his weaknesses comes out in the open.
This looks like a rehash of another one of those flicks from the RGV factory - PYAAR TUNE KYA KIYA which was an engrossing flick.
But Ram Gopal Verma decides to mix a little bit of 'BHOOT' into this version and voila- he calls it DARLING.
RGV might have got into the wrong side of Hema Malini with his Sholay remake. And probably that is why he decides to give a shot to Eesha Deol - someone who still haven't got the finesse of acting yet.
Which means Isha Koppikar looks to be the best of the cast here. Surely she has been getting two-bit roles that has nothing worth writing home. However finally, after a long time, it looks like finally she has bagged a full length role which will get someone to take note of her.
And then how can DARLING be complete without Ram Gopal Varma ki Darling - Nisha Kothari. And yes, that excuse of an actress even gets a special appearance in this movie as well. I mean, I admit that RGV did make decent actresses out of Urmila and Antra Mali. But this one seems to be not worth the effort. Beats me what RGV is trying to prove with this one.

From the trailers this looks like a pretty good thriller of sorts, but with RGV commenting that this is a horror comedy of sorts, I am left a lot confused. Did not find a comical moment in the theatrical trailer and wonder why a comedy horror flick is promoted as a horror thriller.
Whatever genre it falls into- hope RGV gets this one straight because after NISHABD and RGV KI AAG, people just would like to believe that this man has lost it. For the sake of good cinema, many of us still hope there is something left in this man. Will RGV ki DARLING manage to create an impact that his AAG could not achieve?
Atleast this film has already one thing that his other movies of late did not have. A hit song in the form of Himesh Reshamiya's TADAP. Yes, for a change with the inclusion of names like Reshamiya and Pritam, we have a soundtrack finally.
Well, I am sure the critics are going to be kind with this one atleast, especially after all of them running out of negative things to say about the man and his work.
Will RGV 's DARLING manage to create an impact that his AAG could not achieve?