Sangeeth Sivan, who did not get it right five years back with the Sunny Deol starrer ZOR returns for another thriller. This time he pits Eesha Deol against debutant Zayed Khan, the son of Sanjay Khan and the brother-in-law of Hrithik Roshan. And Sivan choses to churn out a desi version of the Carey Grant-Audrey Hepburn starrer Charade.
Vijay (Zayed Khan) walks into Tina (Esha Deol)'s life quite unexpectedly but it does not take much to have Tina flipping head over heels for this dashing guy.
Tina however is in for some bad news when her uncle Tony meets with an untimely death in Bangkok. And Tina is in for more surprises when she learns from an Embassy official Deepak (Salil Ankola) that her uncle was a big time criminal.
Now it also happens that Tony has the loot that was stolen from the bank a couple of years ago. And now his partners in crime - Sheena (Rakhi Sawant) and Om (Gulshan Grover) and Chingaar (Vijay Raaz) are all after the loot. But now they all believe that Tina has the fortune.
And a confused Tina is stuck in Bangkok without a clue, when out of nowhere, appears her Indian acquaintance - Vijay. Vijay turns up for Tina's rescue but can he be trusted? What exactly is Vijay's past?
With new stories appearing all around , Tina suddenly finds herself stuck in a catch-22 situation with no one to trust anymore.
Himesh Reshammiya's songs are average. While some hit the target, some simply fail to.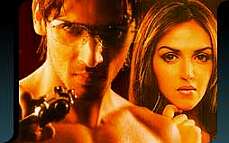 The new thing on the horizon Zayed Khan does not have the star looks, but he does put in a rather convincing performance. He shows the charm but he needs to chose his future roles more carefully. Best thing for him to do now is to avoid solo flicks for some time till the audiences get used to him.P.S: Zayed, lose the shades. You can't just keep on acting wearing that! Esha Deol however overacts a lot and seems to be getting worse with every other film.
Again since all the characters aren't sure whether they are in a thriller or in a comedy, plays it out like a pair of goofballs. The baddies all contribute to the goofiness. Leading the pack is Gulshan Grover who plays it the same as always, but this time with yet another weird look to his credit. Vijay Raaz sizzles in his short role and newcomer Rakhi Sawant does make an impression. Expect Rakhi to get a lot more roles of similar nature in the future. Salil Ankola puts in a decent performance.
Sangeeth Sivan is slick and stylized when it comes to narrating his flicks. But somehow he has no control over his script and screenplay. Sivan seems totally confused of the kind of movie he wants to make. At times what should have been a tight thriller, becomes a comedy of sorts, and in between all this it stops to play out the boring romantic angle. In between all this, both Sivan and the viewers end up as confused as the character of Tina.
But Sivan has to be commended for taking a shoe-string budget and making a film that looks worth much more. His action sequences and camera angles make all the different and is surely something that the other hot shot directors can learn from this man from the south. Afterall, some of the camera wonders of his brother Santosh Sivan can also be seen in Sangeeth too. The climax is quite well executed by Sangeeth but it is the journey to that point, that makes it difficult for the audiences. Let us hope Sangeeth does a better job with his other film - Sandhya.
Pantaloon's second major Bollywood venture after Na Tum Jaano Na Hum also seems to spell doom at the boxoffice. If only the director could keep the romance out of this romantic thriller, and put in more of the thriller - things might have been different. But for now, Chura Liya Hai Tumne is nothing but a thriller gone wrong.